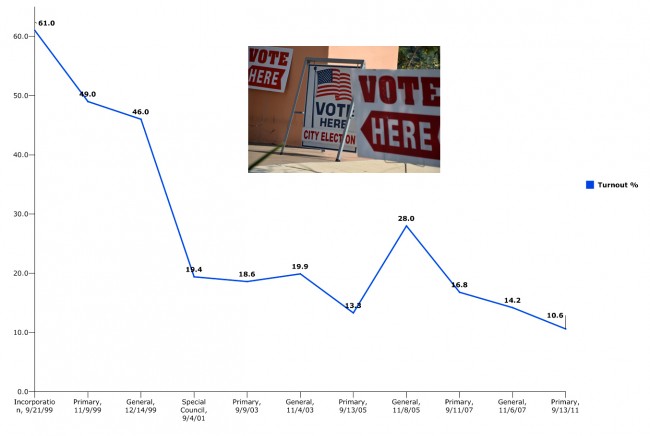 Jon Nets was re-elected Palm Coast mayor Tuesday by 2,848 voters out of a registered voter pool of 49,574. That means just 5.7 percent of Palm Coast's registered voters decided the race in his favor. The proportion is actually smaller when all eligible voting-age residents of the city are included: there are 75,000 residents in Palm Coast, 61,000 of them of voting age, though for one reason or another, almost 20 percent of them are not registered to vote.
In essence, just 4.7 percent of Palm Coast's eligible-voter population elected Jon Netts mayor, making it difficult for Netts to claim that he has any kind of mandate (he didn't, when asked about it after the election results were announced, saying only that a majority had spoken).
Challenger Charlie Ericksen drew 2,145 votes, or 41 percent, and Joe Cunnane drew 253 votes, or just under 5 percent of those who cast a ballot.
The overall turnout was 10.6 percent. That's the lowest turnout in Palm Coast's history, and it's worse than Flagler Beach's or Bunnell's recent municipal elections, though until Tuesday, Bunnell was the county's reigning champion of indifference at election time. Palm Coast now wears that crown of shrugs. The city has held 11 elections going back to Sept. 21, 1999, when the referendum for incorporation drew the heaviest turnout by far: 61 percent of registered voters, back when the city had 18,900 registered voters. It's been mostly downhill since then.
The city's first primary election, in November 1999, drew a 49 percent turnout. The general election a month later drew 46 percent. None of the elections have come close to even that half-way mark since then. The seven elections since, and until Tuesday, averaged a turnout of 18.6 percent between them, with the highest turnout (28 percent) going to the general election in November 2005, and the lowest that same year, a month earlier (13 percent).
It appears unquestionable that Palm Coast's desire to single itself out by having elections in off-off years, meaning in years when there are neither presidential nor congressional elections, has not had the desired effect of focusing more attention on those municipal elections. If anything, it has made them more irrelevant.
A majority of 87 percent of voters on Tuesday passed a referendum that would change Palm Coast's elections to coincide with even years. Netts had opposed the referendum previously, even though it is intended to save money (by combining the city's balloting with all other elections). Netts had argued that the city should keep its distinction with off-off-years. But late Tuesday evening, after the vote, he appeared ready to change his mind in light of the very low turnout.
Asked to interpret that turnout, Netts prefaced his answer by saying that it would inevitably be self-serving: he said that when people are generally happy with the state of things, they stay home rather than come out to vote. Anger draws them out to the ballot box. That anger was not apparent in Tuesday's turnout, he said.
On the other hand, interviews with voters on Tuesday showed that, at least among those voting for Ericksen, the anger against Netts was a motivator—which paradoxically proves and disproves Netts' point at the same time: anger did draw out some voters, but clearly the anger was not at such a pitch that it made a difference in the final outcome.
Ericksen had a different interpretation. "The smaller the representation, the less likely it's to reflect the opinion of the majority," he said. "I think we could have done a better job to communicate it through other media. I don't think sending an insert with utility bills was adequate, because most people get their bills through the Internet. I am just amazed at the number of people that just didn't know there was an election. A new question has come up now, five people today thought this was just the primary and the winner would go on to the general election. So it's poor communication but it's also the population not asking or seeking more information"
For the first time in a Palm Coast election, voting took place at six "consolidated" locations where any registered voter could vote. In other words voting locations were not defined by the voter's residential address. That, too, was supposed to save money—and encourage people to vote at the most convenient place, whether nearer to home or work or shopping. It didn't work out that way, though 1,700 voters took part in early voting—a third of those who voted.
"Any time you change the rules with an older group of people there's going to be misunderstanding, and you have to communicate even heavier," Ericksen said.
The municipal election also suffered a few setbacks along the way, beginning with the city administration's belated attempt to catch up with redistricting, followed by an embarrassing couple of rounds of actual redistricting–which did not affect the mayoral election but did cast an unseemly light on the city's process–followed by a few weeks of confusion over whose elections would be held when, depending on how many candidates qualified. There are still two council seats to be decided. That election, again featuring the six voting locations, will be held on Nov. 8.
Kimberle Weeks, the supervisor of elections, was asked to what she attributed the low turnout. "This question could be better be answered by asking the voters," she wrote. (Weeks answered several questions by email, as she prefers not to do voice interviews). She described the consolidated locations as "an added convenience" that did not appear, from her visits to polling sites on election day, to create any confusion. "I visited each and every voting location and did not hear of or witness any complaints regarding the six open voting locations," Weeks wrote.
She was not inclined to see lack of information as a factor in the low turn-out. "The city made many of the decisions pertaining to this election such as where to hold early voting, how long to hold early voting, how many voting locations to open, and which voting locations to open," Weeks said. "The city clerk qualified the candidates, and advertised for this election, as we did. We worked very closely together to ensure a smooth successful election. A lot of signage was placed out on election day to let the voters know there was an election in progress, our poll deputy at early voting invited those coming to the library to vote while they were there. Our website and newsletter, as well as the city's website provided a wealth of information. WNZF radio made numerous announcements to inform the voters, and forums were advertised and held to inform the voters of the election and candidates seeking office. Candidate signs and supporters could hardly go unnoticed as they were all visible showing support of candidates.
That voters would be that lacking in information, if that was the case, is particularly striking this year, compared with, say, 2007, when that Palm Coast election drew almost 17 percent of the registered electorate. Since then, Palm Coast has seen the addition of several new media that have paid particular attention to the municipal election—WNZF, the radio station, The Observer, and FlaglerLive—not to mention the city's own website and social networking (through Facebook), though the city's YouTube video announcement of the election had drawn just 41 views by Sept. 14, a day after the election.
There was also the rise of the local tea party, whose membership of about 1,200 is primarily driven by elections. For all that, the turnout's record-low mark may suggest that media's influence, old or new, may be practically nil when it comes to generating interest in elections broader than among hard-core voting junkies, who'd be voting anyway. It's entirely possible that added coverage is a turn-off, while political-coverage gimmickry such as polls only proved to underscore the unreliability of the numbers those polls generated: both a tea party poll, with 203 respondents, and a FlaglerLive poll, with 237 respondents, proved wildly off the mark: the tea party had Ericksen winning with 59 percent of the vote, the FlaglerLive poll had Ericksen winning with 51 percent.
The reasons behind Tuesday's low turn-out may all be guesswork, but one fact remains: voters were simply not interested, whatever the reason, and a mayor was re-elected with the smallest majority of any Palm Coast mayor to date (Canfield's was 69 percent in 1999 and 59 percent four years later; Netts's majority in his first mayoral run was 64 percent), and certainly the smallest actual number of votes in a mayor's favor in 11 years, yielding that less than rousing 5 percent endorsement.