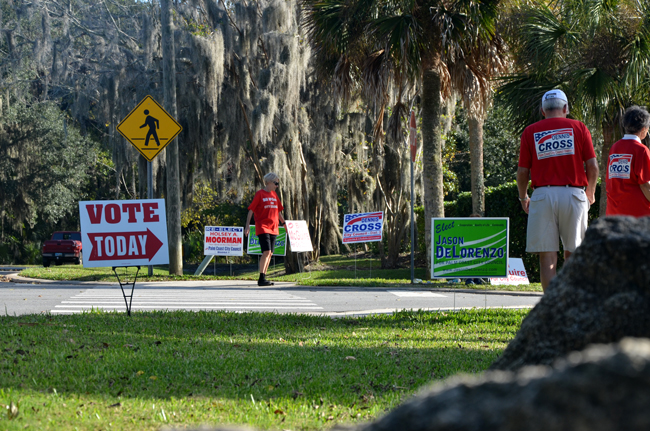 Last Updated:7:47 p.m.
Early voting and absentee results in the Palm Coast City Council election, the first batch to be released by the Supervisor of Elections, show two neck-and-neck races.
Incumbent Holsey Moorman is leading Bill McGuire by about 100 votes out of 3,338 cast, 52 to 48 percent.
Dennis Cross is leading Jason DeLorenzo, 50.4 percent to 49.6 percent.
Unofficial voting tallies from four locations–the library, the community center, Wadsworth Elementary and the old school board building–are also in. The results for those four locations are as follows:
McGuire: 1052, for a total vote so far of 2697, or 49.5 percent.
Moorman: 1114, for a total vote so far of 2749, or 50.5 percent.
DeLorenzo: 1115, for a total vote so far of 2685, or 50.7 percent.
Cross: 1014, for a total vote of 2610, or 49.3 percent.
The Belle Terre Elementary and Matanzas High School voting locations' tallies have not been reported. Voting at both locations was very light.