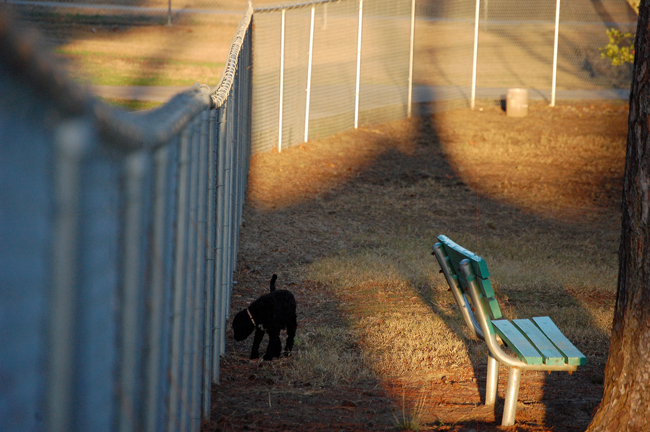 It happened four years ago. It happened again two years ago around this time. And it happened again on Tuesday: Palm Coast's dog owners and frequent users of the city's one dog park complained that the place is ill-kempt, too sandy, too dusty, and unhealthy for dogs and people, and should be fixed right away, starting with fresh sod.
They heard the same answers they've heard before about the rectangularish, fenced-in slope of slightly less than an acre at Holland Park, in the older part of the city: the water that irrigates the park is salty, the sodding that took place some four years ago was for naught, the park is on a hill.
"Four hundred and twenty-eight dogs. We talked about the dog park in the past," Mayor Jon Netts said. "Where there's no money, there's no money. Let's take another look at that issue," possibly relocating the park.
City Manager Jim Landon said a master plan including a second dog park have been sidelined by budget woes, but some improvements are coming, including a water line that will bring so-called "re-use" water to Holland Park, thus enabling the sort of watering that might allow the grass to grow better. That may placate dog owners for a while, if they see results soon. Their complaints were concerted and specific Tuesday evening, as an organized posse showed up to share them with the council.
"We want to discuss the dog park and discuss the little friends we represent – all our different our dogs," said Norman Weiskopf during public comment at the meeting. "We seem to have a problem over there that the dog park is falling into disarray. And I just want to mention we like the dog park. The dog park is great for our dogs. And for us, too. But it's still not up to par. It could be a nicer place than what we have today. So we think we should look into sodding it. It's not a million-dollar project. It would only cost probably a few thousand dollars, which is a lot less than most other projects that we do, and it should be sprayed for tics and lice and flees and all the other things that dogs contract, on a regular basis. So that's why we're here. It's been a long time that our dog park has been looking the way it does, and it's just not as good as it can be. It can be a lot better. And when it's bad and it can be made better, it should be made better. That's the way we feel about it."
He doesn't want the sodding to take place next year or when there's money in the budget, but "right away."
Wendy Roth told the City Council she sold a home on Anastasia Island, in part because of her love of dogs. She was not the only one to make that point. "I was fortunate to find a Realtor that steered me toward Palm Coast as a dog-friendly community," Roth said. "And when I first moved here it was a very dog-friendly community. There's some very beautiful parks here." Even the dog park, "where I met wonderful friends, and my dog Muddy has met wonderful friends also," she continued, to a chuckle from Mayor Jon Netts. "But I can't go there anymore because it's so dusty that my asthma acts up. Go over there and sit over there for a few days when there's 20 dogs having fun playing: you can't breathe." The conditions are not healthy for dogs or people, she said.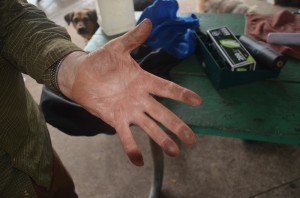 She then pointed to Weiskopf, calling him "our mayor," who's compiled a list of 450 people who take their dogs to the park. "I moved to this community because it's a dog-friendly community. You want to attract people to Palm Coast? Fix the park. Advertise it as a dog-friendly place, because it can be. It's got potential. But you're not using it. It's already kind of there and it won't cost much to fix it. I didn't move to Ormond Beach because they don;t like dogs, and I moved from St. Augustine–yeah, they've got the history, but they don't like dogs. "
Jimmy Epps, who's been coming to the dog park once or twice a week for eight years, said, "I sit there and I watch parks, the soccer fields being fixed, sodded, cut, I watched the softball, the baseball fields, I look at the tennis court with the nice lights, the bocce people over there on their bocce boards, bocce courts, they have seats with roofs on them–it gets hot in the afternoon. I guess what I want to say is, I sit and watch all this and I don't see anything happening in the dog park. I do thank you for the handicapped walk and the second gate you cut down at the bottom, that was very nice." But he noted the danger of a walkway that drops off dangerously, particularly for older people. He was also thankful for the "mandatory" water provided for the dogs, but noted a water-fountain that's never worked for eight years. "I don't know if you call water dripping out 'working,' but it just doesn't work." And he was thankful for a big pine stump finally taken out after three years.
Epps also said that the dog community raised $1,000 twice for park improvements, and deserve a better park. Yet "nothing's been done" by the city subsequently. "So we'd like for your help and we'd like for you to know that we're getting together. We are one, and we're going to keep at this, and we love you. We love all of ya. We'd love you more if we had some grass."
It's likely not a coincidence that dog-park complaint recur during the driest part of the year, when a shortage of rain amplifies the dry, dusty conditions.
City Manager Jim Landon said the dog park is challenging because it's located on the side of a hill and there's no irrigation. "We can't get the grass to grow because there's no water," he said. "The water we do have is well-water that is high in salt, and doesn't work to keep the grass growing in the trees and the shade. We've tried, and that's the major problem with keeping the grass growing. But, with that said, we do have as part of our master re-use line expansion, Holland Park is actually on our list of projects to do, and that is actually scheduled to happen this summer. Once we get re-use there, then putting down bahia [a type of grass] probably would make some good sense."
The city manager recalled that Palm Coast has made improvements to the dog park in recent years, including a grand re-opening two springs ago. Budget problems have put a master plan for all of Holland Park, including the dog park, on the back burner, he said. But until the re-use water is extended to Holland Park, the city doesn't want to do major improvements that would again be wasted.
The plan for a second dog park is for the area of Lehigh Trail east the fire station on Belle Terre Parkway. "That project is not going fast either because of funding," Landon said.