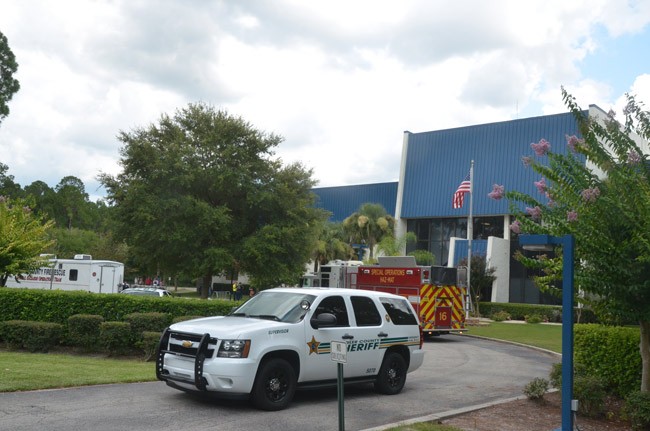 Last Updated: 4:16 p.m.
Late this morning Palm Coast Data employees reported a suspicious white powder at one of their buildings, requiring the response of St. Johns County's Hazmat Team and the evacuation of its largest building on Commerce Boulevard in early afternoon.
The Flagler County Sheriff's Office, Flagler County Fire Rescue and the FBI have responded.
Just after the 3 p.m., the package in question was removed from the building and was to be on its way to Jacksonville for analysis. "Initial tests they ran on it inside came back negative," Palm Coast Data CEO Rory Burke said outside the building just after 3 p.m.
Burke said some 200 employees were evacuated from the building, though very few were in the vicinity of the mail item in question, which was "immediately contained," and was in a mail bin. The inbound item was a reply envelope to one of Palm Coast Data's clients.
A handful of employees were still outside the building around 3 p.m., but a majority of them, who have virtual capabilities, continued work from home, while the building itself had ceased operations at least for the rest of the day, Burke said. The company expects to resume normal operations Friday morning. "Unfortunately, it's not the first time" that such incidents have happened since 2001, Burke said, though since then the Post Office has instituted measures that screen for some of the more nefarious hazardous or toxic substances, such as anthrax.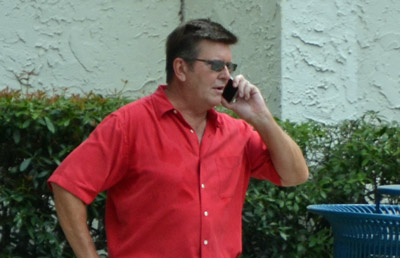 Flagler authorities received notification at 11:02 this morning that there was a "white powder incident" at Palm Coast Data. "We have certain protocols we have to follow," Kevin Guthrie, the county's emergency management director, said, so the local Department of Health and the state watch office of emergency management were notified, though county emergency management itself has not been activated.
Palm Coast Data, a subscription fulfillment company, handles millions of items of mail through its Palm Coast operation on Commerce Boulevard, just off Palm Coast Parkway.
One rescue was requested to be on stand-by at the company, along with Palm Coast's Engine 21. Initial units responding determined that they needed a hazmat unit, initiating the response from St. Johns, whose hazmat team was getting ready to make entry into the building between 2:30 p.m. and 3 p.m.
At 1:39 p.m. the decision was made to evacuate the building in question.
"Obviously we made notification, if there's something positive to this test then you're probably going to see a much greater response get into our area," Guthrie said. "It all depends on what they discover as to what the next response will be."
But it's important for residents to understand that in such potential hazardous incidents, "it's a very slow and deliberate process, because we want to make sure that we get the citizens safe as well as our responders safe. So we want to make sure that that's effectively been taken care of."
The Emergency Operations Center is actively monitoring the situation and responding to requests for any needs they made have.
More often than not, such alerts lead to negative discoveries for toxic materials. The last time Flagler County was the scene of a hazmat incident requiring a call to St. Johns County's team was in April 2013, when the Budget Motel in Bunnell was evacuated following the discovery bof a large envelope with white powder in it.
The powder turned out to be cocaine.
Palm Coast Data is the second or third-largest private employer in Flagler County, after Florida Hospital Flagler. The company's workforce has been steadily shrinking from its peak of 1,000 in 2008. It is unclear if it still has more employees than Sea Ray Boats, which has about 650 employees.