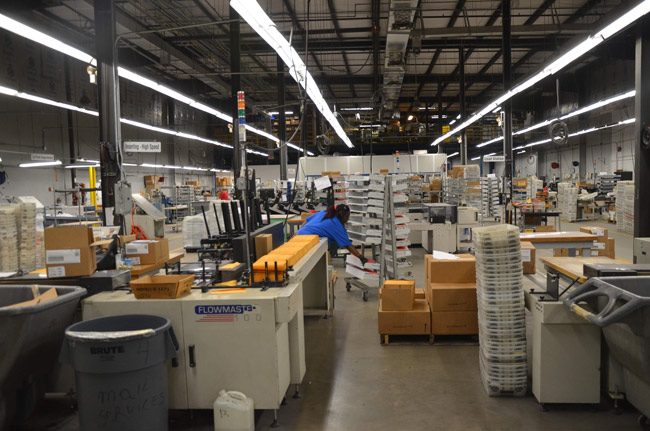 Last Updated: 5:42 p.m.
Studio Media Group, an Irish company, today acquired Palm Coast Data from Pennsylvania-based Amrep Corp., the third time in 17 years that one of Palm Coast's largest private employers is changing hands. But the new company, based in Dublin and New York, is signaling that it intends to commit to investing in Palm Coast Data and to a 10-year lease of the company's local facilities on Commerce Boulevard.
Palm Coast Data is essentially getting a new landlord for the third time in 17 years.
As the announcement was spreading through the company, Palm Coast Data CEO Rory Burke was speaking to employees in groups to settle jitters, explaining that the new company intends its Palm Coast operation to remain here and to grow. The deal drew applause, he said.
A news release explained the deal this way: Studio Membership Services, a subsidiary of Irish Studio, paid Amrep $1 million in cash on closing and entered into two long-term leases for the 204,000 square feet spread between two buildings. "The aggregate annual base rent for the ten year leases starts at $1.9 million in the first year, subject to a one-month waiver of base rent during the first year, and escalates to $2.5 million in the tenth year," the release states. "Prior to the sale, Palm Coast Data distributed to the Company $3.1 million of cash during the fourth quarter of fiscal year 2019.
The deal is structured primarily around the rent payments: Studio Media provides $1 million in cash, but the 10-year lease with Amrep is such that even though the market rate on the property works out to about $1 million in rent, the payments are $1.9 million a year to start, rising to $2.5 million a year by 2029: that's how Amrep, now exclusively a real estate company, is making its revenue. Amrep, in other words, found a certain tenant for the two buildings, for 10 years.
But Amrep isn't done. The company is actually packaging its property–its two buildings–for a $23.75 million sale.
It secured a broker. It's none other than Margaret Sheehan-Jones of Palm Coast's Parkside Realty. She's a broker associate with CCIM. (Jones's name is familiar to anyone who's followed the many county government real estate acquisitions of the last several years: she's been the broker on each.)
For now, Palm Coast Data is making the lease payments to Amrep until Amrep sells the buildings, then Palm Coast Data will be making the payments to a different landlord: that new building owner will assume the lease. What that new owner gets is the guarantee of lease payments and tenancy for the next 10 years.
"We got rounds of applause when they heard the news. They're happy," Burke said after speaking with employees today. "It hasn't always been wonderful with Amrep, there's probably a reservoir of doubt about Amrep." The reason was that Amrep was not a publisher, it wasn't in the fulfillment business except through Palm Coast Data, so whenever Palm Coast Data approached a potential client, "it was always difficult for us to try to gain new business because they'd look at our owner and say, are they in it for the long haul or not."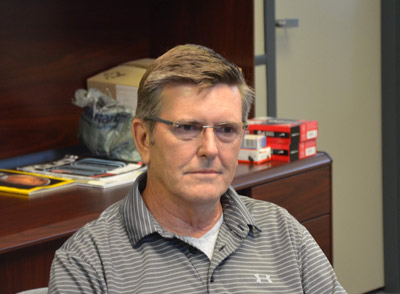 Now, with Irish Studio media, a publishing company, clients know that it understands the business. "I believe our clients will have greater faith in our intentions going forward," Burke said. "That's a significant difference from our past ownership. That provides comfort to our employees, that there's continuity." He said the company could have been acquired by a financial concern interested only in dressing it up and reselling it, or by a competitor interested in downsizing. Instead, it got a company interested in growth through Palm Coast Data.
"This is the best outcome I could have hoped for," Burke said.
Palm Coast Data counts 450 employees today, down from 900 some 10 years ago, but up about 30 in the past half year. The company and its parent struggled for several years after the Great Recession but Palm Coast Data had stabilized by 2017, again adding new titles to its subscription fulfillment stable, among other services, and was Amrep's strongest-performing subsidiary. By 2018, the company was distributing bonuses to most employees. Amrep intends to focus on its real estate sector.
Unlike Amrep, however, Studio Media is privately held, which means the company's quarterly and annual financial performance will no longer be public.
But Studio Media told Palm Coast Data officials that, in Burke's words, they "absolutely have the intention to invest and grow Palm Coast Data." As to fears that an Irish company would offshore a lot of the work from Palm Coast Data to operations elsewhere, "the response was that we are maintaining all operations on the Palm Coast campus, so I believe them. They were very sincere to me and to our clients." Burke himself is to remain at the head of the Palm Coast operation as its CEO.
Palm Coast Data will also be led by Ciaran Casey, who will oversee the business, supported by Katie Molony, according to a company release. Both are Co-CEO's of the Studio Media Group, which includes the Irish Studio Group.
The Irish company wasn't unknown to Palm Coast Data: it was a client already. Now, with Irish Studio's stable of magazines (the company is among Ireland's largest publishers), Palm Coast Data is in line to inherit a large infusion of new business, suggesting growth.
"The genesis of this acquisition came from our own experience as a client of PCD, which assists our media brands in serving our customer community," Lynch is quoted as saying in a company release. "As investors in technology and media, we believe strongly that in this current time, content publishers, membership organizations and associations want more than ever for their consumers to feel a sense of community and membership to their brands that reflect the consumers' values."
"I'm excited by the fact that they remain committed to staying in Palm Coast," Mayor Milissa Holland said this afternoon. "We never like to hear stories where they're shutting down with employees of several hundred locally." The mayor added: "We look forward to sitting down with whoever has an interest in seeing how we can help in any way to make this successful for them as well." Holland noted that her heritage is about 70 percent Irish (the remainder is Polish). She grew up around the Irish community in New York.
Irish Studio, founded by Liam Lynch, an Irish-American media investor, owns more than a dozen publications in Ireland, including Food and Wine Magazine, Irish Tatler, British Heritage and a genealogy magazine. The company is focusing on digital growth. When Lynch's company acquired six magazines a year and a half ago, including Irish Tatler, he described it as "a major acquisition that realizes our strategy of rolling up established brands onto our digital platform," as the Irish Times reported it. He described the magazines as "trusted brands that people love. We will continue to loyally service our treasured print readers while also bringing these titles online to engage and entertain new audiences."
Amrep bought Palm Coast Data from New York-based Tinicum Inc. in 2007, for $92 million, five years after Tinicum had bought it from Dima Direct Marketing, which had been in Chapter 11 bankruptcy.
In the nine months ending Jan. 31, Amrep had revenue of $30.7 million, most of it at Palm Coast Data, almost equal to the same period the previous year, and net profit of $84,000, compared to a loss of $1.12 million in the same period the previous year. The company's stock had been sliding this year, falling from around $7.30 a share last August to $5.42 today, its lowest level since late 2016. That was before today's announcement.
"We'll still be here, we'll still be more than ready to work with them," Helga van Eckert, the county's economic development director, said. Both the county's and Palm Coast's economic development divisions had worked with Palm Coast Data previously to provide economic incentives, but the bulk of those go back to 2008.
"There are some unknowns," Burke said, "but I think everything I see here points to this being a very positive move for our company, and I've been talking to these gentlemen for the past couple of months, they'll be here next week, they seem to be very honest and transparent people."