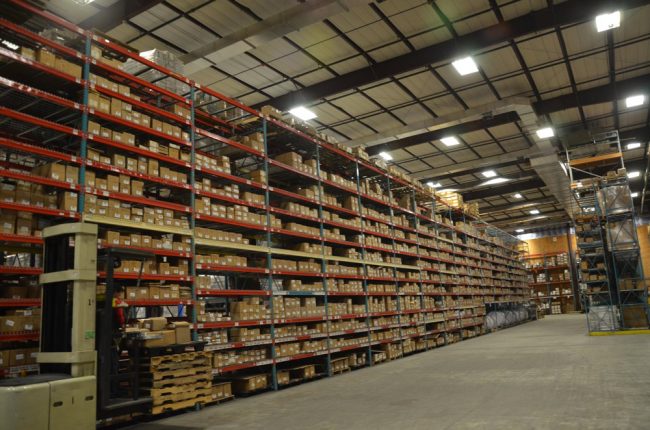 Palm Coast and Flagler are reeling from the imminent closure of Sea Ray Boats and the loss of 440 jobs at one of region's top employers. But there's a contrasting, perhaps unexpectedly reassuring story from another top employer: Palm Coast Data.
The company that manages some 19 million subscriptions for a variety of clients across the country has had its difficulties since its peak in employment and business activity in 2008, when it had nearly 1,000 employees and its operations in other states consolidated with the Palm Coast plant. Amrep, its parent company, weathered serious losses while Palm Coast Data lost more than half its employees. Yet the company, leaner and surer of itself, is now quietly strengthening again, scoring wins and sharing the windfall with its employees.
In the paycheck that went out for the last pay period, on June 29, almost every employee who was on the company's payroll for a full year going back to April 2017 got a bonus check ranging from $500 to $2,500, except for executives. The company made a point of limiting the payout to the ranks and to team leaders. So 345 employees out of 417 (80 of whom are part-time) got the bonus, Rory Burke, the company's president for the past five years, said.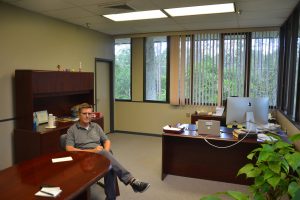 The reason: The company had a good fiscal year (it ended April 30), beating expectations. In May, it landed its largest account in five years when it won the Smithsonian contract and its 1.8 million subscribers, a fallout from the sale of Time magazine in January. Time had a fulfillment service like Palm Coast Data's. The company now plans to reap more accounts as Time, again up for sale, continues to fray.
"A lot of things fell our way," Burke said at the beginning of a two-hour interview last week at the Palm Coast Data campus off Commerce Boulevard. He described the series of town hall-style meetings he held with all employees to share with them the year's successes and explain why he says he's "cautiously optimistic" about the company's direction. "We have another client under a letter of intent so I expect to have that client within the next 10 days."
As unassuming as his predecessor was cocky, as candid as his predecessor was cagey about the company's fortunes—and misfortunes–Burke makes no  attempt to spin the past more brightly than it was. He speaks of it openly as if acknowledging it and contending with it all is one of the reasons the company survived to reset, though Burke himself may have also had something to do with it: He'd been Palm Coast Data's executive vice president until he left to work with competitor CDS-Global until Palm Coast Data recruited him back two years later, then named him CEO in 2014. He then set about to change the company's image.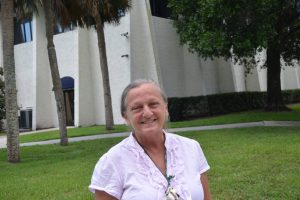 "The activities that occurred a decade ago here left ill will in the community, left a bad feeling, related to how the employees felt, how the community felt about the company," Burke said, referring to the the company's pledge back then to grow to 1,700 employees in a deal with Palm Coast, county and state governments that included generous economic incentives–and failed commitments by the company. "The activity with this building, the government grant, all that left a bad taste in the community's mouth. I understand that. We're 11 years past that. I can't change what happened. I got here five years ago and these people are just—you saw it: we're just trying to move forward and make this place certainly a success and a good place to work, and it doesn't happen overnight. We have obviously economic realities, we're self-funded, we're profitable, but we're taking cautious steps forward."
If anything, Burke may be understating some of the enthusiasm in his ranks. To get a sense of that, you need only speak with Maureen Noble, a 17-year employee and a manager in the colossal mail room who's seen the 34-year-old company through its best and worst times: she'd been a waitress at the Plantation Bay country club, where one of the founders of the company was a member, when she decided it was time to get a more serious job and applied at Palm Coast Data. She'd started as a nighttime insert operator before getting promoted to manager.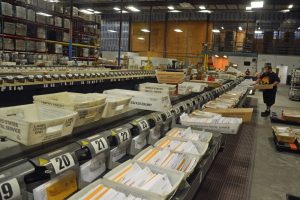 "It's not all gumdrops and lollipops, I swear," Noble says. "I run out of here probably multiple times during the year saying I'm going to put my résumé together, I'm going to leave. But the other 349 days of the year, I love my job. They do everything for me. They support us, they promote us. One of the gentlemen that I hired is now working with Rory Burke as one of the sales people for our company. You know how proud I am? I'm very proud. And it's the people that they promote, with the aspiration to try to do good, that promote other people to come up behind us with the same kinds of morals and ethics."
Over the years Noble has had to read numerous reports showing Palm Coast Data in a poor light, not least of them on FlaglerLive, which has chronicled Amrep's decline since 2010. "It's not what you report that bothers me, it's the response of the people that say negative things about my company, and it breaks my heart," Noble says. "Because my home is paid for by Palm Coast Data, my utility bill—I have hired, like, nine people that I got them their very first job in the United States of America, nine, and two are still with me. It's how people respond that don't know my company and how proud I am to work here–that's my problem."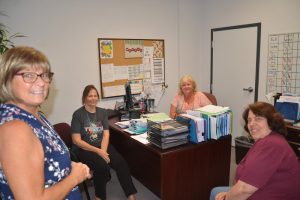 Or you could speak with the quartet of veterans who took hold of the Smithsonian's 1.8 million subscriber database and managed to "translate" it from Time's to Palm Coast Data's language, a gargantuan task that had to be accomplished within deadlines and without disrupting subscriber services: Murielle Dougherty had just marked her 19th year with Palm Coast Data, Ellen Morgan has been there 29 of the company's 34 years, Shelly Baldwin has been there 30 years, and Jeri Daniels 17. They were all huddled in Morgan's office, continuing to work out the kinks on the Smithsonian contract.
Or you could speak with Lisa Douglas-Denton, an eight-year veteran at the company who heads one of Palm Coast Data's lesser-known but high-impact contracts: New York City Mass Transit's Metrocard, the little magnetic card that subway and bus riders use to pay their fare. You wouldn't think Palm Coast Data would have anything to do with the card that enables 5.7 million rides a day in the nation's largest city.
Yet here it is: while Palm Coast Data doesn't handle the cards that are sold in subway stations, it handles the 850,000 to 1 million transactions for cards sold everywhere else—in little bodegas, shops and agencies across the city or anywhere else that provides cards. Palm Coast Data ultimately processes the orders and sends them to the delivery company that packs and ships them, taking care of all the payments and handling the destruction of used cards. It even coordinates the armored cars that deliver the cards. And it's all done by Douglas-Denton and her team of four from a small segment of the Palm Coast Data offices.
"We handle everything, we do all their reporting, all their books, all their accounting," Douglas-Denton says. I have a fabulous team." The irony: Douglas-Denton has never been to New York City.
Or you could try to speak with the eight people behind a seemingly innocuous wall and a door decorated for July 4, with a small American flag and a few stars, next to a tiny, beguiling circular logo to the right of the door, just above an empty black mail bin. "Office of the Comptroller of the Currency," the logo reads, its graphic displaying something like a judicial balance hanging over an old key. An accounting employee's idea of a joke? Palm Coast Data witticism?
Not exactly. The Office of the Comptroller of the Currency is a separate bureau within the U.S. Treasury Department. It regulates and supervises all American banks and federal thrifts, ensuring that they operate soundly and treat customers fairly.
And Palm Coast Data two years ago won a three-year contract to provide the customer service agents who listen to complaints or concerns from consumers, document them, and provide them to the Treasury Department for investigation. It's another way the company is diversifying its services, repositioning its trained workforce to do what it's always done, but with unlikely clients. And it all happens behind that door, though access is strictly restricted.
Access is also restricted—but more permissible, when accompanied by a company executive–in the heart of Palm Coast Data's traditional and most recognizable operation: the famous call center that handles anywhere from 140,000 contacts with customers a month to 175,000 around holidays. It's  where workers in their small felt-lined booths, each individualized with family pictures, decorations, color schemes, talismans, mementos, framed sweethearts, spend their days resolving subscribers' changes of address, payment issues, renewed subscriptions and so on.
Access is restricted, as is employees' use of cell phones, because workers are dealing with customers'; credit cards all day. The company pledges a high level of security for its clients, and preventing credit card theft, including from Palm Coast Data's employees, is one of the requirements.
But the vast floor plan hums more than shouts from 7 a.m. to midnight, so that while dozens of agents are in full-blown conversations with customers, it's almost impossible to discern what they're saying, and easier to have a conversation than it would be in the average restaurant.
The company's 210,000 square feet of workspace stretch between two buildings on either side of Commerce Boulevard and also include of course the enormous print and letter shop—exactly where Burke got his start 40 years ago with another company, which is why his employees say he has a blue-collar heart, like theirs—where those subscription forms take shape and morph into those mail pieces you'll eventually be opening at your end, through some machines that can process 5,000 items an hour.
There's the mail room, though calling it a "room" is deceptive: it's an enormous post office where those millions of mail pieces a month are sorted down to their own carrier somewhere in California or Kansas in some cases, because the narrower the sorting, the more money clients can save. Palm Coast Data is naturally the local post office's biggest single client. So big that the Post Office has an office in the mail room.
Finally there's the warehouse, where every magazine's preferred paper stock and other supplies arrive and are stored until they're turned into those small mailed forms: the reams in tons are stacked on metal shelves a few dozen feet high and too lengthy to measure in a hangar-like array that brings to mind that final scene in "Raiders of the Lost Ark," when the alleged Ark is sealed in a crate and stored in a warehouse more interminable than a city. Except that stacks in this warehouse have a very brief shelf life.
Fascinating as the operation is when seen from the ground up, Palm Coast Data seldom opens it up to visitors, and never to school groups: it's not an intentional restriction so much as it's not been thought of much as a place that visitors would find enticing.
Burke had another reason to show the plant and extend his message beyond the one he delivered in his company town halls. "I want to convey that Palm Coast Data is made up of citizens here, that the revenue that we generate goes right back into the community," Burke said, walking back to his modest office in the building that was once Palm Coast's City Hall. "Our revenue is about $29 million. Of that, $24 million of it is payroll, every two weeks our payroll is in excess of half a million dollars. We have 400 people here that are working hard to succeed."
There was nothing rah-rah in his demeanor, no outsized promises, no self-promotion: just an insistence to look beyond the difficulties of earlier years and a recognition of recent successes, with expectations of moderate but solid successes to come. "We're trying to move beyond that, trying to make a better environment for the employees, step by step," he said.
And as its sign on Commerce Boulevard states: Palm Coast Data is hiring.