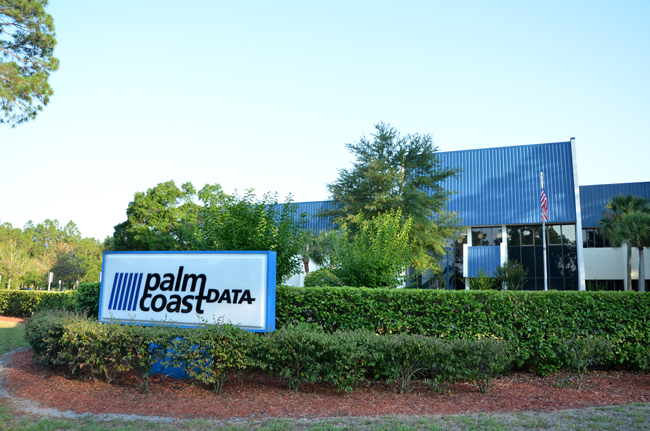 Several weeks ago, Palm Coast Data, the subscription-fulfillment company that employs more than 1,000 people at its Commerce Boulevard campus, announced internally that training classes scheduled for early summer were canceled through October. Three such classes were scheduled for the summer months, each to train between 10 to 15 people. Hiring for that pipeline is presumably being halted.
In January, the company laid off 31 people and lost a major customer in Kappa Publishing Group. In early May, at least three supervisors and a quality assurance worker were laid off while the company's balance sheet showed a 22 percent revenue decline in its current fiscal year's first nine months.
Late last week, dozens of employees, including most of the workers in the membership department, were told that they'd be laid off by July 1.
The lay-offs in the membership department were not entirely a surprise, given the status of one of Palm Coast Data's most important membership contracts–with the National Rifle Association, whose 5 million members get their membership services through Palm Coast Data. That contract will not be renewed, according to current and past employees.
The membership department took care of four accounts: the NRA, the Wildlife Conservation Society (essentially, members of the Bronx Zoo, the Central Park Zoo and one other similar organization in the New York Tri-State area), the Audubon Society and B.A.S.S., the Bass Anglers Sportsman Society. Members who have any questions, who want to renew cancel or discuss membership, call the customer service workers at Palm Coast Data. The organizations in turn pay the company to handle their customer service. By far the largest account, and the most lucrative, was the NRA's. Losing it is a blow to the company, according to an employee familiar with the membership department, and who requested anonymity.
It isn't clear whether the company has lost the account partially or entirely. But any loss of NRA business compounds other losses for Palm Coast Data in its more traditional subscription-fulfillment service–the handling of subscription accounts for hundreds of magazines. The company is losing many of those accounts for two reasons: many titles that PCD handled have either ceased publication or switched to a different fulfillment company. Among them: Metropolitan Home, Jet, Smithsonian, Mad Magazine, the Spanish edition of Maxim, National Fisherman, Outdoor Photographer, Saturday Evening Post, Sojourners, Science News, The Nation (Palm Coast Data lost that one, as it did several others, to CDS, The Des Moines, Iowa-based company with several locations around the country), the Chronicle of Higher Education, the Chronicle of Philanthropy, Ebony, Air & Space and Fine Homes, among some 120 titles, according to an internal list provided to FlaglerLive.
The list of publications whose customer service Palm Coast Data is still handling is far longer. But the last time the company announced that it had won a contract was six months ago, when it landed Newsweek. The newsweekly was itself facing bankruptcy. It was bought for $1, recast into a magazine heavy on features and celebrity coverage and short on news, reporting, and ad pages—and hemorrhaging circulation.
In 2008, the city of Palm Coast and Florida combined to give Palm Coast Data an incentives package worth $3 million from the state, and $450,000 from the city, not including a sweetener in the city's 70,000-square-foot former city hall on Commerce Boulevard, which the company first rented, then bought for $3 million. The state's and the city's financial incentives were contingent on Palm Coast Data staying in town, and creating 700 new jobs on top of the 1,000 it had in 2008. The additional jobs have not materialized.
The city and Enterprise Flagler, the public-private economic development partnership, argued in 2008 that they'd convinced Palm Coast Data not to consolidate its business elsewhere, and take the jobs with it. But the company never showed indications that it was considering consolidation at its other locations, and when it did announce the Palm Coast Data consolidation, its own rationale didn't mention incentives or local government efforts as a leading factor: "Palm Coast was chosen as the flagship brand and corporate headquarters for a number of reasons," a company release summarizing the consolidation read, "including the fact that Palm Coast Data has the largest magazine and membership client base within the company and twice the number of employees in one location. In addition, Palm Coast, Florida, has an abundant workforce readily available, the company owns its current facilities and has the land needed to expand."
Palm Coast Data's customer service employees are paid between $10 and $12 an hour.
Asked last week if the company has been getting incentive money from Palm Coast, Mayor Jon Netts said that, as far as he knew, it has not, because it hasn't produced the jobs. Still, Palm Coast Data figures on every presentation by Enterprise Flagler—including the latest presentation by Enterprise Flagler President David Ottati to the Enterprise Flagler executive board a few days ago—as a local economic development success.
The company is tight-lipped to its own employees regarding the company's fortunes or its future, though persistent rumors inside and outside the company have Palm Coast Data being put up for sale yet again. The company has been sprucing up some of its buildings.
On the other hand, employee performance expectations have been tightened and morale, according to an employee who recently quit, was not helped when the threshold for acceptable performance scores (based on supervisors monitoring the performance of customer-service agents) was lifted from 85 percent to 90 percent. When an employee's score falls below that threshold for longer than a certain period of time, the employee is fired. Attendance rules were also tightened, and when the campus went smoke-free, the company forbade employees to take smoke breaks anywhere on its grounds.
Palm Coast Data is one of several subscription fulfillment companies competing for a shrinking business. Competitors include CDS Global, Strategic Fulfillment Group, ARGI and ESP Computer Services. Executives from all five took part in a panel discussion on the state of the industry at New York's Princeton Club last year, where CDS Global CEO Malcom Netburn spoke in terms of surviving rather than thriving. If current trends continue, all five companies may no longer be able to survive together.