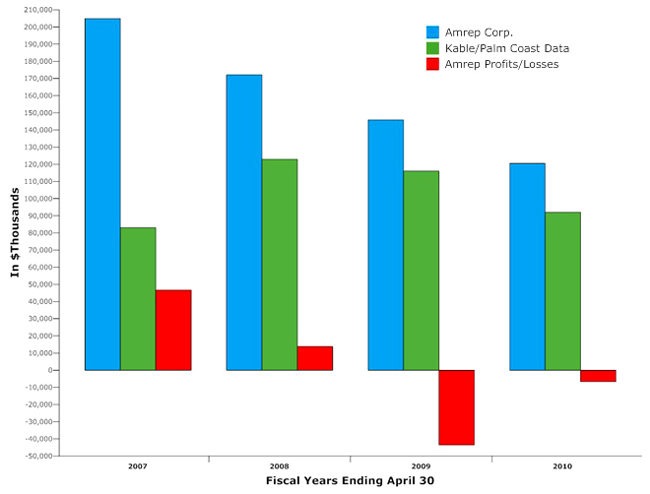 Princeton, N.J.-based Amrep Corp, which owns Kable Media Services, itself the parent of Palm Coast Data, today posted a net loss of $9.5 million for the fiscal year that ended April 30, the second year in a row that Amrep has posted a loss. Last year, the company lost $43.5 million. The company's revenue fell from $146 million in 2009 to $120.5 million in 2010. The decreases were driven largely by decreasing revenue at Palm Coast Data, now by far Amrep's largest subsidiary.
Amrep has real estate holdings in New Mexico, a newsstand distribution service, product fulfillment services and subscription fulfillment services. The real estate holdings (at Rio Rancho, N.M.) were once the company's biggest operation. They're now among its smallest. The company's biggest single operation is Palm Coast Data.
Kable Media Services is Amrep's holding company that runs newsstand distribution, product services and subscription fulfillment services. The subscription fulfillment operation, which Kable has been consolidating into Palm Coast Data for the past two years, accounts for the largest share of business. That consolidation merged operations in Colorado and Illinois with the one on Commerce Drive in Palm Coast. The consolidation is due to be completed by October. As such, Kable's subscription fulfillment service is now synonymous with Palm Coast Data.
Palm Coast Data's financial numbers are private. Kable Media Services' numbers are not. Revenues from Palm Coast Data's subscription services operations decreased from $116 million in 2009 to $92 million in 2010, or 21 percent. The fourth-quarter drop (that is, revenue in the three months ending last April) was steeper: $19.6 million this year compared with $25.8 million in the same period last year, a 24 percent decrease.
The drop reflects a steep loss in customers. Palm Coast Data depends on magazines willing to have their subscription services run through the company; magazines have been going out of business, but many magazines have been switching service providers as well.
Kable's operating expenses decreased by $10.4 million in the fourth quarter ending in April, and by $22.6 million over the year, reflecting the large number of employees the company laid off (including in Palm Coast). The company paid out $5.8 million in severance in 2010. In 2009, when the consolidation was already under way, it paid out $1.1 million in severance.
In the fall of 2008, and with great fanfare and self-congratulations, the Palm Coast city administration (led by Jim Landon), the county's private-public economic development partnership known as Enterprise Flagler, and the county commission announced that they'd convinced Palm Coast Data to remain in Palm Coast. Amrep promised an additional 700 jobs and average annual wages of $29,530. The company never made clear to what extent Palm Coast, which had the company's largest subscription fulfillment operation and workforce all along, was really at risk of losing the facilities. As a business decision, it would have cost Amrep far more to consolidate away from Palm Coast than to consolidate into it.
None of the other Kable workforces and communities where Kable had similar operations at the time (in Ohio, Colorado and Illinois) had word of anything other than impending lay-offs. While there were several press reports of Palm Coast Data working on a deal in Florida, there were no such reports of Kable working on any similar deal elsewhere. In retrospect, there seems to have been little doubt that Amrep had settled on Palm Coast as its choice all along, although there was nothing to lose, and plenty to gain, in playing on the Palm Coast/Flagler community's anxieties–and tax breaks.
Nevertheless Landon and Enterprise Flagler officials made it sound as if the potential loss was very real.
By the time Palm Coast Data announced that it would stay, the company had secured $500,000 in new tax concessions and direct taxpayer contributions from the Palm Coast City Council and the Flagler County Commission. It also got Palm Coast's old city hall, which the company eventually bought last year for $2.4 million less than its assessed value in 2008. Had the city not vacated that building, it would not have been looking to build a new city hall for $10 million: the city owned that building, and it was more room than it would need this century. Mayor Jon Netts said he'd have been satisfied with it as a city hall, had Palm Coast Data not requisitioned it.
The deal with Palm Coast Data, in other words, will end up costing taxpayers whatever that new city hall costs plus the tax subsidies.
Palm Coast Data officially opened in Palm Coast the first week of April in 1985, when it employed 120. (The company had actually been operating since 1984.) The company was enmeshed in tax-dollar subsidies even then. The Flagler County Commission's economic development agency at the time, the Industrial Development Authority, had granted Palm Coast Data $2.5 million in IDA bonds. The company also got job-training subsidies through the state. A federal subsidy was used to recruit new employees and pay half their salaries during their training period, to spare the company those costs.
In May 1995, Palm Coast Data was acquired by St. Louis-based DIMAC Marketing Corp. That company filed for bankruptcy five years later. Amrep acquired Palm Coast Data through Kable in 2007.
Just before its announcement that it would consolidate subscription fulfillment operations in Florida, Amrep shares were trading at around $58 a share on the New York Stock Exchange. They have been falling since, and have not traded above $15 a share for the last six months except for a couple of sessions. The stock closed at $12.37 this afternoon. That was before Amrep's announcement of its 2010 results, which was timed to go public just after markets closed to minimize the immediate impact on the stock.