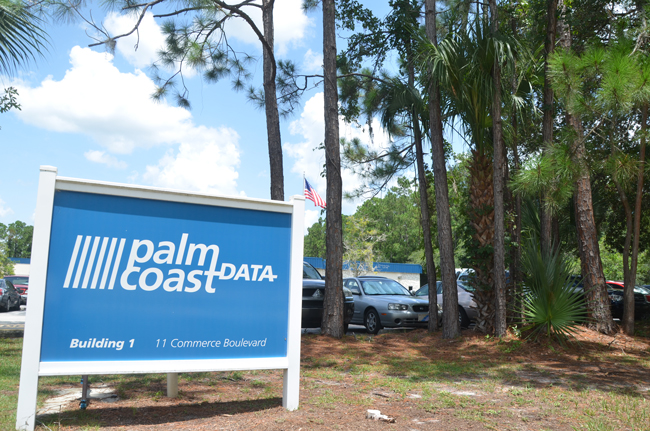 Palm Coast Data's parent company—Princeton, N.J.-based Amrep Corp.—is past sugar-coating its message to investors. Its latest annual report is blunt, sobering and, for anyone employed at Palm Coast Data, which at one time was the city's largest private employer (Florida Hospital Flagler now has that distinction), worrisome.
Three factors undermine the company's long-term viability: debt, recurring losses, and intense competition in a rapidly evolving field it's having difficulties keeping up with.
"The Company has incurred significant historical losses and cannot assure shareholders that the Company will be profitable in the near term or at all," the latest annual report states, capping three years of net losses totaling $11.5 million, including $2.84 million in the fiscal year that ended in April 2013. The company has two mainstays: media services centered largely on Palm Coast Data's subscription fulfillment operation and newsstand distribution, and a real estate subsidiary in New Mexico.
The company cites "highly competitive conditions in the Media Services businesses and the absence of meaningful real estate development and building activity after 2008" for its diminishing fortunes. "The Company cannot assure shareholders that the economic or operating conditions affecting either of its principal businesses will improve," it states in the report.
The report's assessment came despite the company's acquisition in January of FullCircle Inc., a Denver-based company that provides marketing, call-center services and product distribution. To stem losses experienced by the diminishing number of printed magazines, Palm Coast Data has been moving toward more digital models. The acquisition is now part of Amrep's Media Services operations, along with Palm Coast Data. The acquisition helped edge the division's revenue up slightly—a rarity in the last several years—to $20.3 million in the latest quarter, from $19.6 million in the same period a year ago, a $700,000 improvement.
But FulCircle's revenue by itself was $1.4 million, suggesting that, absent FulCircle, underlying revenue losses at the subscription fulfillment operation, which represent 70 percent of media services revenue, continue.
According to Amrep, Palm Coast Data performs subscription fulfillment services for approximately 422 different magazine titles for approximately 96 clients and maintains databases of approximately 39 million active subscribers for its client publishers and membership organizations. In a typical month, Palm Coast produces or provides data for approximately 39 million mailing labels for its clients and also processes over 13 million pieces of outgoing mail for these clients.
Falling Fortunes
"There are a number of companies that perform subscription fulfillment services for publishers and with which Palm Coast competes, including one that is larger than Palm Coast," the report states. "Since publishers often utilize only a single fulfillment company for a particular publication, there is intense competition to obtain subscription fulfillment contracts with publishers. Competition for non-publisher clients is also intense. Palm Coast has a sales staff whose primary task is to solicit subscription fulfillment business."
Palm Coast Data at one point, before 2008, employed upwards of 1,000 people. That year it entered into an arrangement with Palm Coast government—which sold it a 70,000 square foot building for $3 million and provided other jobs incentives—as the company consolidated operations from other states into its Palm Coast operation. At the time, it was promising to add 700 jobs over three years and expand its Palm Coast campus further. Neither happened.
The company has consistently refused to provide the number of employees in Palm Coast. But as of July 1, all of Amrep Corp. had about 1,200 full time employees, including 370 temporary employees of the Company's staffing business, according to its annual report. Those employees include its offices in New York, New Jersey, its magazine distribution operation, its product packaging and fulfillment services that operate from a 191,000 square foot facility in Fairfield, Ohio, a customer service office in Mt. Morris, Illinois, and its real estate operation in Rio Rancho, New Mexico.
Credit Woes
Both the media services and real estate divisions have been operating through two revolving credit arrangements, one of which matures in May 2015, the other in December 2017. The latter (for the real estate division) does not allow for additional borrowing. "If the Company's Media Services businesses are unable to extend or renew on similar terms the Media Services Credit Facility that expires in May 2015, the Media Services businesses would be obligated to repay the outstanding balance of the Media Services Credit Facility," the report notes. Same issue with the loan to the real estate division.
"If this occurs," the report warns, "the Company's Media Services businesses or AMREP Southwest, as the case may be, may not be able to fund in full or refinance these obligations at such time absent the Company obtaining additional debt or equity funding or raising capital through the sale of assets. Such additional funding may not be available on acceptable terms or at all at such time. Any failure in this regard could have a material adverse effect on the Company's business, financial condition and results of operations.
More bad news for the division that includes Palm Coast Data: "the Company's Media Services businesses have operated with negative working capital ($25,752,000 at April 30, 2013) primarily through liquidity provided by one significant customer contract that expires June 2014. The negative working capital of the Company's Media Services businesses represents the net payment obligation due to this customer and certain other third parties."
A Vital Customer Drops Out
In May, the company got word that its key customer—in the newsstand distribution arm of the company, not Palm Coast Data–would not be renewing its contract come June 2014. That will leave a substantial debt obligation on the company's hands. "Any failure to obtain capital to pay such obligation or to obtain other sources of working capital could have a material adverse effect on the Company's business, financial condition and results of operations," the report warns; "these circumstances could also trigger a default under the Company's Media Services Credit Facility."
In essence, the company's media services division that includes Palm Coast Data has been subsidizing both the parent company and its real estate operations, raising yet another warning: "If the cash available for distribution by Media Services were insufficient to fund the Company's consolidated operations and the Company was not able to provide the funding needed by AMREP Southwest, the Company would be forced to seek either replacement financing or other sources of capital, such as by selling assets or issuing equity, which replacement financing or other sources of capital might not be available on acceptable terms (or at all)."
The company is also facing heavy financial burdens from an underfunded pension plan.
Burdens of Competition
And that's before the analysis of current market conditions kick in—the rapidly vanishing print products that once burnished Palm Coast Data's fortunes, technological changes, the migration of advertisers to the Web, and so on. "The Company's failure or inability to adapt to emerging technologies and changes in consumer behavior could have a significant adverse effect on the Company's competitive position and its businesses and results of operations," Amrep notes.
That requires enormous investments in operations such as Palm Coast Data. That investment may not be readily available. Amrep and Palm Coast Data bluntly admit that some of their competitors "have financial resources that are substantially greater" than their own.
"There are substantial uncertainties associated with the Company's efforts to develop new technologies and services for the subscription fulfillment and newsstand distribution markets the Company serves," the annual report states, "including the Company's lack of financial resources. Particularly in the Subscription Fulfillment Services business, the Company would need to make substantial capital investments in order to convert the Company's business to newer digital and internet-based technologies. Some of the Company's competitors have already adjusted their businesses for the growing digital market and any improvements the Company makes may not be developed until it is too late to compete effectively.
"Additionally, the cost and expertise needed to develop these new digital and internet-based technologies may be prohibitive for the Company, and even if the Company makes significant investments in new information processing technologies and services in these or other areas, they may not prove to be profitable. The failure or inability to successfully develop or employ new technologies and services could have a material adverse effect on the Company's competitive position and its businesses and results of operations. Even if these developments are profitable, the operating margins resulting from their application would not necessarily equal, or result in an improvement over, the Company's historical margins."
A few weeks before that grim report was issued, Mike Duloc, who heads the media services division, invited local media to have a rare look at Palm Coast Data from the inside, and to listen to Duloc's rosy predictions for the company. Ironically, only print media were invited. And if Duloc spoke word of the company's more objective analysis of its future, those words never made it into print.