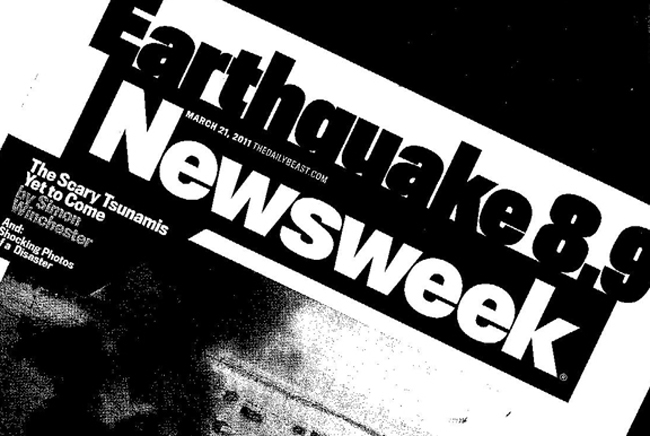 Palm Coast Data's deep troubles continue. Revenue at the Palm Coast-based magazine subscription fulfillment company fell another 21 percent in the third quarter of 2011, according to figures the company's parent released last week (from $23.1 million in the same period last year to $18.3 million this year). Revenue for the first nine months of fiscal 2011 feel 22 percent (from $72.5 million last year to $56.8 million this year).
The numbers underscore the difficulties the company is facing as readers migrate to the internet, magazine circulation falls, and magazines close. The company, which has anywhere from 1,000 to 1,200 employees, depending on how they're counted, is rumored to be for sale. It has been experiencing bursts of layoffs in the past two months. It will almost certainly not be making good on its 2008 promise to Palm Coast and Flagler county government to hire 700 new employees in exchange for cash incentives and a sweetheart deal on the 70,000 square-foot building that used to be Palm Coast's city hall. That deal is compelling the city administration to lobby for a new, $10 million city hall at taxpayers' expense (the city claims it has the cash).
Palm Coast Data's parent, Princeton, N.J.-based Amrep Co., reported similarly plummeting revenue, from $28.9 million in the third quarter last year to $23.8 million in the third quarter of fiscal 2011, a 17.6 percent drop offset by a one-time $764,000 tax benefit and an additional one-time, pre-tax profit of $759,000 from the settlement of a property tax appeal. The combination of the two matters, in addition to completing the consolidation of a three-state subscription fulfillment operation into one, in Palm Coast, yielded the company a net income of $1.3 million for the third quarter of 2011, compared with a loss of $721,000 in the comparable quarter last year. But the reversal is more coincidental than indicative of a turn-around in the company's fortunes.
Most of that fortune is now driven by the Palm Coast Data operation. Amrep's other subsidiary, Amrep Southwest, a real estate company built around selling land in Rio Rancho, N.M., is at a virtual standstill, with revenue of just $257,000 in the third quarter, almost half the previous year's and a fraction of Rio Rancho revenue last decade: In 2008, the company sold 406 acres for $27 million in Rio Rancho. The company has sold just 16.3 acres in the first nine months of fiscal 2011, for $1.57 million. The company, which owns more than 17,000 acres in Rio Rancho, is also facing a severe financial set-back that will impact Palm Coast Data if it cannot make good on a $22.5 million loan.
According to a company press release, "Amrep Southwest has a loan with a bank that matured on December 16, 2010. Amrep Southwest has initiated discussions with the bank regarding renewal of this arrangement, which had an outstanding principal balance of $22,464,000 at January 31, 2011, but this facility has not been renewed and there can be no assurance that it will be renewed. Amrep Southwest does not have sufficient funds to satisfy this obligation and, if it is unable to renew this loan facility, it would be forced to seek either replacement financing, which might not be available on satisfactory terms, or other sources of capital, such as by selling assets or the Company issuing equity, which may not be possible on acceptable terms."
Palm Coast Data itself may have a $3 million liability headache soon: if it doesn't produce the promised jobs in Palm Coast, it must return that money to the state of Florida, which provided the incentives. The company recently got an extension on that due date.
Writing yesterday (March 15) in Seeking Alpha, the stock market blog, analyst Alex Gray noted that while Amrep's stock traded at well over $100 per share four years ago, "it has been nothing but a downward spiral since. In fact, the stock currently trades below its March 2009 lows, when everyone thought the world was coming to an end." The stock was trading around $9 a share this week. "The company has made moves to improve the cost structure at its Kable Media subsidiary by consolidating its subscription fulfillment operations from three locations into a single existing location in Florida," Gray writes, referring to Palm Coast's nominal parent, itself a subsidiary of Amrep. "While this consolidation led to improved results, I anticipate revenues will continue to decline barring an acquisition or the addition of major new customers."
To lift its profile, and after losing a major consortium of titles, Palm Coast Data made much of its acquisition of the Newsweek contract in January. Newsweek's base-rate circulation–that is, the circulation the magazine promises advertisers–was 1.5 million in January, according to a Palm Coast Data press release. What the release didn't say is that the base rate had been 1.9 million just six months earlier, and 3.1 million in January 2009. The Washington Post Co. sold Newsweek to 91-year-old billionaire Sidney Harman in August, for $1 because of its huge liabilities and doubtful future. Newsweek's "brand and subscriber base fit especially well with our expertise and the service model we deliver," Palm Coast Data said in January: the two companies' financial profiles are, in fact, a good, if grim, fit.