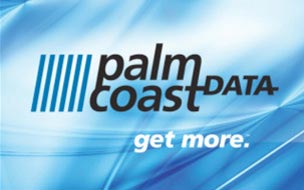 The Flagler County Chamber of Commerce is telling some of its members that Palm Coast Data, the city's largest private employer, is adding some 100 jobs over the next few weeks. The jobs are mostly low-wage, customer-service type positions rather than jobs in $30,000 range the company projected when, in exchange for jobs in that pay range, it worked out a deal worth $400,000 in tax breaks with Palm Coast in late 2008.
Some of the jobs would make-up for lay-offs at the company over the past year. Palm Coast Data's parent companies, Kable Media Services and Amrep Corp., have been bleeding revenue and subscription-fulfillment customers since 2009 and borrowing money.
The Flagler chamber plans to make a splashier announcement of the job gains as a way to buttress its arguments in support of an "economic development" tax it is lobbying for through Enterprise Flagler, the private-public economic development partnership. Despite being bankrolled by tax dollars and private companies, Enterprise Flagler's achievements have been slim, and frequently inflated.
The connection between Palm Coast Data jobs and either the chamber or Enterprise Flagler, for example, is more nominal than substantial.
In 2008, Palm Coast Data consolidated its operations in Palm Coast, closing similar operations in Ohio, Illinois and Colorado. Evidence that Palm Coast Data was considering consolidation in any other state was never presented, and none of the communities with Kable operations outside of Florida reported any activity, prior to Kable plants there shutting down, that suggested they were in contention for attracting Kable's consolidated operations.
Palm Coast's city government, the county government and Enterprise Flagler all took credit for convincing the company to stay in town. In so far as local seductions affected the deal, the city government, however, and particularly Ira Corliss, the city's economic development coordinator at the time (he has since left), City Manager Jim Landon and the material incentives they put in play clearly played the larger role. The city immediately ceded Palm Coast's former city hall, a 70,000-square-foot facility on Commerce Boulevard, to the company in exchange for a $240,000-a-year lease. The company bought the building for $3 million in April 2009.
The "economic development" tax is gaining little support, even among the business community. The connection with Enterprise Flagler isn't helping, as respondents in chamber focus groups have wondered aloud about what Enterprise Flagler is, or–as even elected officials wonder more privately than publicly–what it does. By tying new jobs at Palm Coast Data to an Enterprise Flagler success, the chamber–which pulls most strings at the economic development agency and signs off on its strategy–hopes to counter criticism that the agency is either ineffective or poorly positioned to champion the "economic development" tax.