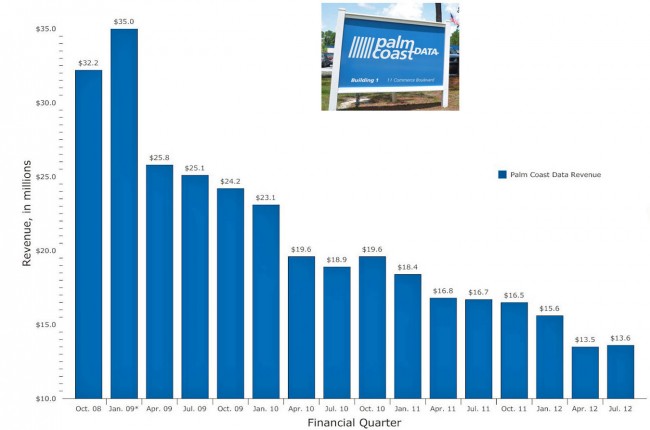 You could look at one glimmer at Palm Coast Data: revenue ticked up by $100,000 between its fourth financial quarter of 2012, which ended in April, and the first quarter of 2013, which ended in July, though minor quarter-to-quarter fluctuations are not as telling as year-over-year comparisons. In that regard, Palm Coast Data's revenue is still following the steep downward trend it's been on since 2009, with its latest quarter recording an 18.6 percent decline from a year ago, according to its parent company's latest financial report.
Palm Coast Data revenue for the three months ending July 31 was $13.6 million, compared to $16.5 million a year ago, and $32 million in 2008.
Palm Coast Data is a subsidiary of Amrep Corp., which consists of Palm Coast Data's subscription fulfillment services, newsstand distribution and product services, and land sales in New Mexico through the Amrep Southwest subsidiary. Amrep reported a net loss of $608,000 in its first quarter of 2013, compared to a loss of $279,000 a year ago, and a loss of $1.63 million in the previous quarter. That's the 12th loss in the last 16 quarters.
The company's health has been weighed down by the effects of the recession on two of the most severely impacted sectors of the economy: real estate and publishing. In the last quarter, Amrep Southwest saw no land sales at all. And the restructuring of the media industry, away from print and toward the web, continues to hurt industries built around print. Palm Coast Data's subscription fulfillment services depend on having magazine subscriptions to manage. But the magazine industry has been contracting, with titles going out of business or going exclusively to web editions, and several subscription fulfillment companies competing for what remains.
"The result has been a trend of reduced subscription and newsstand magazine sales, which has caused publishers to close some magazine titles and seek more favorable terms from Palm Coast and Kable and their competitors when contracts are up for bid or renewal," Amrep reports in its latest financial statement.
At its peak in 2008, Palm Coast Data was employing more than 1,000 at its Palm Coast operations on Commerce Boulevard, and projecting to expand by adding 700 more employees and building up its campus. At the time the company was consolidating all its subscription fulfillment operations in three states into the Palm Coast operation, in what was designed to make the company more efficient and better position it to face the competitive environment. The company secured extremely favorable financial terms from the state of Florida (including a $3 million economic incentive grant), and from Palm Coast and Flagler County. One part of Palm Coast's incentives, however, of just under half a million dollars, was contingent on the company producing the new jobs. Another part of Palm Coast's incentives–the selling, for just $3 million, of a 70,000-square-foot building the city had previously occupied as its city hall–is not recoverable.
Palm Coast Data has continuously refused to disclose how many employees are on its payroll, or whether it produced any of the jobs promised in 2008. But its revenue declines, now well below half where revue stood in 2008, several rounds of layoffs, and parking lots with large, empty swaths in the middle of the work day, strongly suggests that the company's employment ranks have declined significantly. Florida Hospital Flagler is most likely Flagler County's largest private-sector employer, its ranks hovering near 1,000. (The Flagler County School Board is the largest employer overall, with 1,700 employees.)
The company's executives have shuffled and changed over the past couple of years, with Michael Duloc, who's been with the company since 1993, taking over as president and CEO of its media services, with a total annual compensation Reuters reports at $445,000–higher than the reported compensation of Theodore Gaasche, Amrep's president and CEO (Reuters reports that compensation at $352,000).
The company's secrecy extends to local governments and boards focused on economic development: city and county officials profess ignorance about goings-on at Palm Coast Data, and the company's direction has yet to be a matter of discussion at the county's economic development council, or to be a matter of interest–as it routinely did in 2008, when Palm Coast was boasting of having preserved those jobs–at the Palm Coast City Council.
Amrep stock on Monday was trading at $8.89 a share. It's 52-weeek high was $9.57. Its 52-week low was $4.80.