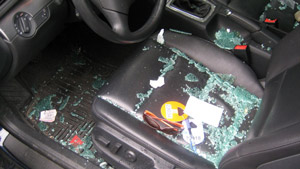 The following incident and arrest information was compiled using official documents, reports and affidavits obtained from government and law enforcement agencies. The following incident and arrest information was compiled using official documents, reports and affidavits obtained from government and law enforcement agencies. This feature is not inclusive. It is a sampling of reported incidents in the Flagler County area. Note: The U.S. legal system provides the presumption of innocence to those charged with a crime until guilt is proven in a court of law.
The previous crime report is available here.

A 75-Year-Old Man Is Tasered After Getting in a Car Wreck
The incident took place after 4 p.m. on Oct. 11, on the 300 block of Plantation Bay Drive in Ormond Beach. Steven Brockett, 60, and Paulette Brockett, 61, both of Stone Lake Drive, had responded to the scene after hearing a car crash, which they had not witnessed, involving a resident of Gale Lane. The man told a cop he was coming around a corner, had a tire blow out, and lost control of his vehicle and struck a tree. As the deputy walked south on Plantation Bay Drive to further his crash investigation and survey the area, he heard several people yelling. He turned around and saw the man strike Steven Brockett in the side of the face. The deputy ordered the man to turn around and place his hands behind his back, commands he ignored, according to a police report, "until I drew my department issued X-26 taser and pointed it at his chest. [The man] then complied and turned around placing his hands behind him." The deputy's report continues: "I holstered my taser and approached the man to secure him in handcuffs. As I grabbed [the man]'s hands he pulled his hands away from mine. I pushed [the man] in the back to attain a reactionary gap and again drew my taser and started issuing verbal commands. [The man] spun around to face me with his fists clenched and ignored all lawful commands given to him. [The man] then stepped towards me with his fists still clenched. As he stepped I activated my taser and deployed to probes into [the man]'s torso. One struck his chest and the other struck his abdomen. The taser deployment successfully stopped [the man]'s advancement towards me and he fell to the ground. [The man] sustained a slight secondary injury from the fall with abrasions on his knuckles. [The man] was placed in handcuffs and into my patrol vehicle before being assessed by medical personnel. Medical personnel on scene removed the taser probes from [the man's]'s torso and advised [the man] was in suitable condition to be transported to Florida Hospital Flagler for medical clearance before being transported to the Flagler County Inmate Facility." He was jailed on a battery charge and a resisting arrest without violence charge, and posted $1,000 bond.
A Car Window Smashed in at Belle Terre Elementary
It's the sort of thing no one expect would, or should, happen just as school is starting. But it did, on Oct. 8, just after 8 a.m., at Belle Terre Elementary. Elizabeth Mcintyre, 30, a Palm Coast resident, had gone to the school to drop off her child between 8:10 and 8:15. She'd parked in a back parking lot at the school. When she returned, she found the front-right passenger side window smashed in. Mcintyre did not see anyone walking or driving around the area other than parents and teachers entering the school building with her. Her Dell work laptop that had been sitting on the passenger seat was missing, along with her purse, which was on the passenger floor board, as was her iPhone 4S. There is no video surveillance in that area of the lot. The school administration is requesting that cameras be put in, but the administration is not sure the request will be granted.
A Series of Car Break-ins at Palm Coast's Waterfront Park
Several car break-ins were reported at Palm Coast's Waterfront Park on Oct. 7 in the evening. A purse that included a wallet and a passport was reported stolen from a Toyota whose right-rear window was smashed out. Several Apple electronic products were reported stolen from a Mitsubishi whose driver's side front and rear windows were smashed in. A purse containing credit cards and a check book was reported stolen from a Mercedes-Benz C230 whose passenger-side window had been shattered. The purse had been left on the passenger side floorboard. A brown leather purse with prescriptions, debit cards and cash was reported stolen out of a Chevrolet whose left-rear window was smashed out.No suspects at this time.
Illegal Dumping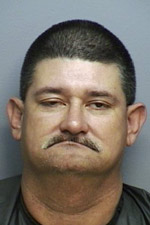 Harold Bourgeois, 44, of 31 Westrock Lane in Palm Coast, was arrested on Oct. 7 for driving on a suspended driver's license. But that's not what initially prompted a cop to stop him. A trespassing complaint was called in anonymously in the area of Wood Acre Lane and Wood Arbor Lane in Palm Coast, when a dark-colored truck pulling a lawn trailer was reported entering an empty lot at that intersection, where there'd been an ongoing issue of illegal dumping. A deputy saw the truck and trailer exiting the wooded lot. A traffic stop was conducted and contact was made with several people in the cab and bed of the truck. Bourgeois told a deputy, according to the report, that he had indeed entered the wooded lot and dumped yard debris and waste from a recent landscaping job he and his crew had completed, because the "dump was closed." Deputies on scene checked the area where the truck was seen coming from and found several piles of yard debris and waste. Harold stated that only one pile was his and that this was the first time that he had dumped yard debris at this location. A check of Bourgeois' record showed that he had an outstanding warrant for a failure to appear for sentencing, on a failed, deferred prosecution agreement with a bond set at $500.00.
A Deputy's Cruiser is Burglarized
The deputy left his Palm Coast home on Oct. 5 to spend the weekend in New York. When he went to his cruiser on Oct. 8 to begin his shift that evening, he noticed that the alignment of his trunk was off, and noticed small pry marks on the driver's side of the trunk. The pry marks were consistent with that of a small screwdriver. Nothing appeared taken from the trunk. The vehicle's trunk was damaged on the driver's side where it was pulled up and further toward the driver's side, causing it to be out of alignment. There are no suspects. The deputy's address may not be disclosed, in compliance with confidentiality rules applying to police officers' homes.
In a separate incident, a deputy–Alicia Cowan–rear-ended an Acura at 15 Old Kings North on Oct. 6 when her brakes reportedly failed. No injuries were reported.
And in a third incident involving a deputy, a pair of Doluce Cabana sunglasses valued at $400 and loose change ere reported stolen out of a Kia Sorrento, a vehicle belonging to the wife of a Flagler County Sheriff's deputy (J. Dopp). The vehicle had been left unlocked.
Shoplifting, then Fleeing to a Women's Bathroom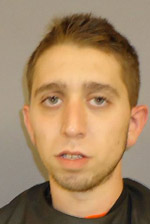 James Lacertosa, 22, of 26 Woodlyn Lane in Palm Coast, was arrested for shoplifting at Walmart on Oct. 6. He'd attempted to leave the store with multiple electronics and household items, including twin sheets, a shag rug, a blanket, another sheet set, an XBOX 360 access remote, an XBox network adapter, and Pedigree dog food, the lot totaling $239.12 after taxes. Lacertosa fled from Walmart employees while deputies were en route, according to a police report. He fled in the parking lot toward the area of Steak and Shake and was located in the women's bathroom of Sonny's pretending to use the restroom facilities. Walmart Lacertosa on video matching what Lacertosa was wearing, and showing him walking past all points of sale without paying. Lacertosa is also on probation for petit theft dating back to Sept. 13.
Car Fight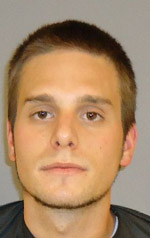 Florention Vasquez, 28, and Jordan Arnold (his name is spelled Jordon in the jail log), 24, are domestic partners. While driving home from Walmart on Sept. 30, they got into an argument. The argument got heated. Florention told a cop that while he was driving, Jordan struck him in the face above his right eye with a closed fist, causing a small laceration and swelling. Florention stated that he then had to pull over the vehicle in order to fight back. Florention, the police report states, had redness and swelling around his right eye along with the laceration. Jordan said during the argument Florention grabbed him by the arm and hit him in the face first, then he retaliated. Jordan said Florention hit him with closed fist in the lower lip, causing minor bruising. There were also a small scratch on his arm where Florention grabbed him, the report states. Investigators determined Jordan was the primary aggressor. He was placed under arrest for domestic battery.
Battery on a Father-in-Law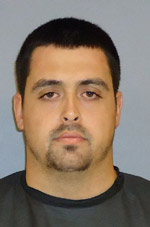 Shortly after midnight on Sept. 30 a deputy was sent to 60 Pepperdine Drive in Palm Coast, where a man–James Eaker, 62–was reported lying in the street, bleeding from a large cut to his arm. The suspect, Marcus
Whelan, 28, had reportedly lefft the scene in a gray Jeep. Ashley Whelan, 29, told a cop that her husband, Marcus, got into an argument with her father (Eaker). She said when she got home with Marcus, he tried grabbing Whelan's keys thinking that they were his. Her father either got pushed by Marcus or fell into the bushes, severely cutting the top area of his right forearm, according to the report. On scene, Ashley said that she believed Marcus was going to go to a bar to continue drinking. Ashley also told cops that Marcus is an ex-Army Ranger and suffers from Post-Traumatic Stress Disorder (PTSD). A short time later, deputies located a grey Jeep parked at 15 Palm Harbor Village Way (Smiles). Contact was made with Marcus Whelan, who said he was outside with Ashley and James, after returning home from an engagement party. Marcus stated that he wanted to go to Smiles to meet up with his cousin Jimmy because he had not seen him in a while. Marcus stated that when he tried leaving, James put his hands on his shoulders in an attempt to keep him from leaving and driving drunk. Marcus then stated that he shoved James into the bushes and then left to go to
Smiles. Marcus Whelan was arrested on a charge of felony battery. He posted $1,000 bond.

Other Burglaries, Larcenies and Miscellaneous Matters
Electric range reported stolen at 15 Ryberry Drive in Palm Coast. Theft believed to have occurred sometime between Sept. 1 and Oct. 10.
Two DVD players mounted on the back of the passenger and driver seat of an SUV were reported stolen as the SUV was parked, unlocked, at 105 Rickenbacker Drive in Palm Coast, on Oct. 11.
iPhone reported stolen at Target, from a shopping cart, on Occt. 7.
Car tag reported stolen at 4177 Fruitwood Ave. in Bunnell on Oct. 9.
Apple iPad reported stolen from inside a residence at 33 Red Barn Drive in Palm Coast on Sept. 15.
A Dodge Caravan's driver's side window was smashed in, and a purse stolen, as the van was parked at Ralph Carter Park the morning of Oct. 8.
Kulana beach-cruiser bicycle reported stolen from a garage at 3 Flagler Drive in Palm Coast. Theft reported on Oct. 7.
Two suspects reportedly stole 10 lottery tickets at the Quick King Food Store at 5332 North Ocean Shore Blvd. in Palm Coast on Oct. 6.
John Rapicka, 41, of 18 Kankakee Trail in Palm Coast, arrested on a disorderly conduct charge following a bar fight at Scruffy Murphy's on Palm Coast Parkway on Oct. 8.
Heather Davenport, 38, of Firtree Lane in Palm Coast, arrested on a domestic battery charge on Oct. 7.
Purse stolen from a Jeep likely left unlocked at the Cracker Barrel in Palm Coast on Oct. 7.
Tailgate and cooler stolen from a truck parked at 85 Fleetwood Drive in palm Coast on Oct. 7.
Wallet stolen out of a car that may have been left unlocked at 119 Bud Hollow Drive in Palm Coast, on Oct. 7.
Car tag stolen at 180 Bird of Paradise Drive in Palm Coast. Theft reported on Oct. 6.
Xanax and cash reported stolen from an unlocked Honda Accord at 35 Sea Breeze Trail in Palm Coast.
Car tag reported stolen at 2 Sea Flower Path in Palm Coast, on Oct. 5.
Two ATVs reported stolen at 2943 Sassafras Lane in Bunnell on Oct. 9.
Playstation, jewelry, flatscreen TV and other electronics reported stolen at 131 Wynnfield Drive in Palm Coast on Sept. 9.
Dog crate reported stolen at 13 Casper Drive in Palm Coast on Oct. 9.
Denise Jacobs, 18, of 18 Fallon Lane in palm Coast, arrested for shoplifting and for possession of drug paraphernalia, on Oct. 9.

DUI Arrests
Eugene M. Dover, 66, of 201 N. 7th Street, Flagler Beach, on Oct. 8.
Kelly Kowalczyk, 52, of 11 Wentworth Lane in Palm Coast, DUI with property damage, on Oct. 8.
Mikel A. Garland, 38, 168 North Palmetto Avenue, Flagler Beach, on Oct. 12.
Igot Poznyak, 48, of 32 Webwood Place, Palm Coast, on Oct. 12.
Lacey Roberson, 21, of 45 Bearcreek Path, Ormond Beach, on Oct. 13.
Daniel Madzel, 37, of 80 Riverview Bend S. 821, Palm Coast, on Oct. 13.
Lyubov Slyvka, 39, of 36 Palermo Lane, Palm Coast, on Oct. 13.
Stephen Neil Clifford, 27, of 1990 Lightsey Road, St. Augustine, on Oct. 13.
Jessica M. Brendel, 23, of 159 Lantana Ave., Flagler Beach, on Oct. 14.