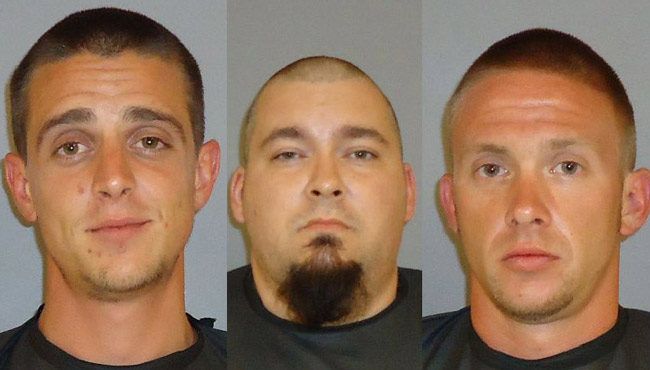 The following incident and arrest information was compiled using official documents, reports and affidavits obtained from government and law enforcement agencies. This feature is not inclusive. It is a sampling of reported incidents in the Flagler County area. Note: The U.S. legal system provides the presumption of innocence to those charged with a crime until guilt is proven in a court of law.
The previous crime report is available here.

Grand Theft Auto in the Ps.
Jeffrey Puritis Sr. is a 61-year-old resident of Press Way in Palm Coast. Around 3 a.m. on Aug. 5, he heard his dog barking at the front door. As he looked out the window he observed a Red Pick-up truck at the end of the street. He did not think too much of it until he heard noises outside and went to the window and observed two white males walking toward 7 Press Way, across the street from his residence. According to a police report, Puritis told cops that he felt that something wasn't right, grabbed his hand gun and proceeded outside in front of his house. He saw a white male in his driveway next to his vehicle. He also noticed two white males taking a red 2008 Zhejiang Taizhou Wangye Power Go scooter from 7 Press Way. The scooter was parked behind a black pickup truck that was backed in the driveway and close to the garage. He stated that he saw the two males walking the bike down the road to the end of the street toward the higher numbers. The white male on the right side of the scooter was not wearing a shirt and was possibly carrying a hand gun in his right hand, according to the police report. Puritis then yelled at all the suspects saying, "I'm going to shoot you". One suspect took off running down the street. The two suspects pushing the bike got startled and the suspect with the gun slipped and fell. Once the suspect got up, according to the report, they continued to push the scooter down the street until they got to the red pickup truck. They lifted the scooter into the back of the pick-up, slammed the back closed and took off, the report states. Puritis did not see which direction the truck went after they left the street.
A deputy made contact with the homeowner at 7 Press Way, who told cops that the scootter belonged to her husband, who was not home. Meanwhile, another deputy was on the look-out for the alleged getaway vehicle when he saw a red pick-up truck with three white men and a red scooter in the back of the pick-up, traveling south on Belle Terre Pkwy. The truck was eventually pulled over on Royal Palms Pkwy and Point Pleasant Drive. Puritis positively identified the suspects: Steve Janvrin, 26, of 1230 Forest Park Street in Bunnell. He was suspected to be the bearer of the gun; John Chandler, 36, of 609 East Palm Street in Bunnell; and Michel Hugh Griffin Jr., 27, of 142 Brunswick Lane in Bunnell. The victim and her friend drove to the location where the felony stop was made to identify the scooter and take it back home. The three suspects were booked at the Flagler County jail and charged with grand theft auto. Chandler and Griffin were held on $1,000 bond. Janvrin was held on $2,000 bond. All three posted bond. Griffin was previously jailed, in 2011, for simple battery. Janvrin was jailed on a charge of petit theft in July 2011, and probation violation in 2009.
A Feared Suicide By Cop on Buffalo Grove Drive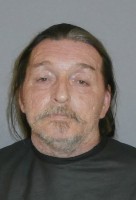 Details have emerged in the Aug. 5 incident on Buffalo Grove Drive, which required the intervention of the Flagler County Sheriff's SWAT team. A call to 911 about a domestic disturbance had been placed by Susan White, 52, the wife of James 'Jim' White, and mother of two children, including a 14 year old. Susan, according to a police report, told 911 that her husband had been up all night drinking, and was becoming violent. Susan also told the 911 dispatcher that Jim had numerous firearms in the master bedroom, where he was located while she spoke to 911. The 911 dispatcher advised Susan to leave the house with her daughters, and wait for deputies.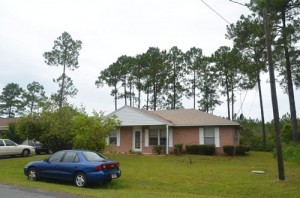 A deputy arrived at the house just as Susan and the girls were coming outside. He had them go toward the back of his vehicle, out of sight of the residence. Shortly thereafter, numerous other deputies arrived on scene, the deputy reports, and he set a perimeter on the residence. Sergeant Michael Lutz arrived and began to make contact with Jim, who was still in the house. Susan said Jim had been up all night drinking, that he was very depressed as well as drunk, according to the report, and that she was worried that he may try "suicide by cop," a form of suicide where an individual, by being uncontrollably aggressive, dangerous or threatening, forces a cop to shoot him. One of the daughters told the deputy that she was awakened to the sound of her parents arguing back and forth. She was upset by this, so she confronted them. Her father told her to go back to bed and when she refused, he told her: "How about I knock you out and make you go back to bed," according to the report. The girl told deputies that her father then grabbed her by the wrist and her hair, made a fist and punched her below her right eye. The girls were in fear for their safety because there was a history of domestic violence in the house, where Jim would beat Susan, according to the report. One of the daughters reported to deputies that her father was going for one of his firearms as he was in the master bedroom and was reaching around under the bed where he keeps many of his firearms. Susan told the deputy that when she was leaving the house, jim had his hand behind his back as if he had a firearm, but she did not think he really had one in his hand. The daughter who'd been allegedly assaulted had no sign of injury.
Sgt. Lutz began speaking with Jim at approximately 7:45 a.m., instructing him to come outside. It was two hours before Jim finally complied. He was taken into custody without further incident, charged
with battery domestic violence, assault domestic violence, and resisting arrest without violence, and booked into the Flagler County jail on $2,500 bond. Numerous firearm, weapons, and ammunition were recovered from the house, but not listed on the report. White bonded out.
Domestic Battery on a Pregnant Woman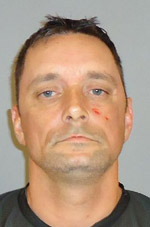 It was just past 11:30 p.m. on Aug. 4 when someone called 911 about a fight at a home at 24 Fortress Place in Palm Coast. There, the 28-year-old victim, four months pregnant, told cops that her husband, Richard Thomas, 37, had come home drunk around 10:30 p.m. She was mad because, according to the police report, she told cops he'd been having a drinking problem. He then reportedly began screaming at her and telling her that she was "making his life fucking miserable." The victim got out of bed because he was really upset and, according to the report, "he then went after her and grabbed her neck and put her to the floor." The victim claims she defended herself by scratching him in the face. She said he then broke her cell phone. She was afraid for her life. She wanted t pursue charges. Through the altercation, the victim's five-month-old son was in a bedroom. The deputy reports: "I then made contact with Richard on the back porch. I observed scratch marks and a bruise on the left cheek which I later photographed. Richard was slurring his words and he stated that he had 'four' beers tonight. Richard stated that [the victim] put her hands on him and he did not grab her neck. I then placed Richard under arrest for domestic battery on a pregnant woman. He was held on $1,500 bond, which he posted.
Car Smash-In at Varn Park Leads to Arrest
At approximately 1:15 p.m. on Aug. 4 a deputy was dispatched to Varn Park in reference to a car break. The victim said her rear driver's side window was smashed (on a Nissan Sentra), causing approximately $350 in damage, and her purse with a handgun was stolen. Shhe told a deputy that when she arrived at the beachside park she noticed a red sports car park next to her vehicle, but she could not tell if it was a Mustang. While en route, the police report continues, a deputy "observed a vehicle, older red Ford Mustang with black stripes and black rims [tag number witheld], which is suspected in previous car breaks, pull into the Citgo Gas Station north Of Varn Park at 5332 N. Ocean Shore Blvd." Detective Moy observed a white male with tattoos on his arm exit the vehicle and go into the store. He called dispatch to give the vehicle information. Dispatch advised him of the incident which occurred several minutes ago. Soon after Det. Moy observe the tattooed individual get into the passenger seat and the pair continued northbound on N. Ocean Shore Blvd. A deputy later pulled the car over.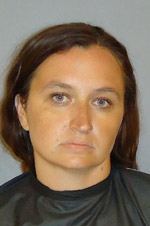 The reporting deputy writes: "As I approached the vehicle I observed the defendant, Daniel J. Smith, in the passenger seat opening the glove box. I asked him to step out of the vehicle and for the driver, Co-defendant, Kacee Jo Bishop, to place her hands on the steering wheel. I explained to them why they were stopped. For Mr. Smith's safety and mine I placed him into custody. I advised him he was not under arrest but sat him in the back of my patrol car. Mr. Smith gave me consent to search his vehicle. He stated he had nothing to hide." As other deputies arrived, the vehicle was searched, and items found that had been previously reported stolen, including a camera that had pictures of the victim and her family. "Two Phillips head screwdrivers were found in the driver's side door compartment. Shards of glass were found in the center console and near the camera," the report states. Other items belonging to the victim were also found, including credit cards. The report continues: "Both suspects were placed under arrest and read their Miranda rights. Mr. Smith stated he did not do anything. Ms. Bishop stated she did not see him break into the car. They pulled into Varn Park; she got out to use the bathroom. When she got into the car and they drove to the Citgo. Daniel got out and attempted to use a Credit card in the store. She stated Daniel came out and told her there was a problem. They both went into the store and the clerk told them there was not enough money on the card. They got into their vehicle and continued northbound. Ms. Bishop stated as I was pulling them over Mr. Smith asked her to hold on to the two cards. She did not look to see what they were. She advised us she placed the cards inside the back of her shorts." The gun previously in question, as it turned out, had not been in the purse, but at the victim's home.
The "Palatka Boys" Allegedly Burn a Car in Flagler Estates
At close to 4 a.m. on Aug. 5, a deputy responded to the area of Methvin Rd. and lsaacson Ave. in in Flagler Estates, in the northwestern part of the county, in reference to a vehicle fire. Upon arriving on scene, a Flagler deputy made contact with the two reporting parties (Jake Cryer and Ryan Mckay), a deputy from the St. John's Sheriffs Office and members of the St. John's Fire Department. According to the police report, "Ryan and Jake stated that they were out night riding on their new four-wheelers. They stated that they saw some 'Palatka boys' in the area and made sure to stay clear of them. They stated that when the 'Palatka boys' left the area, they saw what appeared to be a fire. They stated they rode out to the fire and found a Nissan Maxima with an active fire burning inside the car along the dash board. They stated they broke out the back window to make sure that no one was in the vehicle and after verifying the vehicle was empty, they called 911." The car tag returned an owner in Palatka. The Putnam County Sheriffs Office was already en route to attempt contact the owner to see if he knew where his vehicle was. (Contact was not successful.) The St. John's Fire Department extinguished the vehicle without incident. The St. Johns firefighters contacted Fire Marshall Dallas Shoemaker, who, the police report states, said he would not respond to the scene for an investigation. Due to the suspicious nature of the fire and because the registered owner of the vehicle could not be contacted, the vehicle was towed to the Flagler County Sheriff's impound lot.
Other Burglaries, Larcenies and Miscellaneous Matters
Digital camera, cell phone and a wallet with cash and credit cards reported stolen in a parking lot at European Village, out of a 2006 Nissan whose front passenger window was smashed out. Theft reported Aug. 7.
Trek racing bicycle reported stolen on Aug. 7 at 50 Armand Beach Drive in Palm Coast.
Check stolen from a Jacksonville couple's car was reported passed fraudulently at Publix Supermarket on Palm Coast Parkway on Aug. 7.
Kitchen fire, started by a grease pan left on the stove, and contained to the kitchen, drew firefighters to 4119 Walnut Ave. in Bunnell at 10:50 p.m. on Aug. 4.
A domestic altercation drew deputies to 28 Pepper Lane in Palm Coast after 9 p.m. on Aug. 4.
Burglary reported at 10 Ryland Place in Palm Coast on Aug. 4. The burglary is believed to have taken place any time between Aug. 1 and Aug. 4, when the owner was out of town. Stolen items include an X-Box, a Minolta camera, two iPod Touch items, $20 and $50 counterfeit bills, and a camera lens.
Purse, glasses and other items stolen from a Nissan Sentra at Varn Park at 3665 N. Ocean Shore Blvd. on Aug. 4. The car's rear driver's side window was smashed, causing $350 in damage.
Jorge Luis Alicea, 50, of 71 Rose Drive, A., in Palm Coast, Max Martino, 21, of 3 Willard Place in Palm Coast, and Yurity Skorokhod, 29, of 106 Plain View Drive, were arrested and charged with selling alcohol to a minor on Aug. 3.
A verbal disturbance at Unit 8 in apartments at 3701 East Moody Blvd. just before 5 a.m. on Aug. 3 required the response of deputies. No one was arrested.
Danielle Morecraft, 49, of 3499 County Road 2006 West in Bunnell, arrested on a domestic violence battery charge on Aug. 3.
Toiletries and over-the-counter medicines stolen from a home at 1000 John Campbell Rd. in western Flagler County. Theft reported July 30.
The last tenant at 140 Bird of Paradise Drive reportedly stole a washing machine, which the owner reported on July 29.
The house at 11 Buttermill Drive in Palm Coast was reported ransacked, and a Ford Fiesta, parked in the driveway, stolen, on July 30.

DUI Arrests
Dimitry S. Deych, 53, of 36 Zaun Trail in Palm Coast, on Aug. 3.