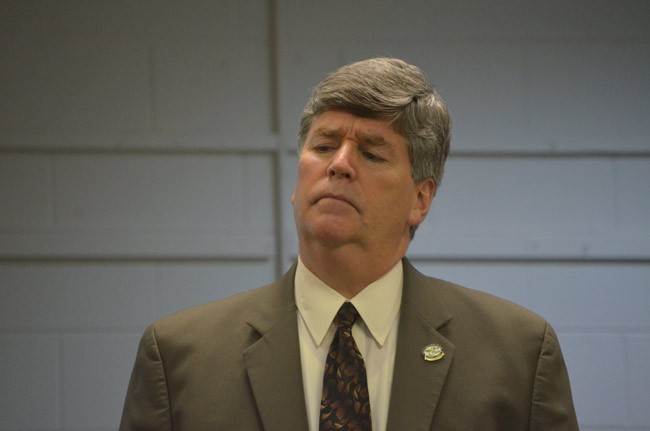 Last Updated: 5 p.m.
Like parents intervening to resolve their children's differences, the mayor of Palm Coast will meet with the chairman of the county commission, along with the city manager and the county administrator, in an attempt to resolve what has turned into a series of recriminations between the two sides and stranded for months an agreement between city and county on water and sewer service at the Flagler County Airport.
The differences have sharpened especially over the way County Administrator Craig Coffey and City Manager Jim Landon have interpreted the matter differently—Coffey saying at a county commission meeting Monday that Landon has held up the matter by making it conditional on unrelated issues, thus jeopardizing grant dollars, and Landon retorting Tuesday that "To suggest that's on the city with all the efforts we've been putting forward to try to get it done is inappropriate."
"This is symptomatic of the ineffective working relationship that exists between the BOCC and the city council," City Council member Bill McGuire, who was at the commission meeting Monday, said this morning at the council meeting. He was referring to the Board of County Commissioners. "And as I said last night I think it's shameful that a group of people that are dedicated, that are committed, such as we are here, and that care about what's going on, could have let this thing go as far as it did without bringing it to a conclusion. I'm just bringing you up to date of what happened last night. I thought it was pretty sad." He added later: "I'm not casting any aspersions on the city but the fact remains that there's a considerable sum of money on that airport project that's hanging in the balance pursuant to this agreement."
"They know what they need to do," Landon said.
"What I do not want this thing to do is to degenerate into finger-pointing," Mayor Jon Netts said. "Give us the background information, make that suggestion to Mr. Coffey, and I will contact the chairman, and we'll take it from there."
Landon said that background information will be made available by the end of the day.
The degree to which the county administrator and three county commissioners in turn attacked the city at Monday's meeting was surprising (only Commissioner Charlie Ericksen did not jump in; Commissioner Barbara Revels was on vacation), though less so in light of a history of clashes that come and go, with long periods of cordial relations in between. The airport water matter has been a sore point for five years. The airport is in the thick of Palm Coast, but airport property still belongs to the county. Under normal circumstances, if the city were to provide water and sewer lines to a property, that property would have to accept to be annexed in exchange. (The county has Palm Coast water for the north end of the airport; it's seeking another Palm Coast hook-up for the south end.) Landon attempted that approach in 2010 but backed down in the face of county resistance. A so-called "interlocal agreement" that would have Palm Coast extending those lines without annexation, but with other concessions, including land for a park, was the result. That agreement was approved by both sides' elected boards seven months ago, but has yet to be signed because of conditions Palm Coast's manager says have yet to be met.
That's what has frustrated county officials, and what led to Monday evening's recriminations. McGuire reported the matter to his fellow-council members at the end of Tuesday's council meeting.
"I felt compelled to get up and speak because the city, the board of county commissioners teed off on the city of Palm Coast with all kinds of stuff, some of it going back years, that they felt were the city of Palm Coast in their eyes had treated them badly," McGuire said, before teeing off himself: "We do not have a good working relationship with the BOCC no matter how you slice it. You'll never see any of them at the city council meetings. I rarely get any correspondence from the BOCC when they think that something needs to be addressed and what's happened out bat the airport has been mulling around for seven months without a conclusion. So Nate McLaughlin suggested that maybe we should have a combined workshop between the two bodies, I'm not opposed to that."
Nor was the rest of the council, as long as a clear agenda was presented. McGuire noted that a joint meeting in the sunshine would make it more difficult for fingers to be pointed. But that's not what will actually happen, as the meeting between the mayor, the county chairman and the two manager doesn't necessarily fall under public meeting laws (although as an appointed delegation for each side, it may, by some interpretations, fall under the open meeting law.)
Tuesday's meeting was Landon's chance to clarify the matter from the city's perspective. "We're just needing a reply from the county," he said. "We need documents from the county we haven't seen for years, so maybe if you can get the county commission to help with that, that would be helpful. But I'll give you examples. How long has it been since the sewer project has been online for Beverly Breach on the beach side? We still do not have an executed easement for a pump station. That means we've got a multi-million dollar facility there without actually having the easement to allow for it. It's usually the type of thing you require before you start construction. Trying to be helpful and cooperative, we got started. Still don't have that. Those are kind of things that it does become frustrating. Silly little details, but finally have said no, enough is enough."
A document the county administration made available in mid-afternoon, however–the executed easement for a pump station that Landon was referring to–indicates that the county chairman and county attorney signed it in February, as did Netts and Bill Reischmann, the city attorney.
Landon continued: "Capacity fees: you all approved the interlocal agreement but made it very clear that the county needed to come up to date on all their utility fees prior to us moving forward. They've been aware of it for years. We're told the check is in the mail but we still don't have the check. And as per the instructions of city council, I'm not moving forward with executing that agreement until they fulfill those obligations. And that's our side of the story, is that we still don't have an easement document to attach to it that has been concluded, although we put a lot of effort in trying to get there with the help of our city attorney etcetera. So yes, it is sad, I think is a good term for it."