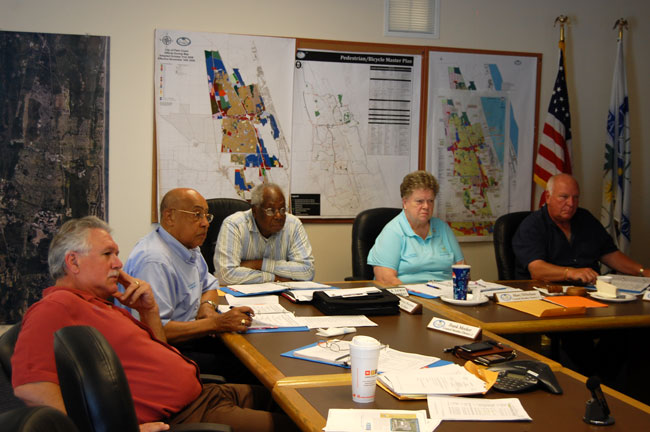 Lyle Sumek has been delivering a unique brand of shock therapy this year. He goes around the country helping elected officials on city and county commissions draw up their annual goals. "The world is different than it was six months ago, and it's different than it was a year ago," Sumek is telling his audiences. "Skip it" is a phrase the elected must learn to hear, and implement, when they draw up long lists of goals.
It was the Palm Coast City Council's turn today. From 9 a.m. to 4:30 p.m., with a break for lunch and smaller breaks in between, the council's five members sat around their U-shaped tables at their City Walk offices, matching long lists of goals and wishes with reality's more curt allowances. (See their full list of goals, compared with last year's, in the table below.)
"Our current economic situation is different than anything in our lifetime. And it's different than any other recession," Sumek told a collection of unsmiling faces around the table. Middle class spending is down 60 percent. Unlike previous rebounds from recession, spending is not returning to its former levels. Nor is housing. Both realities are relevant to Palm Coast's economy, which relies overwhelmingly on consumer spending and housing. Between 1950 and 2002, Sumek told the council, home ownership rates across the country varied less than 1 percent either way. Those rates remained in the 64 to 65 percent range. In the past decade, the rate shot up to 71 percent. It was driven by the housing bubble. Palm Coast was the bubbles Exhibit A. The rate of home ownership will return to its historic average, Sumek said.
The consequences for Palm Coast will be severe, because the contraction may last several years, affecting planned expansions of the city's tax base, which relies on new homes. Housing as Palm Coast or the nation knew it in the past decade "is just not going to come back," Sumek said.
Yet for all of Sumak's advice about smaller and fewer goals, this year's list looks almost as long as last year's, with many repeats. A new city hall is not on the top priorities list, as it was last year, but it's still on the "high priorities" list. Same goes for the water desalination plant. The usual suspects in the top category are still there: more city signs and gateways, develop an economic incentive policy, focus on stormwater issues.
What looks like goals can also be a matter of playing catch-up to what's already being done: Road resurfacing is back on the council's top priorities, so is swales maintenance, though a half-cent sales tax has been (or was supposed to have been) financing road-resurfacing since 2002 and the city accelerated its swales improvements this year by adding a new swales-maintenance team.
Council members talked a lot about a 24-hour sheriff's substation. They're pleased with their public safety contract with the sheriff overall, but they're not thrilled by the absence of a visible, permanent sheriff's substation in the city. That idea made it on the "high priority" list, but its chances of being realized are uncertain, because it entails significantly new costs.
Palm Coast won't be building new roads, new fire stations, new water plants or even permitting very many new homes. That work is mostly done, and the money for it is no longer available. But council members still placed the four-laning of Old Kings Road North and the building of an interchange between I-95 and Matanzas Woods on their high priorities list.
More annexation, however, appear dead for now. "I don't see the need to increase the city's boundaries beyond what we've got," Mayor Jon Netts said. "Let's not bite off more than we can chew. I think we've got enough for the next 20 years. I'm not opposed to filling in the gaps. But I don't want to expand the outer rim."
Sumek's strategy was to let council members and the city manager roam freely with ideas, dozens of them, discuss them at length, in individual categories, then whittle them down to absolute essentials for the coming year, with more allowances for the council's five-year goals.
Early discussion focused on promoting jobs, revitalizing St. Joe's Plaza and economic activity along Palm Coast Parkway, installing more video surveillance in public places as a way to beef up policing, and expanding the city's broadband internet access network for businesses. Council members looked intent on doing things that yield visible achievements in the eyes of the community, but without breaking the bank, which is closer to breaking than it's been in the city's history.
And they talked of planning for the future by diversifying the economic base, meaning bringing in more commercial and light industrial enterprise. Every city commission, every city council and the county commission has had that goal on its list since the region's political existence, though not without its collateral contradictions: no sooner was the city council finished speaking about diversifying its tax base away from a retirement community than it jumped on the idea of appealing to retirees looking to escape the north, or marketing Palm Coast again to the Medicare and pre-Medicare sets.
In the end, however, the goals, once adopted, were surprising only in so far as their familiarity contrasted with Sumek's advice more than six hours earlier. The top priorities are relatively modest and financially undemanding. But the "high priorities" are still those of a city flush with cash and ambition. Palm Coast is one for two on that count.


Palm Coast City Council Goals and Objectives
2009-2010

2010-11

Top Priorities

City signs and gateways
City signs and gateways
Economic incentive policy
Economic incentive policy
Stormwater system modeling
Stormwater system modeling
Aging commercial areas
Stormwater utility ordinance update
Bulldog Drive improvements
Community redevelopment agency (CRA) for northeast Palm Coast
Plan for future city hall
Video surveillance and emergency phones in parks
City owned industrial park
Community center concept plan (for northern Palm Coast)
Old Kings Road South improvements
Water recycling master plan
Fire response zone evaluation
Street Valley gutter and pipe replacement
ISO fire rating 4 strategy
Road resurfacing
Water desalination
Swales

High Priorities

Stormwater utility ordinance update
Matanzas Woods intercharge with I-95
Service priorities and property tax rate impact
Commercial area strategy
Budget reserves policy (reserves set at 10-20% of general fund)
Broadband network expansion
Community Redevelopment Agency (CRA) for northeast Palm Coast
Accessible sheriff's substation
Sheriff's contract
Water desalination
Fleet management plan
Pre-permitting and spec building ordinance
Direction of Enterprise Flagler, the county's private-public economic development agency.
Roberts Road business park
Video surveillance and emergency phones in parks
Beachwater sewer system
Beachside sewer system
Plan for future city hall
Four-laning of Old Kings Road North

Moderate Priorities

Fee study implementation
Parks and recreation fee structure
Further annexations
Florida Power & Light easement master plan
Speculative building ordinance
Building permitting and inspection
Landscape/irrigation maintenance ordinance
Older neighborhoods strategy
Old Kings Road North 4-laning
Recreation programs with schools
Code enforcement
Aging neighborhood assessment and plan
24-hour sheriff's substation
Water reuse master plan
Source: Palm Coast City Council