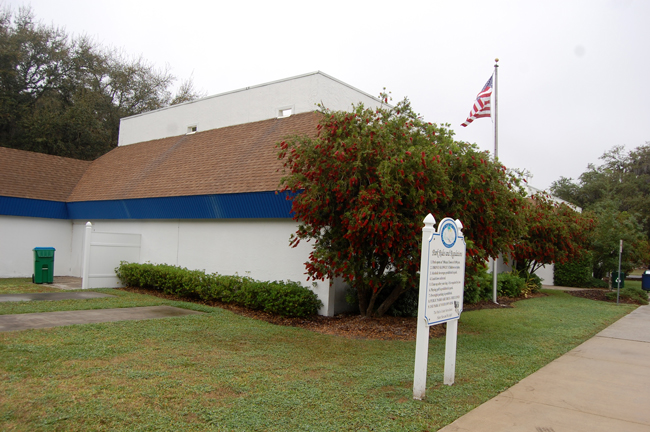 When the Palm Coast City Council set its goal for the year last May, top priorities included developing a conceptual plan for a community center in northern Palm Coast. A new city hall didn't make the top priorities. It made the "high priorities" list lower down.
On Tuesday, the city council heard, for the first time since May, conceptual plans not just for a community center up north, but for several community and "satellite" centers throughout the city. It also heard—and mostly agreed—that much of the plan is "pie in the sky" stuff: good planning, but no money for it right now, or for the near future. It was a subtle change from May's goal-setting, when the idea of a community center was more focused, and more doable, compared with a broad-ranging plan for an ideal wish list.
"Always keep in mind that there's no funding for this," City Manager Jim Landon told the council at the start of the discussion on community centers. Then, one by one, the council members themselves concurred. Frank Meeker: "It's a nice discussion based on the parks' plan, but the concepts discussed in that plan do not reflect the financial realities of where we are for the next number of years." Mary DiStefano: "Let's face it, we're getting ready to work on the 2012 budget, and we all know, there's no funds." Mayor Jon Netts: "Clearly we don't have the money and I don't anticipate having the money for this any time in the future."
None of them had used that kind of language when talking about building a new city hall several times since last May. The city has more than conceptual plans for that project. It has a price tag ($10 million), a funding plan (the city manager says the city has the money and wouldn't need to raise taxes to pay for the building), a location (Town Center), an architecture firm, and bids from construction firms, though no formal decision from the council yet to move toward actual construction. With a public still either largely skeptical or opposed to a new city hall, that politically dicey decision may not be made before the coming election, in which Mayor Jon Netts and council member Holsey Moorman are running for re-election. "Politically, it's suicide," Netts said last November about moving ahead with a new city hall, even though he said, "intuitively, right now, it's a good thing."
So the claim that the city has no money isn't quite accurate. It doesn't have $10 million to build something other than a city hall: About a third of that $10 million can only be spent by the utilities and building departments on capital needs related to those departments. Contributing those $3 million or so to a city hall that would house the building and utilities departments would be permissible. Contributing it to a community center or other unrelated needs would not be. That leaves Between $6 million and $7 million the city does have, by its own admission, to spend on capital or other needs.
It almost did commit some of that recently: "We were going to use some of that city hall money for Project Koala," Meeker said.
Project Koala is the name given a potential deal that could have brought 400 jobs to Palm Coast through an Australian-based company looking to build an American headquarter. The company chose Fort Myers instead, even though Palm Coasr was ready to offer $2 million in incentives, but with strings attached. (See the details here.) That the city was ready to spend a good chunk of the so-called "city hall money" on economic incentives suggests that even the administration is recognizing the political obstacles in the way of a city hall deal this year. But its readiness to front the money for Project Koala also undermines the claim that there is no money for other projects.
There is no will to spend that sort of money on other projects: that much the council and the city manager made clear on Tuesday after watching and hearing a presentation on what the city calls community and recreation centers. The centers as the city sees them wouldn't be square halls to accommodate a few activities but all-purpose centers that answer many needs, appeal to many ages and help develop the city's identity and broader goals, from neighborhood stabilization to recreation to easy access. At their highest end, those centers would be the type of place that would include swimming pools and gymnasiums, though such plans would only be achievable in partnership with other agencies—an "aquatic center" with the YMCA, for example (the local YMCA is exploring just such an arrangement).
Ideally, the city would have a center—or a smaller, satellite center—in each of the city's four main sectors. The larger centers would be about 40,000 square feet on sites of 5 to 6 acres, the smaller centers would be about 15,000 square feet on 3-acre sites. The city would look at some of its own facilities (the tennis center on Belle Terre, two sites in Town Center, including along Bulldog Drive, across from the existing Youth Center). It could also acquire sites or buildings existing clubs no longer want.
The Portuguese-American Club is just such a building. Meeker, the council member, said the site could be acquired for $1 million over three years and turned into a senior center—an idea DiStefano, long a supporter of senior center, said she liked, but that the rest of the council and the city manager didn't go for.
"Palm Coast is also changing generationally, so you have to reflect that with any plan that you do," council member Bill Lewis said of Meeker's idea of a senior center. "I would prefer to see a multi-generational site" because there's not much for young people, he said.
"I hear what you're saying," Meeker said, "but I would tend to disagree with your conclusion that there's nothing for them to do. I've got soccer fields, I've got baseball fields, I've got track, I've got golf, I've got a lot of sporting activities in a lot of areas, I've got hockey rinks over at the school, I've got meeting areas for them and church organizations supply stuff for kinds—there's a number of activities for kids. To my knowledge, other than probably some very small, isolated stuff, I'm not sure I've got anything for seniors."
When Meeker asked Landon what it would cost "from the ground up" to build a new community center, Landon didn't answer the question with a dollar figure. Rather, he addressed the concept: if it's not all-inclusive as an activity center offering plenty of recreation and physical activity, it won't be successful.
"We're going to have to talk about this in much greater depth and detail," Netts said. "Don't forget that we balanced this year's budget by cutting the capital projects to zero. We haven't really started the budget process for next year. You all know intuitively if nothing else, we have a lot of catch-up top play, so I don't see funding coming out any time in the near future."
At no point did the matter of the projected city hall come up. In an interview after the meeting, DiStefano said that, despite her support for senior centers, she'd put building a city hall first: "The city of Palm Coast is only 11 years old," she said. "Look what we have done, look at the parks, the trails, the roads. We've done for everybody else. Why can't we do it for the city employees so they have a workable situation?"
When voters rejected the planned city hall in 2005 by an 82 percent majority in that referendum, they'd also been asked about paying for new community centers. They rejected that proposal, too, but by a considerably less damning figure: 60 percent. The public's priority list is likely as much at odds with city government's on these two items today as it was then.