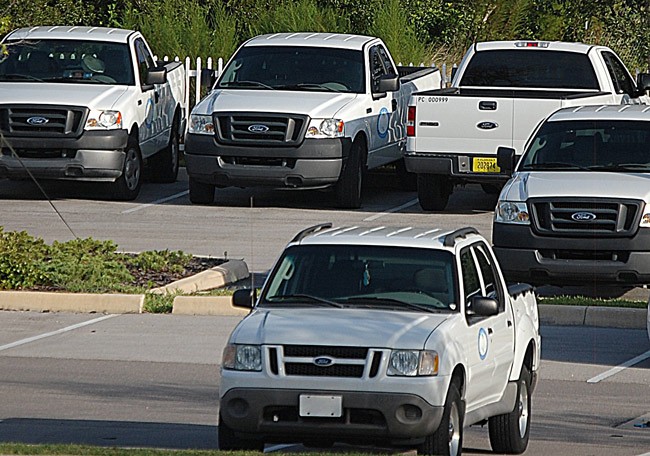 Prepare to gasp.
"It's not like the city of Palm Coast has its own way and everyone else does it a certain other way," Bill Reischmann, the Palm Coast city attorney, told the city council this morning. "City of Palm Coast code enforcement is done identically to any other city, any other county in the state of Florida."
The statement may sound surprising to some residents in a city known for its very aggressive code enforcement—a department of 25 employees, 13 of them inspectors, accounting for an annual budget of $2.2 million of the city's $28 million general fund. But Reischmann was being precise, and correct. He was referring to the process that Palm Coast follows once its code enforcement measures kick in. That process is laid out in state law, and no local government may diverge from it.
The difference between Palm Coast and other local governments in the county—or in many counties—is the council's policy decision, dating back to the city's earliest years, to make code enforcement a priority, with significant emphasis on the enforcement part.  That's not the case in any other city in the county, as a Palm Coast Observer article indicated last week. Flagler Beach, Bunnell and the county have a combined force of four code enforcement employees.
The article triggered a large amount of responses by email to members of the council, which Heidi Shipley, one of the council's two newest members, noted this morning when she asked if she could ride along one of the code enforcement officers to better understand the system. She will be doing that soon.
Shipley's request gave the council and administration a chance to re-clarify a few things about the way Palm Coast does code enforcement and the numerous misunderstandings those methods can generate. One thing the council did not touch in its discussion this morning was how relatively unpopular code enforcement is. The city's assumption is that while code enforcement generates its share of complaints, particularly from those at the receiving end of code violations, the city is only executing the wish of the council—to have a clean, manicured city.
But residents are, by the city's own accounting, not exactly thrilled about code enforcement. According to the city's own annual survey, just 49 percent of residents give code enforcement positive marks: that's the most negative response for any of the city's direct services, including traffic enforcement and utility billing, which have usually been sore spots with residents (utilities, because of recent utility rate increases). The issue occasionally grabs the attention of council candidates at election time, but the council has not reconsidered its tough approach to code enforcement nor has plans to.
Meanwhile, one of Palm Coast residents' favorite sports in a city teeming with idle eyes—second-guessing code enforcement officers—carries on.
---
A legal process more rigorously enforced in Palm Coast than elsewhere generates questions and misunderstanding.
---
"I don't think they realize all that code enforcement does," Shipley said of the emails she's been receiving, "but they're asking me to look at code enforcement to see what they do when they're driving around, why they're driving around, why some people's houses are tagged and other houses aren't."
People get upset when they get tagged but the neighbor across the street doesn't, even though that neighbor may have a similar issue. Jim Landon, the city manager, says tagging may have been done—just not when the resident saw it. People get upset because they feel they got tagged unfairly, and even though no one may have called the city to complain. "If someone calls in for trash cans left out on non-trash days and they go into that neighborhood," Landon said of inspectors, "they will actually issue a notice or a warning to everyone that has trash cans out. You don't go down a street with blinders on and just go that one street that somebody complained about."
And it's not correct that code enforcement picks on certain streets over others: officers will drive every street of the city twice a month. Still, the misperceptions continue.
"Everybody has a different opinion," Landon said. "One recently was how come we allow blue driveways. Some people think that's OK, other people don't. So you're always going to have the different opinions as to what's OK and what's not."
A recurring point of contention is over the code enforcement process itself, after a property owner or a resident has been "tagged"—after the violation process has begun, usually with a warning. Much of that if not all of it (aside from the source of the violation) happens behind the scenes, or scenes visible to those who might be lodging the complaints. That's where the state-required steps kick in.
"I think it would be very instructive and very helpful to go to a code enforcement board meeting," Reischmann said, "because then you see the end of the process, or toward the end of the process, where you see people coming in and being cooperative, people coming in and it's the sixth time they've come before the code enforcement board or the first time, or it's been going on for years and you see the neighbors in there. Then you see both sides, and it's really, really educationally instructive." He described code enforcement officers as "peacemakers."
"All they're looking for is code of compliance. There's no agenda," Reischmann said. "Code enforcement officers have a tremendous amount of discretion statutorily, to provide reasonable amount of time to allow a property owner to come into compliance. If this is the seventh time that you've been in violation, that definition of reasonable goes down. If it's the first time, you've got a death in the family, you've got a medical issue, these folks have a lot of common sense, and you can tell when you go to a code board meeting, that they exercise that common sense."
Mayor Jon Netts, who started his local government service on the city's code enforcement board, told the story he's often told about the grass growing to a foot, then two feet or higher, to a neighbor's despair, as the city's process carried on.
"That's why we start it a little earlier now, with our notices, so it doesn't get to the three feet as fast as it did in the past," says Barbara Grossman, who heads the city's code enforcement division. "When the blooms of the weed start coming out, we give them a courtesy notice at that time, so by the time it gets to the foot we're already at the second notice."