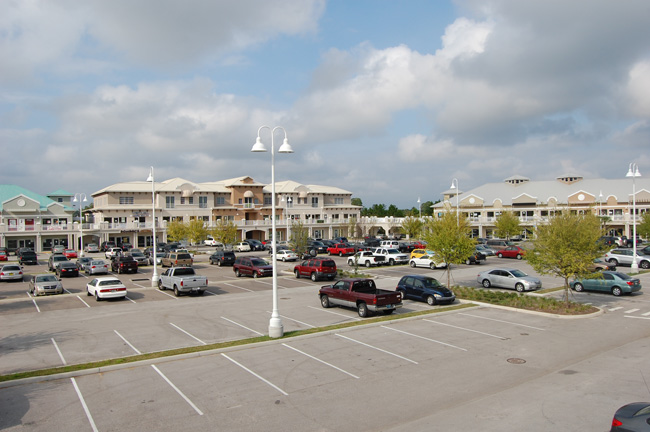 Can you say ungrateful gouging? That appears to be the strategy of the owners of City Market Place toward the City of Palm Coast as the city seeks to renew its lease there for less than a year.
Palm Coast government has been renting space at City Market Place since November 2008. The current lease for 22,000 square feet, which includes the second floor of the sheriff's substation there (the first floor of the substation is a separate lease between the sheriff and the landlord), expires in October. The city is paying about $20,000 a month for that space, or about $10.80 per square foot. Over time, that's been actually less than what the city paid the first two years it was at City Market Place.
Palm Coast is about to build a new city hall in Town Center. But, assuming the city council approves it, construction won't start until fall, and it won't be completed until the following August (2015) at the earliest, if not later that fall. That leaves Palm Coast in need of one more year of renting somewhere. That somewhere was to have been its current location at City Market Place. "We need a short-term gap, if you will, and that has raised some interesting challenges for us,"  City Manager Jim Landon said.
The city proposed a six month lease at the current rate with a month-to-month option after that, giving it the flexibility to make the move to Town Center only when appropriate. The city did not expect the landlord's demands.
The landlord wants $17 per square foot. That works out to $31,480 a month, a staggering 57 percent increase and $138,000 over what the city has budgeted for its offices.
That kind of hit on city budgets cannot be absorbed without having to increase the property tax, Landon said. "It's a hit that I don't think we want to absorb," Mayor Jon Netts said. He later called the proposal "unacceptable."
"While the City would like to minimize disruption of City operations, the proposed increase and associated costs compel the City to research alternatives," Diane Torino, the city's contracts manager, wrote John Bills, president of the property company, on May 19. The city, offering Bills another chance at a compromise, proposed a 10 percent increase in lease terms, which would result in a $22,000-a-month bill for rent. Bills returned with a $13.50-per-square foot proposal, or $24,750 per month. But Palm Coast would also be responsible for all interior and HCAV costs in the units.
From an administrative perspective, Falgout said, that option is not feasible because it is too open-ended. The building is in too shoddy a state that the city could be faced with endless repair costs. "That kind of risk in our opinion is a deal-killer," Landon said. That leaves the working option at $17 per square foot. "Everything is still being negotiated," Falgout said. (The landlord is also proposing a lease-to-buy option, but Palm Coast isn't interested, its own city hall being 60 percent into the design phase.)
The landlord's proposal is inexplicable from the city's perspective. City Market Place is a four-building strip mall that went into foreclosure four years ago before being taken back by a bank, then sold to John C. Bills Corp. of Palm Beach gardens, the same firm that owns Roma Court. City Market Place has never thrived. Poorly built and designed, it's never been able to fill its storefronts, and the city's presence, along with several cultural organizations, provided an anchor and a boon that that prevented the area from being more ghostly. Continuing the current lease would have guaranteed the new owners of City Market Place a guaranteed income for a significant chuck of square footage in the complex, almost through the end of 2015. The alternative is more empty space.
The city wants to minimize disruptions to its staff and to residents, as well as limit the financial costs of the additional year it needs before moving to Town Center. With that in mind, the administration on Tuesday proposed alternatives to City Market Place's rigid demands.
One would be for the city to vacate its third-floor spaces at City Market Place, currently occupied by top administrative staff that does not interact with the public on a day-to-day basis, as the first-floor staff does. Those first-floor offices (utility billing, code enforcement, the Business Assistance Center, and so on) would remain in their current spaces at City Market Place as would, presumably, the city council's chambers, where twice-monthly workshops are held. That cuts in half the city's space at City Market Place, down to 11,334. It would cost the city $16,000 a month.
The third-floor operations would be dispersed among current city offices elsewhere (the city's utility offices, its water treatment plant #3, the main fire station), and the city would have to find additional square footage of office space somewhere for the city manager, the city council, the city clerk, purchasing and the finance department.  Or it could vacate City Market Place entirely.
One possibility: the old News-Journal satellite offices, closed in 2007, on State Road 100, a 9,800 square foot space with 50 parking spaces, available at $9 a square foot. Another possibility: The Winn Dixie Plaza on State Road 100, with up to 4,800 square feet in three units, at $16.87 per square foot. But moving to the News-Journal space means that the city could vacate City Market Place entirely, and actually lower its costs to $233,000 a year, from $240,000 currently. That includes moving costs.
"The goal was to be under the current budgeted amount and to try to minimize disruption to the services," Falgout said. "If we're not able to reach an agreement of some sort that gets us under this budget with our current landlord, then this is the News-Journal combination alternative." Meaning vacating City Market Place entirely, dispersing city offices among its existing offices elsewhere, and occupying both the News-Journal space and the Winn Dixie space.
Keeping first-floor offices at City Market Place to minimize disruptions would incur the $17 a square foot cost the landlord is currently demanding. That's not sitting well with Netts. "I'm not comfortable with that number at all. That's for first class, premier space," he said, which City Market Place clearly is not.
Council member Jason DeLorenzo is worried about the "disruptions" to city functions, which he said could have an effect on economic development. He favors keeping at least some of the city functions at City Market Place. But Landon said disruptions are going to be inevitable regardless, from now until the city moves into its permanent home in Town Center.
Tuesdays council discussion on how to move forward was inconclusive. Landon was looking for some direction, but was not expecting  final decision so much as to put the City Market Place landlord on notice that the city was not going to be held hostage to the landlord's s demands. Tuesday's discussion may have been nothing more, and nothing less, than part of the negotiations. It'll be June 10 when the administration returns to the council with a more solid proposal.
"You still got some work to do," Netts told Landon.