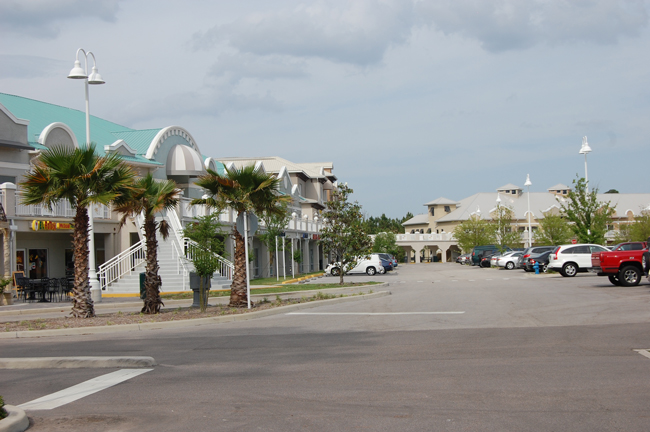 When Palm Coast Mayor Jon Netts asked his fellow-council members this afternoon what their thoughts were about a new city hall, he got an emphatic "No" from Bill McGuire.
It didn't get much better after that, other than a deflection of the question to City Manager Jim Landon, who's in charge of bringing back an analysis of where the city stands with its rental options and how best to move from here. There may be fainter interest in a citizens' task force, but that idea lacks definition and may end up looking more like a way to politically deflect a damaging issue from the council onto a committee rather than a sincere attempt at calibrating the size and place of a cornerstone.
The council itself is clearly split, 3-2, with that majority (including Netts) opposed to a new city hall, especially absent a referendum on the question. McGuire led the way.
"We've got a staff that works for Mr. Landon that's capable of doing this a lot better than some old people like me that get together over coffee," McGuire said. He was referring to a proposal—by six former council members that the current council make moving into a new city hall a priority again, starting with the appointment of a "blue ribbon committee" to study the matter for the council.
McGuire's remark about age elicited a few groans from his fellow council members, who are not much younger than the Gang of Six. (The Gang's combined age of 461 years predates the Mayflower Compact by 68 years.) But he went on.
"It seems to me that if there were something to be said for a blue ribbon commission there would have been something forthcoming last week more than just platitudes," McGuire said. "You know, OK here's—the only suggestion that I heard that was attractive to me was Alan Peterson suggested putting it back on the five-year strategy. I have no problem with that. But the timing is not right. I mean, if we found a place today, if Jason came in with a buyer that would give us the deal of the century, we don't have any money. So I think the possibilities are there. I think the potential is there.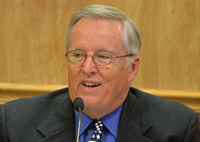 "As far as I'm concerned unless someone from the private sector came to us and said I've got an idea that I want you to consider, it's just not the right time to do it, your honor. Would it be nice to have a city hall? Sure. I do not agree with the idea that having an ostentatious building is going to attract business and industry. How is that working out for the county? I'm finding it real hard to work up enthusiasm for doing it at this time. Is it a good idea, sure. It's a great idea. But this is the wrong time to do it. We just raised utility rates. We're in the middle of putting together a budget, and to go out and start fishing for a new city hall at this time is just the wrong thing at the wrong time."
There was a brief silence before council member Bill Lewis tried an objection. Lewis had had a difficult council day already (Tuesday's meeting had aged enough for Stilton by the time the city hall matter was taken up in early afternoon). The city manager had earlier politely made mincemeat of Lewis's complaints about people not parking their garbage cans properly, or Lewis's suggestion that the city should charge a fee for use of its Business Assistance Center, while McGuire had batted down Lewis's hopes of increasing spending on cultural grants. But Lewis tried again to disagree.
"Why I don't agree," Lewis said, "because it's been 10, 13 years that we've heard that argument, and I think it's about time we get some new arguments for a city hall. I think the idea of those distinguished gentleman and woman coming forward to express their concern, because they've have been struggling with this before this council, they know the mistakes that they made and they know the fact that the longer you wait the less the chance you will have people who have those kinds of civic concerns where a town hall it may be symbolic of something of the past but it's still something that represents the character of the city."
Lewis then went on to insult every town and unincorporated area beyond Palm Coast's city limits with precisely the sort of language that, in previous years, has drawn the ire and resentment of localities that are not Palm Coast.
"This city is really is Flagler County," Lewis said of Palm Coast. "If it wasn't for this city, Flagler County would still be a little county, or a dot on the map. But this city has made Flagler County. I think it's just a town hall or a city hall is representative of where it's been or where it's going. Those people who came forth the other night, I think they understand that. But they're dying off and pretty soon those types of people will not be around."
Alan Peterson, at 74 the second-youngest member of the Gang of Six, was in the audience, and some of the council members apologized to him with funereal laughter.
Lewis, who does not laugh easily, said the city should be listening to the former council members. The best suggestion he's heard? Let a private concern build the thing, and have a lease-purchase agreement.
But the city cannot do that without a referendum. And a referendum would most likely not pass.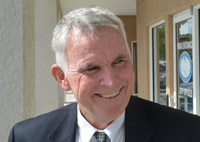 Council member David Ferguson wants to see an economic analysis that would show what type and what size of building would fit a city this size (an analysis that was partly done by City Manager Jim Landon's administration in 2010, when Landon presented the concept of a $10 million, scaled down city hall. But even that plan was roundly shot down at the time). Absent that analysis, Ferguson said, "the timing is still not a good time for the city to take the initiative to want to do that just because former council members think it's a good idea."
Landon reminded the council of the numbers, the options, the analyses that have been conducted, and that can be brought back to the council's attention in fresher detail.
Meanwhile, the city has not seen its rental costs increase. To the contrary. Its roughly $20,000-a-month costs for the current city hall location have declined in the last three-year lease. "Before we commit to re-up the lease, I think we need to at least explore the other options," Mayor Jon Netts said.
Landon asked whether the Gang of Six's idea of including citizens' input in formulating options is part of what the council wants to do. But even that idea got no serious takers.
"At this point we're doing a fiscal analysis," Netts said. "We're not doing an aesthetic analysis, we're not doing an economic development analysis, we're not saying we're an economic development driver or we're not."
"We're building a mathematical model," McGuire said.
"Exactly. Just show me what costs versus costs are," Netts said." Then we can have the philosophical discussions of are we an economic driver, do people think less of us because we're in a rented storefront. Those are philosophical questions, but without the numbers—and understanding that nobody, and I've had any number of people approach me with ideas as how we might proceed, nobody has shown me a viable option other than the referendum."
"Same here," McGuire said."
Netts also wants to know what the city's options are with the three land parcels it's sitting on in Town Center.
"I'm in favor of this task force," DeLorenzo said, referring to Lewis's reflections, "but if we're to go down that road I think we need to provide them with some guidance, we need to give them a mission." For example, understanding the pros and cons of the current facility, of having a new facility, "the rent-versus-own economics part of it." And, he concluded, the most important thing would be how to fund it.
McGuire gave DeLorenzo a brief refresher: "As you'll remember Jason, when you and I ran for this office, everywhere we went, and everywhere we spoke, of there was one recurring theme that we heard from the people, is where do you stand on building a new city hall. This is, like I said last week. Red-light camera people are either cold or hot about them, but I haven't met anybody that we start talking about taxing the voter populace to build a new city hall, they're ready to lynch you. They're getting a rope."
He concluded with this: "For a city that's only 13 years old, not to have a city hall is not Armageddon. Places that I came from, cities were 25, 30 years old before they could afford to build a city hall. When the city I lived in incorporated we held our meetings in a firehouse maintenance building for at least 15 years."