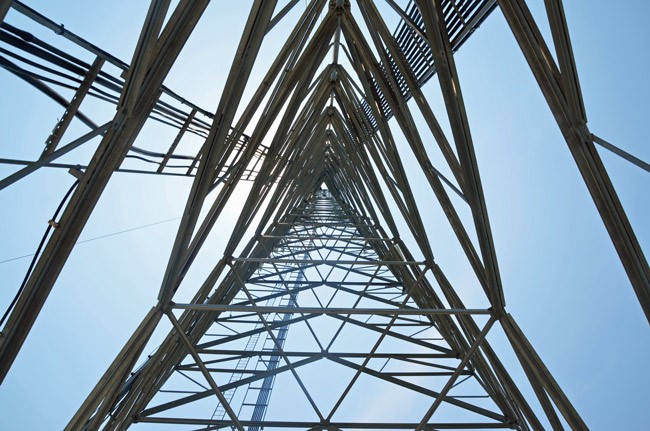 The Palm Coast City Council was non-committal to a proposal by the city manager today to change land regulations in the city so that cell towers could more easily rise around town, and dead zones reduced. The proposal is being made ahead of a deal, not yet sealed, between the city and a cell tower company that would result in a 150-foot tower near Heroes Park, behind Palm Coast Parkway, co-located on land where Palm Coast's Water Plan No. 1 sits. But council members want to know more before moving too far ahead.
Currently along the so-called Palm Coast Parkway Overlay District, which extends along the parkway's width and a distance beyond, a 50-foot height limit applies to all structures. So the land development code must be changed and an ordinance passed to enable 150-foot cell towers. The city administration is proposing to change land regulations to remove cell towers from the height restrictions in the overlay district, with setbacks of at least 10 feet from the property lines of certain commercial areas, and 150 feet from Palm Coast Parkway, Belle Terre Parkway, Old Kings Road, residential homes and residential zoning districts.
Towers would not be built by providers such as Verizon or AT&T, which are trying to get out of the tower business. Rather, companies that focus on building towers "come into a community based on where these dead spots are and build towers then try to find as many users as they can find," City Manager Jim Landon said. Palm Coast Parkway has its dead spots. "We think we've got a solution but we need to change the code to make that happen."
The city produced a pair of maps showing the strongest to weakest signals. Residents worst served by signal strength are in Palm Coast's R, P and W Sections, as well as residents of much of the B Section, especially near Palm Coast Parkway.
"A 50-foot tower does cell phone tower companies zero good," Landon said.
"Would two 50-foot towers solve the problem that one, 100-foot tower solves?" Mayor Jon Netts asked.
"Are there more than one way to skin a cat in the Palm Coast Parkway corridor?"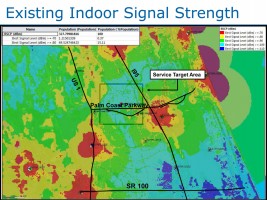 "We have consultants that would have to look into that, however it would take an awful lot of 50-foot towers to get the high-speed data that people are wanting today," Constance Bentley, the planner in charge of the tower project, said.
"Would it?" Nets persisted.
"According to the providers—"
"Oh please, let's not ask the fox to define the chicken coop for us," Netts interrupted. "Of course they're going to tell you. They want to do it the cheapest, easiest, most efficient way for them."
Council member Bill McGuire asked about the county's cell phone towers' heights. The administration didn't have much information about that other than that they allow the towers. Netts recalled a time when Hutch King was a county commissioner and he required that if a tower was 150 feet tall, it had to be offset from the road by at least that distance, so if it fell it wouldn't crush cars. McGuire was under the impression that county towers are required to be camouflaged "to look like trees," which he called "kind of dumb looking."
In fact, the county's land development code allows communication towers of up to 300 feet if used for three or more service providers. The minimum distance requirement from a tower to a house is 300 feet or 200 percent of the height of the tower.
In February 2014, the county commission approved a 260-foot lattice tower on an 83-acre parcel at the southeast corner of County Road 2006 and County Road 95, with the area leased by Verizon for the tower lying adjacent to CR95, leaving 3,600 square feet of open landscaped area outside of the 80-foot-by-80-foot fenced "compound," where the tower rises. That meant the tower was 1,750 feet south of CR2006 West. The closest home was 1,350 feet from the tower.
There is no "camouflage," other than paint: the first 50 feet are required to be of a forest-green paint finish, while the remaining height is to be galvanized steel gray, though the county's land development code does, among the four types of towers it allows, provide for stealthy or camouflaged towers in what it calls "subtle locations." The most common towers, however, are not of that sort, but rather the monopole type that rises lower than 200 feet. Lattice and guyed towers rise above 200 and 300 feet and have larger footprints, but broader coverage areas.
In Palm Coast, the height of towers isn't restricted anywhere else but in the Palm Coast Parkway overlay district. "If you don't approve this proposal, then they're going to go find another site on Palm Coast Parkway and put up their 150, but it won't be on city property," Landon said.
Residential area heights are limited to 80 feet in Palm Coast, but there are numerous 130- to 150-foot towers around town in non-residential districts, as in city parks, behind Frieda Zamba pool.
"I think it would be good to be consistent with what the county does," McGuire said, pressing for more details about county practices, which the city will provide subsequently.
Before it's on the books, the proposal would go to the planning board, then to the city for two reasons, then the council would see a contract and discover what the tower would look like. "What we're trying to do is adjust the land development code to allow that conversation to move forward," Landon said.