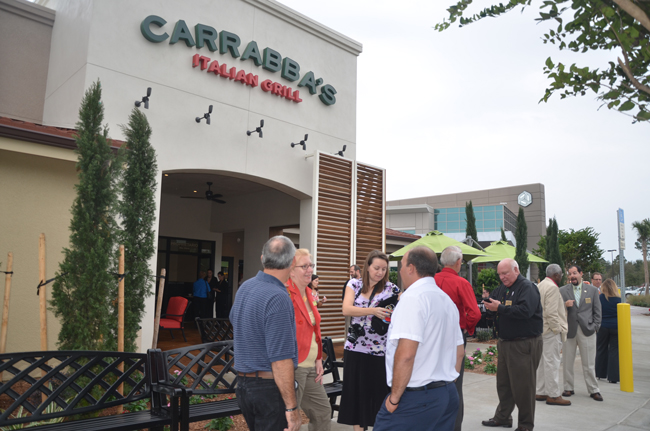 Given the nature of an economy for so long at low simmer in Palm Coast, a restaurant opening is the tale of two menus. The new food on offer is the main course. The economic benefit is dessert. Both were more or less in evidence at the official opening of Carrabbas's Italian Grill this afternoon in Palm Coast, along with a small group of city and business leaders who'd turned up to toast the occasion.
Carrabba's makes its name with rich Italian fare: Fettucini alfredo, chicken parmesan in coats of breadcrumbs, chicken bryan ravioli, the odd lobster in ponds of butter, appetizers that crackle with the siren call of the frier, desserts layered in the word "triple." It's the sort of menu that recalls a time when eating wasn't synonymous with guilt, which is partly why its creators opened the first Carrabba in Houston almost 30 years ago: to make diners feel as if they were eating at home.
Jon Netts, Palm Coast's mayor, is in the habit of going up to St. Augustine with his wife and another couple once a month, for dinner at the Carrabba there, until now the restaurant chain's closest beachhead to Palm Coast. No more such trips. "I'd much rather spend money locally," Netts said, waiting for the ribbon-cutting alongside City Councilman Bill Lewis.
Carrabba's is the latest in a slow but steady string of national restaurant chains to open in Palm Coast. In February 2011 the opening of a Red Lobster and Olive Garden that share a kitchen drew well over 1,000 applicants for roughly 200 jobs, most of them part-time. That was near the height of the county's unemployment crisis. Earlier this year, Panera Bread opened not far east on State Road 100.
With Carrabba's arrival, there's this: 82 new jobs (in addition to a few managerial jobs filled mostly by Carrabba's veterans imported from elsewhere), the addition of one more solid business on Cypress Edge, where just last summer Florida Hospital Flagler opened its satellite clinic, and where, in a few months, another national chain (Zaxby's) will open a Palm Coast location. And there's this: the new restaurant paid $206,400 in a variety of impact fees, the one-time tax on construction that defrays the cost of infrastructure such as roads, parks and schools. Beau Falgout, a senior planner in the Palm Coast administration and a point man on economic development, estimates the property taxes will be just over $4,000 a year—not much, but nowhere near the sales tax revenue the business will generate for the state and the county. The additional jobs, Falgout said, should help notch down the county's declining unemployment rate a bit further.
There are less tangible but no less significant benefits.
"Carrabba's provides another dining option along with our other great restaurants where our citizens can stay here in Palm Coast and dine here and not have to get on the highway to go visit another Carraba's," Falgout said. "That's a great sign that businesses continue to invest in Palm Coast. It's very hopeful for the future." Falgout underscores the vibrancy of new businesses along Cypress Edge, which to some extent depend on each others' success: the hospital's clientele and staff will patronize the restaurants and retail outlets along the drive, and solidify growth there.
The city's center of gravity, however, appears to be moving north, somewhat at the expense of Town Center, which had been designed as Palm Coast's new hub. But Falgout sees it differently: the periphery of Town Center has been filling up with businesses as solid as those now growing along Cypress Edge. As those choice locations fill up, Town Center's interiors will start picking up with commercial construction. Same thing along Old Kings Road, Falgout says: once Walmart decides to build at the southern edge of the road, near State Road 100, other businesses will follow. (Walmart is waiting to see a further pickup in building permits before deciding to build, Falgout said.)
Meanwhile, the county and the city are treating the Carrabba's opening as a vote of confidence. "It's exciting that a widely known and respect company is coming to invest in our community," says Rebecca DeLorenzo, interim president of the Flagler County Chamber of Commerce. "82 new jobs isn't too shabby either, so it's been all very exciting." The chamber facilitated Carrabba's search for a non-profit partner, offering up its venue for a series of meetings that led to the Florida Hospital Foundation.
Tonight, 50 percent of Carrabba's opening night sales (up to five thousand dollars) will benefit the foundation. "It is an honor to work with Carrabba's on its opening night event," said John Subers, Florida Hospital Flagler Foundation administrative director, who was at the grand opening at 4 p.m. "We think it's a great way for Carrabba's to get to know the community and are very excited that the organization has made a commitment to our community. The funds raised tonight will help Florida Hospital Flagler continue to provide the very best health care to the community that we serve."
"We are excited to welcome our neighbors in to enjoy hand-prepared dishes made from scratch using only the freshest ingredient," said Mike Xifaras, Managing Partner of the Palm Coast Carrabba's, who moved his family from Virginia to take on a five-year commitment at the local franchise.
Carrabba's is part of Bloomin' Brands Inc., a holding company that operates 1,248 restaurants, including Outback Steakhouse, Bonefish Grill, Fleming's Prime Steakhouse and Wine Bar and Roy's. Bloomin' Brands was formerly known as OCI Restaurant Partners, and was formed by an investor group that included Bain Capital, the firm once headed by Mitt Romney. Bain and its partners still retain a controlling stake. The company went public in August, when it had $2.1 billion in total debt (part of the reason it went public was to raise $300 million and pay $248 million in bonds), and today was trading at just over $15 a share.
In the three months ending on Sept. 30, it reported $953 million in revenue, up 2.7 percent over the same period a year earlier. Its 9-month revenue, ending in September, was $2.99 billion, up 3.6 percent over the same period a year earlier.
Located at 160 Cypress Edge Drive, Carrabba's Italian Grill is open Mon. to Thurs. from 4 – 10 p.m.; Fri. from 4 – 11 p.m.; Sat. from 12-11p.m.; and Sun. from 12 p.m. – 9 p.m. Call ahead seating, and Carside Carry-Out is available by calling the restaurant at 386-246-9839. Carside Carry-Out is also now available by Ordering Online. For more information about Carrabba's, please visit www.Carrabbas.com, www.Facebook.com/Carrabbas or www.Twitter.com/Carrabbas.