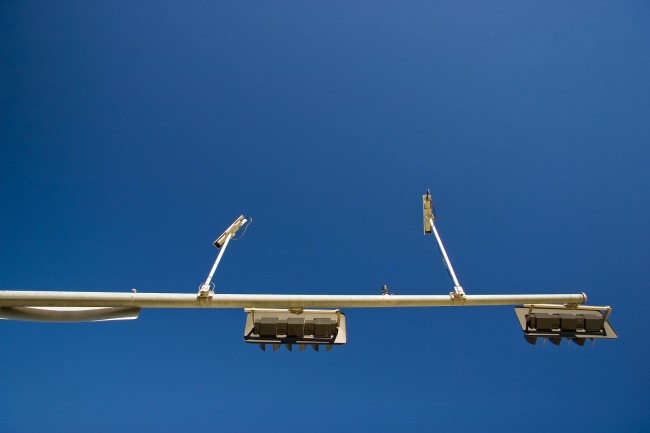 Last Updated: 9:19 p.m., with details from Gail Wadsworth's letter.
"Outrageous." "Overkill." "Cumbersome." "Unfriendly." "Complicated." "Bad directions." "Out of proportion." "Punishment doesn't fit the crime."
That's what many Palm Coast residents say of the more than 40 red-light spy-and-snap cameras gridding their streets.
On Tuesday, it's what Palm Coast Coty Manager Jim Landon and some of the city's council members were saying about a scheme even they now concede is more punishing than it should be, and too lucrative for the state.
It was a momentous, if qualified, shift. And it was largely prompted by Gail Wadsworth, Flagler County's clerk of courts.
Landon and the council spoke as if they were hearing a message residents have been telegraphing with progressively louder voices since the city installed the cameras in 2008, then allowed American Traffic Solutions to quintuple the number of camera last year
Landon doesn't want to do away with the cameras. He still believes in them as ways to encourage better driver behavior, more safety at intersections. But he blames the state for mucking up the cameras' intent and severely6 limiting cities' ability to administer the cameras as they find fitting. Landon isn't sure how to diminish the cameras' harsh image, but that's just what he wants to do. And on Tuesday, he got the council's green light to do so.
Early possibilities: give the city's soon-to-be hired hearing officer more discretion to go easy on fines; increase the number of mailed notices to violators to reduce the chance of them not getting word of a ticket, which could cost them large sums down the line and even lead to their driver's license suspension; explore ways to issue warnings instead of citations, or lesser fines, though neither of those possibilities are allowable currently, and would have to be enacted through state law; work with the clerk of court and ATS to make the system friendlier, to the extent possible, locally.
"I will tell you that I have always been an  supporter of this as an enforcement mechanism for running red lights," Landon said. "How it works, I look at the numbers, I'm very confident that it has an impact on behavior and it makes our intersections safer." But after discussions with Wadsworth—under whose jurisdiction red-light ticket appeals were channeled for the past three years, but no longer will be channeled after July 1—Landon had a change of heart about the disproportionate punishments the tickets can lead to. "I'm also going to tell you I think the program has taken off in bad directions," Landon said.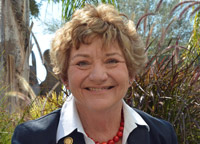 Wadsworth wrote a letter to the council and to Landon on May 8 alerting them to the unusually high number of traffic tickets that became state-issued traffic citations, which happens when an individual doesn't pay the fine–or doesn't know that a camera ticket has been issued, as appears to be the case in increasing numbers. While traffic cameras may be useful in reducing collisions, Wadsworth wrote, "there are additional negative repercussions in which you may not be aware."
Wadsworth noted that her office has been shouldering the extra processing work of the citations while the revenue from those tickets, once they become state-issued citations, goes entirely to the state, not to the city or to ATS. The source of the problem is the poor notification system to violators, many of whom seem unaware that they've been cited originally–triggering big fines and resentments. (See Wadsworth's full letter below.)
"Mayor you've used that term, that $400 is outrageous, and I think we all agree that that $400 punishment doesn't fit the crime," Landon said to Jon Netts at this morning's council meeting.
The city, he added, is "picking up a bad rap on this one because everybody things oh, we're just trying to make money."
"The perception is the more citations we have, the more money we make. That's not true," Landon said. He's right: the city's contract with ATS is such that the city gets a flat $700 payment for every camera emplacement, regardless of ticketing at that emplacement. But with 43 cameras in place, that means the city is getting $30,000 a month from the cameras regardless, or $360,000 a year. (It's a much smaller amount than what Palm Coast netted before the state regulated the system, with far fewer cameras, which explains Palm Coast's unhappiness with state "meddling." The only way to make some money was to vastly increase the number of cameras.)
Council member Bill McGuire was also critical of the perception that it's a money-making scheme. "We need to publish information as to how much the city participates, how much ATS gets, how much the state gets," McGuire said, "because people that hate it, that's the first thing they pull out of their pocket. This is just another way for the city to get in my pocket."
"It absolutely is not a money-making scheme for the city," Landon said.
"I know that, you know that," McGuire says.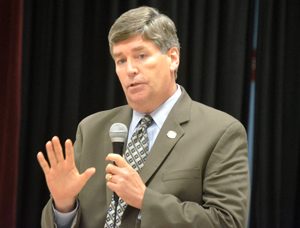 "But the more I look into it, I don't blame them for saying that because I think it's a money-making scheme for the state," Landon continued. "I think the state is making a lot of money off of it, and so I think it's turned into that. So then the public can't distinguish, doesn't matter who's getting the dollars."
By any definition, it is a money-making scheme, even for Palm Coast. And the numbers have been published, in their breakdown, repeatedly. But it is just as true that Palm Coast gets the least amount of money from the scheme. Just because it gets the least doesn't mean it isn't getting a bundle. It only means that the enormity of the scheme is such that Palm Coast's share ends up looking as relatively small as it does.
Here are the numbers: For every $158 ticket issued, the state takes a $75 cut. In the May 27 to June 2 week, as reported by the Palm Coast Observer, the 43 cameras issued 424 citations. If every fine is paid, that's a total of $67,000. The state's cut is $31,800. Palm Coast's cut is a mere $6,946. Where does the rest go? To ATS: $28,254. That's just for a week's worth of tickets.
On an annual basis, ATS' cut would be close to $1.5 million, the state's cut would be $1.65 million. That's without counting the additional fines levied on those who appeal their case and lose, or those who choose not to pay their ticket and end up paying $400 or more to restore their driver's license.
In other words, Palm Coast's red-light cameras are sucking out of the local economy more than $3 million a year—or the equivalent of 85 jobs with annual salaries of $35,000. That's $3 million that does not circulate to local businesses, merchants, services.
(Palm Coast isn't strictly limited to that $700 per camera payment. The city stands to earn any dollars above the $4,250 generated by a single camera emplacement. For that to happen, that camera would have to generate more than 66 citations. Most cameras don't. But a handful do.  So in reality the city stands to make a few tens of thousand dollars more than its flat $360,000 cut.)
"All that money is going to the state and it really is overkill, and I think the whole process has become, let's say, unfriendly," Landon said. "I don't know how we can do this, but I think we need to try to get more local reality back into this, or local common sense, because it's gotten out of proportion of what it was intended, in my opinion. I think with our own hearing officer, and working with ATS and the clerk of the court, that a hearing officer has some discretion too, and that there's some things that we could work on too to try to make this so that hopefully it still changes behavior, but not to the point of any outrageous fines for running a red light."
McGuire noted that the town he left in St. Louis had its own cameras—owned and ran them—and issued $20 fines. Council member Jason deLorenzo wondered why a warning for a first infraction wasn't an option-especially since 87 percent of tickets are issued to first-time offenders, which suggests that the system does cause drivers not to re-offend. That's the city's goal. But a first-time warning would drastically reduce the  financial profit at all three levels—ATS, state and Palm Coast—and it isn't legal for now.
In sum, don't look for those cameras to disappear any time soon. But the council's thinking, led by Landon, is changing, as council members become more aware of the city's image, and the damage it's enduring because of the lights: the punishing fines may benefit the state and ATS more, but neither the state nor ATS are taking the blame, let alone paying the cost. Palm Coast is.
"Anyway, the conversation is not over," Netts said. "Yes, we want to take advantage of the liberalization the state has put in, we want to do whatever we can do to improve the situation. Yes, this conversation with the clerk of the court needs to continue, and with ATS, and the goal is to make this more fair, more equitable, more reasonable."