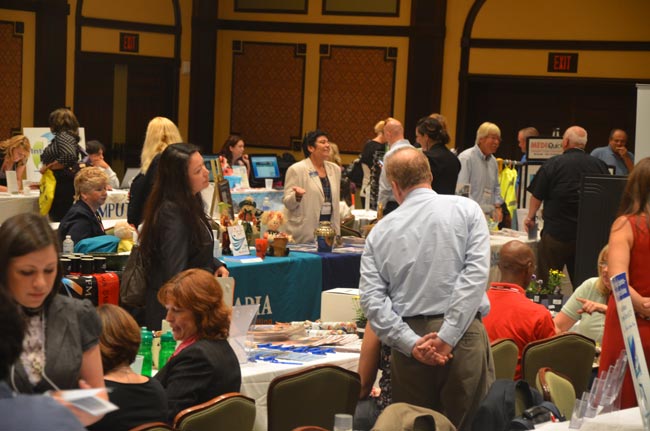 Recessions are seldom this jazzy for small (and a few larger) businesses, but for a day at least, Palm Coast managed to inject a sense of possibilities–or "energy," as the worn out buzzword goes–with its first business to business expo. The event had the look of a miniature home show–without consumers, and where almost everyone is an exhibitor: some 60 businesses or branches of government agencies were lined up flank to flank in six long rows of white-clothed tables in the Ocean Ballroom at Hammock Beach Resort, their representatives chatting it up, walking around, slipping business cards, looking–sometimes looking very hard–to find something new or unusual, and occasionally finding it.
Like Olivier Wagenheim's 3DV Studio, a new, home-based company in Palm Coast that creates three-dimensional light shows out of the facades of buildings that can as if crumble and rise again before your eyes in instants. Or Artistic Designs, a new gallery focused on "home and office accents" in Palm Coast's West Point Plaza. Or Bunker Gear Leasing, a company that specializes in leasing gear to firefighters in training. It just moved to a location Bunnell on U.S. 1, next to U.S. Auto, after being home-based in Palm Coast. Or MMI Technology Solutions, also a Bunnell-based information technology company. Think of it as a preventive care for all things computerized.
The day-long event taking place today was organized by Palm Coast's Business Assistance Center to "focus internally on the 4,000 small businesses that we have and make a difference," in Joe Roy's words. Roy heads the Business Assistance Center, which continues to be Palm Coast's principal answer to Flagler County's hand-wringing about economic development.
"This is a chance for businesses to actually grow revenue by their presence here," Roy said. "We're trying to showcase the strength of our local business owners so they don't have to go outside the county to spend their money." Particularly if they manage to make a couple of discoveries, companies they weren't aware of, personalities they might click with more beneficially. "The idea was, we hear so many negative things out there about the economy. This is a chance to come in and focus on what's really good about the existing community, because the job growth isn't going to happen because of anything that happens in Washington. It's going to happen simply because here, people find a better way. That's what's going to happen. And that's our goal."
A few non-exhibitors did turn up–including a supermajority of the Palm Coast City Council, at least four of whose members were glimpsed walking the aisles or, in Mayor Jon Netts's case, taking a computer quiz about Flagler County that redefines the word "boosterism" with local accents. "For a first effort," Netts said–of the expo, not his quiz scores, which were honorable–"this is a remarkable turnout. It's a shame more people can't see it." (Conspicuously absent: county officials or representatives from Bunnell and Flagler Beach.)
It wasn't cheap to be part of the expo: $100 per exhibitor, though it wasn't just about table-hopping. There was lunch the Hammock way: good food and a talk from Ted Anders, a corporate inspirational speaker who spoke as if to eulogize Steve Jobs (the secret of innovation, he said, after soliciting all sorts of definitions from each table, is "freedom"–freedom to innovate, freedom from tyrannical bosses, and so on). There were a few break-out sessions ("doing business with local government," "selling strategies," and the ever-present seminar at every contemporary business expo: marketing and social media, in this case presented by Marketing 2 Go's Cindy Dalecki). There's an "evening social."
But for some, it's pure business.
"As a new small-business owner, it's been a wonderful resource today to see what's available, to help understand how to develop and grow a business, and get the word out about your business, and manage your business," said Colleen Conklin–the Flagler County school board member who just launched a new business, her first: Bradshaw Consulting 4 Change, an educational consulting firm in Flagler Beach. The company will work with non-profits and governments "to create positive change within their organizations" (organizational audits, ethics audits, identifying strengths and businesses, and so on). "I've never owned a business before so I'm here to get ideas for webside development, logo designs, anything that an entrepreneur may want to look at," Conklin said. To her, this was not at all a home-show visit. "A home show is more of a showing of your wares. This is more of a how-to."
That's just the point, Intracoastal Bank's Bruce Page said. "If people can walk away and say I learned something and take out of here, that I can apply in my business to improve in my business," Page said, "that to me would be good enough. That would be a definition of success" for the expo.
For the sake of equal time, it wouldn't fair to mention one school board member's business and not another. Andy Dance of Andrew S. Dance and Associates was also there–as an exhibitor. He used to be associated with a multidisciplinary engineering and planning firm. Now as his own landscape architect, it's on him to explain it all–how to help businesses, from permitting to site planning to residential renovations and make-overs. "Today's been very busy<' he said in mid-afternoon. "I've had some good contacts. Not that anybody is in the midst of expanding, but through social networking I've been able to be in contact with other businesses that I can partner with on big-picture items." The expo blended new and established businesses: the county's old hands were here--Florida Hospital Flagler, Prosperity Bank, Intracoastal Bank, SunTrust Bank, every local media and marketing company was represented, and even Palm Coast Data came out of its shell with a booth of its own. "We're seeing some good energy, positive energy, a lot of people interacting with each other, and it's creating a lot of positive awareness," Prosperity Bank's Garry Lubi said.