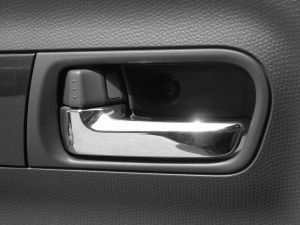 A Dell laptop and a Motorolla cell phone were stolen from a Hyundai Sonata on Bracken Lane. An inhaler, a media inverter cable and an mp3 player were stolen from a Ford Focus on Bradmore Lane. A CD player was stolen from an Isuzu Stylus on Beachway Drive. A brown Coach purse was stolen from a Ford Taurus on Bracken Lane.
And on goes the list of electronics and other valuables stolen out of vehicles parked in their Palm Coast driveways last week–and for the most part recovered in the attic of 49 Berkshire Lane, after Flagler County sheriff's deputies searched the attic with Julie Johnson's consent. Johnson is the mother of two boys, Marcus Chamblin, 17, and D'Shawn Hosang, 16, who now face several felony charges of car burglaries they allegedly conducted the night of July 11.
Hosang was arrested July 12 in connection with nine of the break-ins on Beachway, Bradmore and Bracken Lanes. Chamblin Thursday was being held at the Division of Juvenile Justice in Daytona Beach on unrelated charges. A third teen, Darius Harvey, 16, of 27A Bunkerview drive, was arrested Wednesday afternoon on similar charges. Hosang and Harvey were also sent to the juvenile detention facility.
Hosang's backpack, when located, contained a progress report bearing his name, along with a stolen CD player and a bag of change that had also been reported stolen by a resident of Beechway Lane.
Sheriff's Deputy Nate Smith said the three spent the overnight hours of July 11 and early morning hours of July 12 breaking into vehicles, according to a sheriff's office release. All three teens may face additional charges as more victims are contacted.
Deputies said in all the burglaries, the vehicles had been left unlocked on the driveways. That's the case with the majority of break-ins in Palm Coast and Flagler County.
"Both Darius Harvey and S'Shawn showed integrity and were cooperative and respectful throughout the lengthy investigation," an arrest report reads, "while Marcus Chamblin showed no loyalty or remorse towards the victims of these crimes or toward his brother and friend."