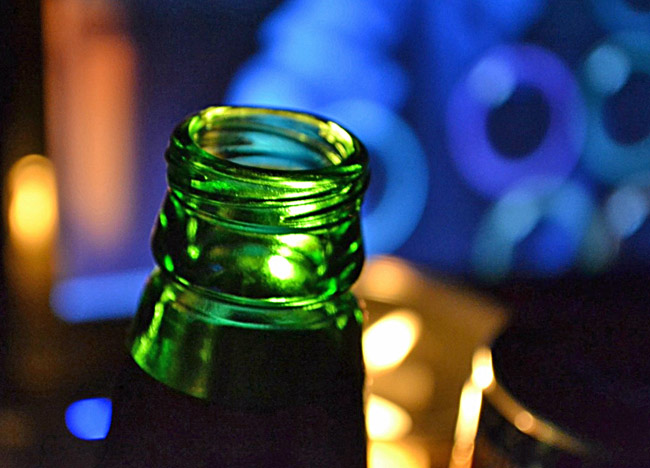 Palm Coast will go in the booze business, or at least the bartending business, at its special events at Town Center's Central Park.
With its chosen bartender actually already at the table, the Palm Coast City Council on Tuesday agreed to designate the area as a "civic center," enabling it to apply for a $250-a-year state consumption license and sell alcohol—beer, wine or higher-proofed liquor—at special events, after applying for a $25-an-event permit (just as other vendors would have to). The city will formalize the decision by adopting an ordinance to that effect at two subsequent council meetings. 
Two weeks ago some members of the council, particularly Jason DeLorenzo, had reservations about the idea. He saw in it too much of a profit motive at special events that were already drawing criticism for being too focused on generating dollars. The coming Rock 'n Ribfest, hosted by the city in partnership with WNZF and its local radio network, was charging $20 a person at the gate last year, making it difficult for a young family (like DeLorenzo's) to patronize.
To prove that it's not about the money, the city is lowering the gate charge to $3 this year. But the city does intend to use its liquor sales to compensate for lost revenue.
"The misconception in the community when this was first proposed a couple of weeks ago," council member David Ferguson said, "was that it was a profit motive exclusively, and number two, the permit was going to be like a bar license. And now that those have been dispensed with, I think the receptivity to it in my perspective is much better."
DeLorenzo wasn't at this morning's meeting. He's on vacation (he'd hoped that the matter not be dealt with in his absence). But he'd also said in a brief interview last week that had the lower gate charge been part of the discussion two weeks ago, he, too, would have been more receptive to Palm Coast's liquor license idea. His other concern was that the city should not be competing with local businesses, non-profits especially, that use special events to generate revenue.
That won't happen, city officials assured the council, saying other vendors will still be able to sell beer and wine as long as they get a permit. The city will merely be an additional vendor, cashing in on potentially good money. Last year bar sales for Rock 'n Ribfest generated $16,700. The Seafood festival has generated an average of $8,176. But it's just as clear that the city is unlikely to place itself in a less than competitive position against other vendors: the city decides who gets to vend where, making it unlikely that it would defer to others for the most optimal selling spots.
For this year's Rock 'n Ribfest, the city expects to take in $6,200 in booze revenue, with no projected profit: it will pay $1,250 to its bartender team, the alcohol itself will cost $3,500, and rentals will cost $1,500, according to events coordinator Lisa Gardner. So it's not clear how alcohol sales are helping bring down the cost at the gate, since they're not generating money the city can "reinvest" in the event other than for those sales. Gate costs had previously been criticized for being artificially and unnecessarily high.
Council member Bill Lewis asked how the city was managing to bring its gate charge down so drastically.
"It's a lot of other issues," Gardner said, "but it's basically what our total expenses were and what our projections of bringing money in. We don't have a super high expense this year in talent, where last year we paid a much larger expense for that, so it's an average of everything."
Last year 6,000 people came out to Rock 'n Ribfest, a disappointment. This year the city is adding an additional day and a talent-search type of country music entertainment. The city is expecting to draw between 10,000 and 12,000 visitors.
"By reducing the price from $20 to $3, I think you're right, we're going to get a lot more turnout, and a lot more of our residents," Mayor Jon Netts said. My goal at these events is not to generate profit. My goal is to have fun things for our residents to do and to enjoy the experience. That in itself is commendable."
Gardner was joined by Mark Woods, the long-time bartender who spent eight years at the Golden Lion in Flagler Beach and launched, in 2011, Fun Coast Bartending. Even before getting the council's formal approval, the city has made arrangements with Woods to be the bartender at city events, for a flat fee of $1,250 for one event (the equivalent of just over 400 visitors to the event, at $3 per).  
 "Basically what Lisa has asked me to do is to staff and run what I call the beverage pavilion, in order to make it a safe experience for everybody," Woods said.
To get the state liquor license as a city, Palm Coast had to have a civic center designated for that end. It doesn't have a civic center. It decided to designate Central Park as one. Council members had raised questions about the legality of doing so, when there is nothing approximating a civic center in that area. It's a park without so much as a picnic pavilion. City staff collected four examples from around Florida of cities designating various areas as civic centers, including in Lakeland (what Palm Coast staff called the "Lakeland Sports Complex" in its presentation), Jacksonville, Largo and Miramar.
But in at least two of these places, there is an actual building, or several buildings, that fit the mold of traditional civic centers. There is no such thing as the "Lakeland Sports Complex" per se. There is a "Lakeland Center," which dubs itself "Central Florida's Sports, Convention and Entertainment Complex," where conventions are hosted, where such things as the state high school basketball championship has been hosted, and where national stage acts drop in. The Miramar Civic Center and Aquatic Complex is actually a complex of buildings that include City Hall and the city's cultural center, as well as the aquatic center. Jacksonville Metropolitan Park features a 2,400-square foot reversible stage, "generous sating for any event under its large canopy," room for banquets, a production office, dressing rooms and a boat-docking area, among other amenities.
The recurring theme Tuesday morning, however, was that the city was aiming only to improve its events, not change their complexion, or make them bigger.