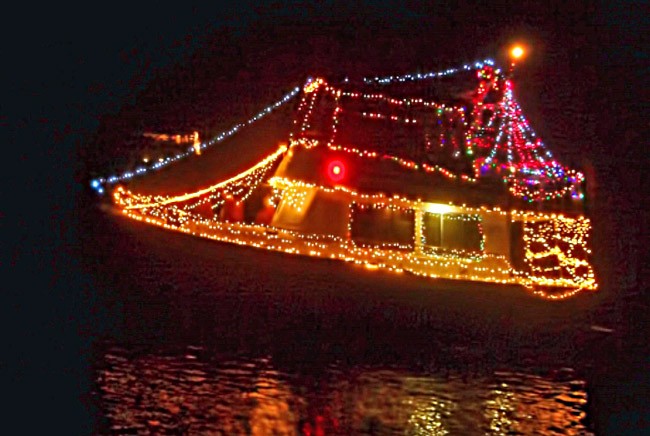 The 13th annual Palm Coast Yacht Club Holiday Boat Parade is scheduled for Saturday, Dec. 5 at 6 p.m. with the traditional festival of lights on the water to mark the beginning of the winter holidays (assuming you didn't start your celebration immediately after Labor Day). 
All area boat owners are invited to decorate their boats and register with the club to join the parade. The rain date is Sunday, Dec. 6.
Grand Marshals for this year's parade, a bi-partisan combination, will be Flagler County Sheriff Jim Manfre and Palm Coast Mayor Jon Netts. The Florida Inland Navigational District, on whose board Netts sits, is a contributing sponsor. The parade will be accompanied by boats from the Flagler County Sheriff's Office and Tow Boat U.S., among whose ranks Netts has worked for years, and the Florida Fish and Wildlife Conservation Commission which, assuming it's not harpooning bears, will be lending support to the effort.
Registered boats gather in Cimmaron Basin at 6 p.m. and head east to the Intracoastal Waterway, where the parade turns south, passing Tidelands, Canopy Walk, St. Joe Walkway, Waterfront Park and Island Estates, before turning at the Grand Haven Gazebo and back to Clubhouse Waterway.
Residents lining the parade route are strongly encouraged to turn on their dock lights and help light the way for the parade. Many residents have been known to host parties along the route as the traditional excuse to welcome the holidays to Palm Coast. Recommended public viewing areas are Waterfront Park and St. Joe Walkway. This year's recommendations also include any good Shiraz or IPA, and of course Satrbucks coffee.
Boat owners in the greater Palm Coast area are invited to register their vessels to participate in the event and contribute to this annual holiday tradition.  Registration forms must be received by Event Captain Robert Ulis no later than November 30.  Registration forms are available here or below.
All vessels participating in the parade must be decorated, have operable regulation running lights, must be able to travel under power at 5 knots the full distance of the Parade route (3.8 statute miles), carry an operable VHF radio and proof of insurance and registration.
Registration forms may be emailed to Ulis at [email protected] or by mail to the Palm Coast Yacht Club, 1 Yacht Club Drive, Palm Coast, Florida 32137. (No, the Yacht Club has not been sold to Palm Coast government. Not yet, anyway. But the building is very much for sale for just under $1 million.) For registration and event information contact Ulis at 386/283-5166 or by email.

Click to access boat-parade-registration.pdf
With a 180-foot fixed dock and a 25-foot floating dock, The Palm Coast Yacht Club offers a wide variety of social activities for boaters and non-boaters alike.  The organization provides opportunities for boating trips, dinners, dock parties, and picnics.  Welcoming new members every month, the Club was established in 1979.