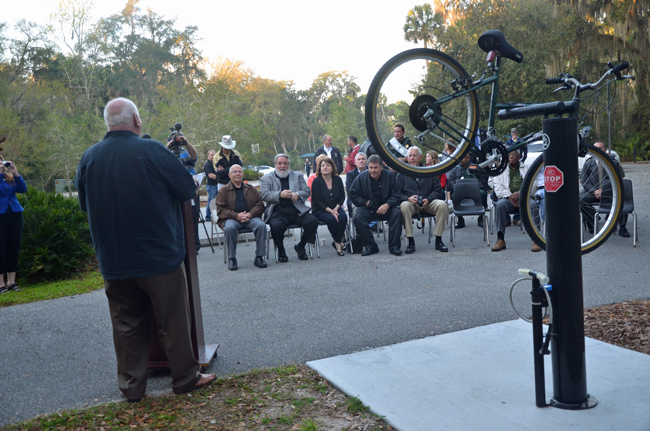 Little by little, the Celico name is imprinting itself all over Flagler County. You can see it of course at its original point in Bunnell, where Celico Auto has been doing business on U.S. 1 since the 1990s. You can see it on a billboard on U.S. 1, north of town. You can see it, since the death of Frank Celico, who was a Flagler County Sheriff's deputy for 11 years, on a street name off of Palm Coast's Old Kings Road. And starting today, you can see it on a bicycle maintenance station at Linear Park off of Palm Coast's Colbert Lane.
The station is sponsored by the Frank Celico Foundation, created by Frank's father Carlo after his son's death to keep alive the memory what Mayor Jon Nets called "his gentle soul and dignity."
Netts spoke at the dedication of the new maintenance station this morning just after sunup on Greenway Court in a brief ceremony attended by the entirety of the city council, members of the foundation and Sheriff Jim Manfre.
It is Palm Coast's third maintenance station. The Celico Foundation also donated one at the Lehigh Trail on Belle Terre Parkway and Royal Palms Parkway, near the fire station. The Palm Coast Observer and PC Bike donated the first one, located at Waterfront Park. The stations are part of Palm Coast's emphasis on its trails.
"I know that Frank is smiling at us and he's very happy," Carlo Celico told the small crowd this morning. "My son Frank was well dedicated to helping kids and he loved bicycle riding." One of Frank's iconic pictures shows him on a bike, doing a wheelie.  The silhouette of that image now appears on the dedication sign at the maintenance station. (The Celico Foundation also sponsors an annual bike run, among other projects.)
Bill Butler, the city's landscape architect, tried to give a little demonstration of the station's uses beyond pumping and spinning tires. (The tools are attached to the station with cables.) A QR code enables riders to scan the code with their cell phones to get a quick tutorial. But Butler had trouble getting a connection. "The good news is that all the tools there are hand tools," Netts said reassuringly.
The QR code proving unresponsive, Netts then ended the ceremony (it was half an hour before the council was to meet to hear a presentation about its new city hall's design). "Have a great day, enjoy yourselves and stay healthy," Netts said, barely pausing before he added: "There's coffee and fattening stuff over there. Please help yourselves."