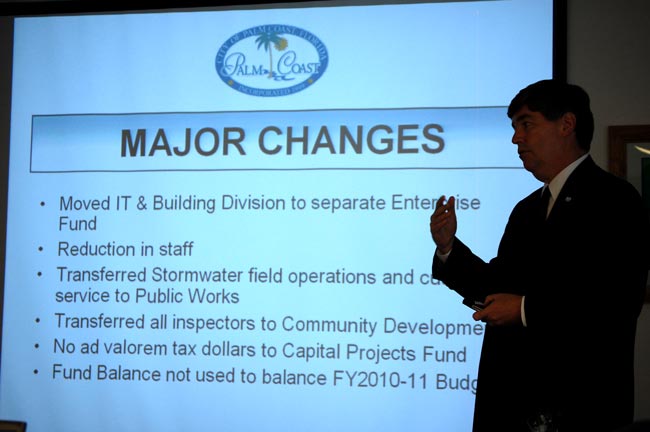 The ultimate goal of the Palm Coast City Council this year is to keep the property tax rate where it is: at $3.5 per $1,000 in taxable value. How to do that when property values have fallen 15 percent, costing the city between $2.5 and to $3 million? Simple, at least in City Manager Jim Landon's 2010-11 budget: The $2.5 to $3 million in property tax revenue that was devoted to capital (or construction) projects will be shifted to the government's general revenue. In other words, the city will stop investing in infrastructure in order to subsidize the general fund and keep the tax rate where it is.
For Palm Coast residents, that equates to a tax cut: as values keep falling, residents would keep paying the same tax rate, so most will end up paying a smaller tax bill on shrinking valuations.
They'll do so not just because of the shift from capital spending, but also thanks to yet another significant dip into the city's reserves. To balance this year's budget, Landon is proposing to take another $1 million from the general-fund reserves, which are already at their lowest level in the city's 10-year history (at less than $2.7 million). The manager needed $2 million from those reserves to balance last year's budget.
Landon says the budget next year will not need any dips into reserves, as it has for the past three years. "This year we've worked very hard to basically say this is the new world, this is the new beginning point," Landon said, "and we need to have a sustainable budget that doesn't keep using the savings account, and that was very critical in the goals here."
But that new world is based on somewhat optimistic projections, including no increase in expenses from the city's $2.6 million contract with the Flagler County Sheriff's Office, which provides law enforcement for the city. It also projects a stabling of property tax revenue and valuations. Neither of those factors have collaborated with local governments' optimists since 2007. The projection is also based on the city jacking up fees and fines revenue–including revenue from special events that the city will sponsor, and charge money for, such as food festivals and other crowd-rich gatherings. "The goal I not just to cover our costs but to make some money," Landon says.
"We have a product to sell here, and that product is our community," Mayor Jim Netts said. "I want government out there leading the cheerleading section for Palm Coast."
Good news for property tax payers (at least for now) is grimmer news for city employees. Landon's 2010-11 budget projects 24 job cuts, including 14 in engineering, five in the administration (but just one in the city manager's office), and two in street improvements.
Of the 24, several are open positions that have been vacant, or that are currently filled by someone who's retiring, and that won't be filled. The positions will be eliminated. Still, somewhere around a dozen to 15 positions are currently "being held by bodies, today," Landon said. "We're talking about layoffs of between 12 and 15 people." Those 15 will be allowed to apply for other positions in the city, enabling some to land in one position or another with a paycheck. But nothing says they'll be qualified to work where they apply.
Landon also showed his softer side: while there won't be salary increases this year, nor any merit increases, employees who make less than $30,500 will have a 1.1 percent raise. It's not much, Landon, said, but the difference recognizes that "we're not all in the same boat." City employees had a 3.6 percent raise spread over the past two years.
The budget Landon was presenting Tuesday morning did not include the city's utilities' department, which is a virtual empire on its own: it generates its own revenue, but it also subsidizes other segments of the city budget. Those figures and connections were not made clear in Landon's budget, which focused on the general fund, where property tax revenue is directed. The council will hold another workshop, on Aug. 10, where other funds will be outlined.
The budget is heavy on all sorts of shifts. For example, the building and information technologies department are being pulled out of the general fund and lumped into a fund of their own, because they, like the utilities pot, generate their own money. That makes sense from an internal, accounting perspective. But it further shades the budget's bottom line, since IT and building dollars also cross into other funds, including the general fund.
Most of the council's discussion, as often happens with the council, focused on peripheral issues such as festival relatively small revenue, or potential revenue, and the city's role in highlighting its advantages to visitors. Landon encouraged those discussions, since they kept the focus off of more substantial issues, such as the budget's complicated maneuvering from fund to fund, or the reasoning behind Landon's 2011 revenue projections.
[Note: This is a developing story; the council is still in session, Landon is still presenting the budget. The story will update as the meeting progresses.]