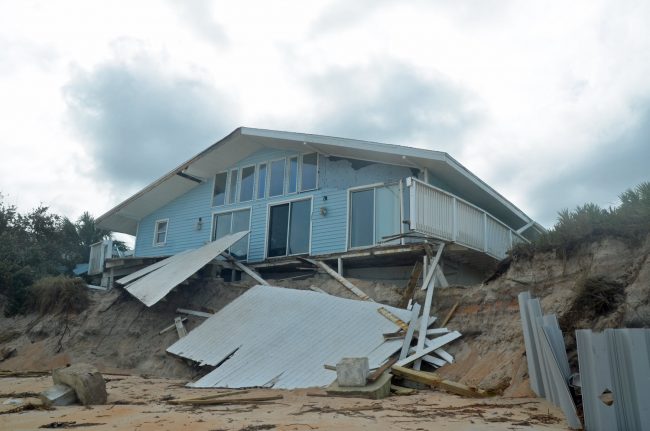 There is destruction we've all become familiar with after Hurricane Matthew: downed power lines, ripped off roof shingles, mangled lanais, deracinated trees toppled on roofs, through fences, across yards. Then there's the more brutal demolition of dunes and roads that now shears block after block of South Ocean Shore Boulevard in Flagler Beach (State Road A1A) and a portion of its northern end, closing long segments of road.
There was also the mostly peripheral damage to dozens of mobile homes at Surfside Estates in Beverly Beach, and scores of flooded houses in Marineland Acres, Sea Colony, Armand Beach and surrounding areas of the Hammock. The houses seem intact, but were turned into swamps of sand, sewage and brackish waters within, ruining more than furniture, carpets and paint: there are certain things insurance claim "adjusters," as they not quite accurately call themselves, can't measure.
But at least two devastated areas have received little attention until now, because they're not easily visible. In one case—the houses along Painters Hill, just south of Varn Park—you'd never know there was anything wrong, looking at the structures from State Road A1A. They're all there, seemingly unharmed by the storm. But they're not unharmed. In the other, at Washington Oaks Garden State Park, there are only hints of the destruction if you just travel A1A, though in fact the dune breach by the ocean there was the source of much of the flooding that soaked that section of the Barrier Island, and soaks it still in several places. And that dune breach remade what was once known as Washington Oaks park on the beach-side.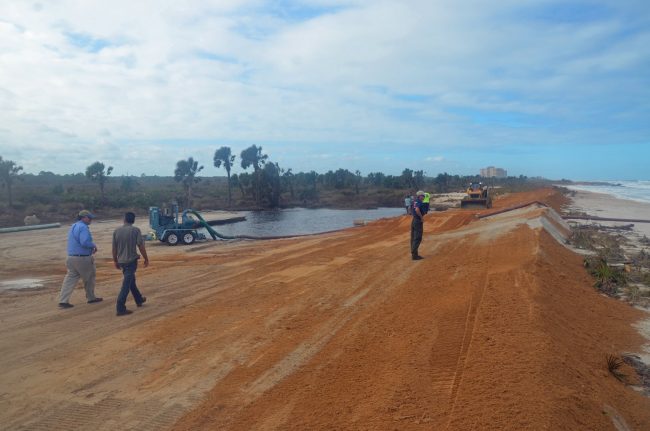 It's destruction. There's no other word for it. Walls of water have remade the landscape, tearing away the character of the park's beachside acres. The same wall of water tore away masses of dunes and rendered between half a dozen and a dozen houses in Painters Hill uninhabitable. Those houses hang, cliff-like, over what's left of the dunes the ocean devoured.
Hurricane Matthew's storm surge was so severe in the Hammock and to its north that it ripped across the island in tsunami-like waves before surging back the other way, drenching and flooding the island on the way to the Intracoastal and back. The surge essentially dug something close to an inlet at Washington Oaks, demolishing everything in its way.
The wooden walkway that took visitors from the parking lot to the beach, above the dunes? Gone. Not a trace. The parking lot itself is half gone, excavated: the cascading waves dug an enormous crater in the northern half of the parking lot on their way to inundating the rest of the island. The asphalt just stops in serrated contours, much like it does on A1A where the ocean cut the road, and hangs there, above water. The palmetto-covered dunes that had seemed like a gentle, natural barrier between sea and island? Gone. And those rust-colored coquina boulders that had given the beach at Washington Oaks its unique, otherworldly charm? Gone. Either buried beneath or scattered somewhere, out of context.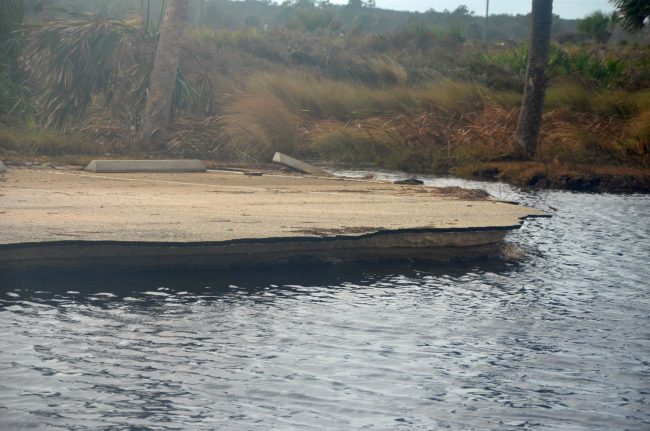 Late this afternoon a small dozer was finishing what had taken days to build: a makeshift, artificial barrier of packed sand to stop the ocean from flooding the island again, as a giant pump sucked water out of the parking-lot lake and dumped it into the ocean, spraying the area with the unmistakable stench of effluent. County and state workers have been working frenetically there to rebuild the barrier and prevent an aftershock of a disaster as the ocean tides have been rising again, courtesy of Hurricane Nicole a long distance off.
"We've closed off the main new breach and we closed off the ditch going southward, but both of those could be washed off," County Administrator Craig Coffey said this morning. "Essentially it's packed sand so it's not super strong and it's not comprehensive, meaning there's other areas that's threatening to breach north." He described what had happened at the height of the storm in the area, and the river-like disaster workers are trying to prevent now: "If you think on the other side of a dune, it's like almost a big lake, so the ocean comes in, fills that up, then that bathtub goes to the Intracoastal through Washington Oaks or it comes southward. So our fear is that it opens back up and we re-flood all the neighborhoods we have been pumping for days and working not to flood."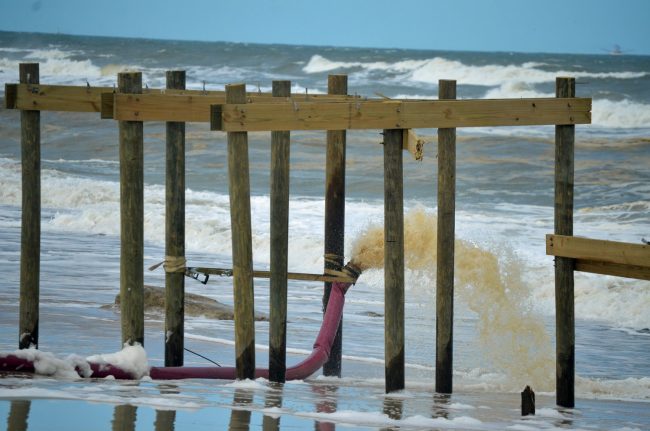 That's Marineland Acres, it's Sea Colony, it's Malacompra Road and Armand Beach, along with numerous smaller subdivisions in between.
The weather conditions have not been helping. The heightened tides, Coffey said, referring to a tunnel-effect between a high and low pressure systems, are "hitting in our area between Daytona all the way up to Jacksonville, because of the concentration. As Nicole starts to go off, Friday, Saturday, Sunday, we'll be a little better, so you're getting secondary effects from Nicole, not primary effects. But the problem is every day that goes by, the tide is getting higher and higher. Between Tuesday and Saturday it was a foot higher just on the tide charts. Then you start throwing in the wind and hurricane secondary stuff, all of that starts getting worse."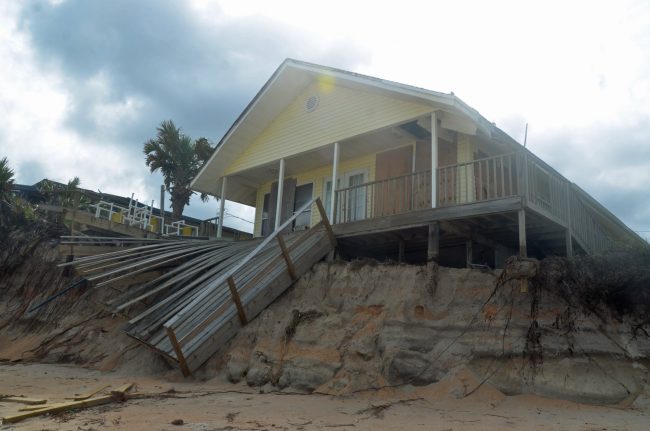 So while the rest of the county has been working to get back to normal, the situation at the northern end of the county has continued to be critical, if entirely out of view of public eyes. "We had a conference call this morning at 8:30 with all the agencies, the Army Corps, various state agencies ranging from DOT to DEP to the park service," Coffey said, referring to the state transportation department and the state's environmental agency. "Bottom line is, the plan we came up with is we're going to be maintaining the breach that we filled through the next 24 hours. At that time they're going to do a broader type of project along Washington Oaks State Park to hopefully allow it to sustain what's going to occur over the next four or five days until a more permanent solution is put in place. They're going to be bringing state resources, potentially federal resources, and we'll be handing that off to them whenever they get here. We won't be leaving our post until we can do a proper hand-off. That'll free up our resources, we've got to fix all those streets. We're starting that process now. We're still pumping."
But that same "concentration" effect that's caused higher tides and pressure on the rebuilt barrier around Washington Oaks is what has continued to weaken the cliffs on top of which sit that dozen houses along Painters Hill, houses that seem ready to start crumbling beneath, where nothing but sand, if that, is left holding them up. Picture houses leaning over the cliffs of Dover, if those cliffs were made of sand (and were not as high). That's the situation in Painters Hill for the houses at 3221 Ocean Shore, and at 3209, 3189, 3179 and 3171.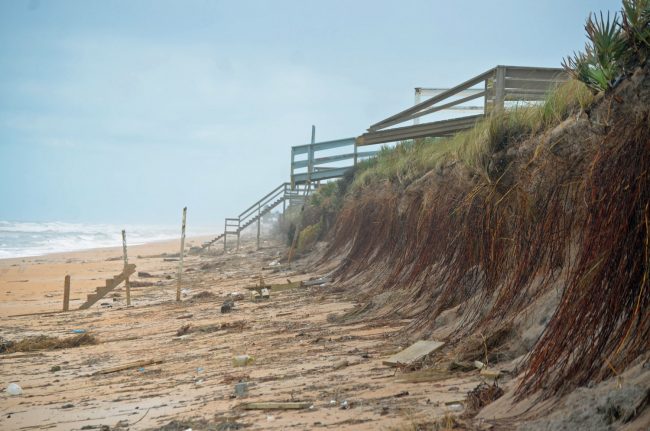 On the property appraiser's maps, those houses have all been shaded red: destroyed. At 3215 and 3183, the houses are shaded the color of damage, but they're not considered destroyed.
To see them from the beach is to see houses that have lost their bearings. There's nothing between them and the ocean—not a dune, not a shrub, and for some of them, there's only blocks holding them up, with voids beneath. Some of the house's porches or peripheral features have collapsed. Along the wall of eroded dunes, every wooden beach access has been plundered or ripped away, leaving behind skeletal planks mimicking the stage of an absurdist play.
"We have two that we think sections of the house may go into the ocean today around high tides," Coffey, who'd flown over the region yesterday and become dispirited by the destruction, said. "We have about eight to 10 more that are in jeopardy, because there's no protection. Every high tide takes additional feet, gets closer and closer to their houses, so we're trying to beg anyone that will help us determine if we can save those houses and provide some kind of protective measure."
Some of that may be helped if the Federal Emergency Management Agency comes through with a designation enabling individual homeowners to apply for help. But as of today, that designation was a cliffhanger of its own.
In any case it did not look as if some of the houses were salvageable. No one is about to drop new foundations, walls of sand or boulders to prop them up. That's in nobody's immediate plans, leaving those houses, absent something not imaginable for now, to slowly, inevitably, crumble.
The video below shows those houses.