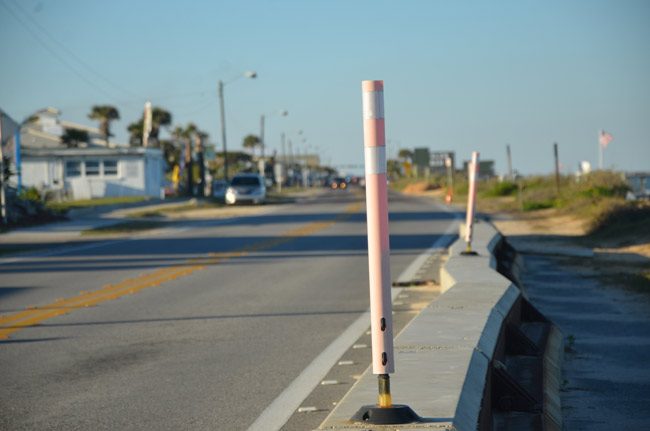 A long-awaited parking study commissioned by Flagler Beach government is proposing to start metered paid parking along 200-odd parking spaces on State Road A1A, for $1 per hour, and to convert one of its five parking lots into a paid lot. An app would be created to facilitate payments by credit card, but for an additional .35-cent fee per transaction.
The charge would be imposed seasonally, between mid-May and mid-September, and between 8 a.m. and 6 p.m. Parking spaces elsewhere in the core of the city, while remaining free, would be limited to three hours' parking or face a $20 fine, as would those who park in a metered space past expiration of their time.
The plan is projected to raise $300,000 a year in the first three years, but would also cost the city considerable amounts to set up and to run, if it is to enforce new parking rules. Operating expenses alone would be close to $200,000 a year. Upfront capital costs would approach $200,000, and would cost more if financed over 10 years, at 4 percent interest. The system would rely on meter maids (euphemistically called "enforcement ambassadors" by the consultant hired for the study), a supervisor and a maintenance worker, totaling six new employees (five in the off-season), three of them full-timers.
It would not generate significant revenue for the city, but would largely be a system set up primarily to pay for itself and a management company, and to disperse parking differently across the core area of the city.
The study, to be discussed by the Flagler Beach City Commission at its meeting this evening, reopens a debate that has brewed in the city on and off for years, each time ending in inaction because of opposition to paid parking. The last such effort took place in spring 2015 and ended the way others had before. Commissioners warned that they may have little choice but to raise taxes without parking revenue. Property taxes have been rising, but modestly: The city's tax rate in 2014 was $5.0573 per $1,000 in taxable value. This year, it's $5.39.
Paid parking proposals have generally split the city between proponents who say it would bring additional revenue and burden visitors more than local residents, and opponents who say the city doesn't have a parking problem except on rare occasions, such as during the July 4 or Holiday parade, and that paid parking would alter the character of the city, making it less friendly and inviting: the beach is often a low- to no-cost leisure activity for Flagler County and other residents who can't afford longer day trips to more expensive theme-park-like venues.
Walker Consultants, the firm the city hired to produce the study, cautions that paid parking should not be seen primarily as a way to generate revenue. "The primary purpose for charging a fee for parking convenience is not the collection of revenue, although this is important," the study states, "but rather to allocate a scarce resource efficiently. Most highly valued commodities in limited supply are often fairly rationed by price. Charging appropriate parking fees allows the market participants to value each asset properly."
People parking a car along A1A or elsewhere in the downtown core, however, are not known to be in the business of valuing assets or considering themselves "market participants" as they do so, but to be out for a good time, convenience and as few hassles as possible. But the study assumes that the city will not be able to provide any new additional parking spaces or parking lots in the future, which "puts the City of Flagler Beach and its taxpayers," the study states, "in the position of being the ultimate, sole provider of downtown parking for the foreseeable future because parking revenue at today's parking rates is not sufficient to amortize the cost of new parking."
There are no current parking rates, of course, which suggests that large parts of the study's analysis and wording, such as the part quoted above, have been cut and pasted from previous studies in other towns, with the name and space numbers of the current town changed–but not the assumptions nor the analysis. The cut-and-paste approach is a common method for consultants scaling their work across multiple contracts. (Walker Consultants dubs itself the "world's largest parking consulting firm"). It isn't necessarily invalid. But it may undermine the analysis's validity in relation to the unique character of a particular city.
The study area does not encompass all of Flagler Beach, and doesn't cross the bridge to the mainland. Its scope is delineated by 10th Street North and 10th Street South, and from Flagler Avenue to State Road A1A. Within that rectangle the study identified 770 public parking spaces in the city, 655 of them on-street spaces, a third of those spaces north of State Road 100, the rest south of SR100.
Included in the numbers are the 120 spaces spread between five city-owned lots. Not included in the numbers are the 1,080 parking spaces tied to local businesses. The combined total is 1,850 spaces.
Many cities across Florida have paid parking, their cost ranging between $1, in West Palm Beach, to $2 an hour, on Treasure Island.
Walker Consultants recommends that the city hire a management company to run the system. The study doesn't stop at analysis, but goes as far as giving plugs to such management companies, citing several of them. Walker calls meter maids "ambassadors" who "should be dressed in a non-threatening uniform" and who would not merely enforce the rules and write tickets, but "consider themselves a welcoming service to downtown." Given Flagler Beach's previous history with paid-parking prospects, they may be the only ones considering themselves so welcoming.
Read the full study here.