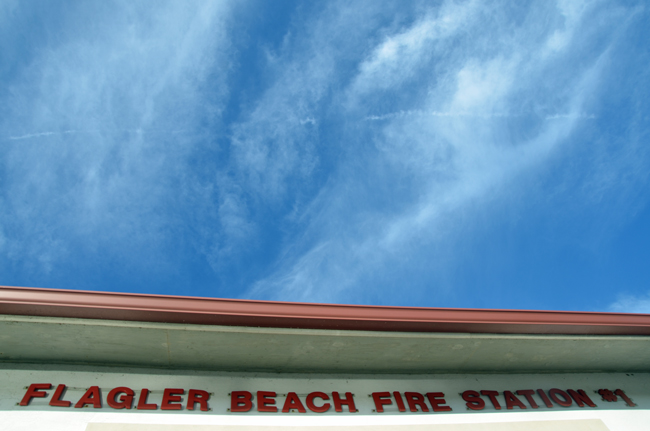 Eleven men have applied to be Flagler Beach's next fire chief, a position the city reclassified as "Fire Captain." It is widely believed that City Manager Bruce Campbell will award the post to Bobby Pace, the suspended firefighter fighting a first-degree misdemeanor charge of obstruction of justice, and the only non-volunteer fireman to apply for the position from within the fire department.
Campbell has been delaying the appointment–in part to focus on the appointment of a new police captain, which was concluded last week when he named Matt Doughney to the post, but also to enable Pace to be a contender for the position free of the criminal case against him: Campbell could not appoint Pace if the case was still undecided. Appointing Pace if he were to be found guilty would be a complication–or an embarrassment–the city would rather do without.
As it is, Pace and the State Attorney's office are close to entering into a deferred-prosecution agreement. The agreement is on the table but hasn't yet been formalized. It would enable Pace to avoid any finding of guilt, in exchange for remaining "clean" for a set period of time and possibly carrying out some community service hours (presumably without rounding). That agreement could be formalized as soon as this week: Pace would not have to appear in court to do so. (Pace's attorney, Aaron Delgado, did not return calls.)
Pace has been on paid administrative leave since the State Attorney filed the misdemeanor charge in July, after a Flagler Beach police investigation concluded that Pace had falsified the records of a probationer's community service hours at the fire department and destroyed video evidence. When the police department filed the charges against Pace, it included a felony charge for destruction of evidence, but the State Attorney opted not to pursue that charge for lack of evidence, as its prosecutor would have been placed in a position to prove a negative.
In a meeting at the State Attorney's office, Campbell himself pleaded Pace's case (Libby Kania, the city's human resources director, and a third staffer were also interviewed at the State Attorney's office). Campbell disciplined Pace regarding the falsified paperwork, but also termed the issue only a matter of "rounding" numbers, rather than anything more severe. He wanted the matter left at that.
Pace's case was part of a series of scandals that shook the Flagler Beach Fire Department going back to last year, when then-Fire Chief Martin Roberts was embroiled in a confrontation with Campbell after Roberts took an out-of-state trip to scout fire engines–on his and manufacturers' dimes, not on the city's–with other firefighters, without Campbell's explicit approval.
The matter exposed a deep rift within the fire department, and seemingly irreconcilable differences between Campbell and Roberts. Roberts faced being fired for insubordination, but he fought the charge and won his job back–only briefly: In January, Pace, in a two-page letter to Campbell, accused Roberts and others in the department of drinking at a Dec. 14 Christmas party, then going to a fire call (or, in the case of two other firemen, storing home-made alcohol at the fire department). Other firefighters filed their own letters corroborating the accusations. For $10,000, Campbell hired a Winter Park law firm to conduct an investigation that soon gave him cover to fire Roberts, Assistant fire Chief Shane Wood, firefighter Jacob Bissonette and Fire Police Captain Steve Wood, whom the investigation had concluded were part of one "clique" at loggerheads with another in the department. Pace headed the other.
It was Bissonnette who had been the main source of the accusations against Pace, regarding the probationer and the falsified documents. In August, he and Shane Wood filed suit against the city, charging that their firing was retaliatory for what had been a whistle-blowing act. Wood, too, had cooperated in the police investigation of Pace. And it was Pace who raised the matter of Bissonnette and Wood storing alcohol on city premises. Wood and Bissonnette don't deny that they'd stored the alcohol there briefly, but consider the infraction relatively minor and non-criminal. They've considered themselves treated by a harsher standard by Campbell than he's applied to Pace, who remained on the job even after the police department filed charges against him.
In late September, Michael Roper, an Orlando attorney the city hired to fight the Bissonnette-Wood lawsuit, rejected their claims and filed a motion to dismiss the case. The city argues that Wood and Bissonnette did not exhaust all their administrative remedies before filing the lawsuit, and that they took a "shotgun" approach in a complaint that includes "immaterial, impertinent, or scandalous matter" in violation of civil procedure rules. (The "immaterial," "impertinent" or "scandalous" matter, however, related to the charge against Pace, which was a matter of fact). City policy grants employees the right to file whistle-blower actions, in writing, but by way of the city manager, and within 60 days of the matter contested. The city's response also argues that Wood and Bissonnette should be filing their actions separately (if at all).
A hearing is scheduled for November 20 before Circuit Court Dennis Craig. Dennis Bayer, who represents Bissonnette and Wood, will be filing a response to the motion ahead of that hearing.
Meanwhile, the Flagler Beach Fire Department has been operating under Campbell's administrative leadership, with a paid staff covering every shift (several formerly volunteer firefighters were added to the paid ranks).
Campbell has been interviewing candidates for the captain's job this week. The position will pay $51,000 (considerably less than the $70,000 paid the previous chief, and the $58,000 originally earmarked for the job.) The full list of applicants:
Sean T. Crofutt
Robert Coyne
Langford V. Every
Jason M. Hughes
Barry K. List
Dale A. Margadonna
Paul McDavid
Robert D. Pace
Brandon Seymour
Franklin W. Wilson II
Chris N. Whitehead