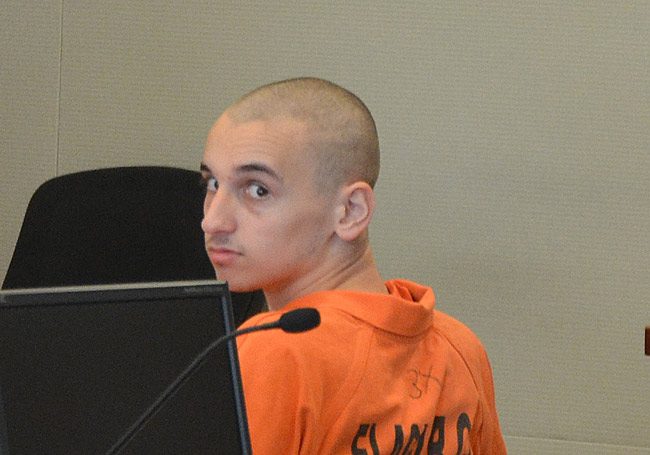 After school last Nov. 2, the 12-year-old girl was riding her bicycle with friends near Rymfire Elementary in Palm Coast's R-Section–specifically, in a couple of wooded trails near Regency Lane and Red Mill Lane–when Owen Parker jumped from behind her, grabbed her, fondled her butt and vagina over her clothes, and forcibly kissed her.
The girl fought him off and reported the attack, leading to the arrest of Parker, 18 at the time and a resident of nearby 3 Regent Lane.
This morning, Parker was sentenced to what will amount to two years at the Flagler County jail, a considerable "downward departure" from what could have been a prison sentence of 15 years, with a lowest-permissible mandatory sentence of 3 years, based on his background. Judges are permitted to apply the so-called "downward departure" when they find valid reasons to do so. He was sentenced by Circuit Judge Dennis Craig.
Last Wednesday (Aug. 30), Parker submitted a guilty plea with the victim's family's agreement that the punishment be lessened.
He was psychologically evaluated, "he's 18, but he has the mentality of a younger guy," Regina Nunnally, his public defender, said after the sentencing this morning. "Technically he's looking at a couple of years in, but it's a trade-off, from being sent to state prison."
He was sentenced to one year in jail, without credit for any time served. He's been held in jail since early last November, awaiting the disposition of his case. In essence, he will have served almost two years by the time he is released.
Once he's out of jail, he'll have to serve 10 years of sex-offender probation which may be terminated after five years. He is required to obtain a GED, and will not be allowed to terminate his probation early absent that Graduation Equivalency Diploma. He will also have a 10 p.m. to 6 a.m. curfew daily, and will be prohibited from living within 1,000 feet of a school, child care center, park or other places where children gather, which means that his former home on Regent Lane, very close to Rymfire Elementary, may not be an option when he leaves jail. (The 1,000 feet-distance is measured in a straight line from his property to the boundary of the school's property.) It may not have been an option anyway: his mother, with whom he lived, recently died of cancer. He was allowed to leave jail Saturday to attend her funeral. "Hopefully he has a place to stay," Nunnally said.
While on probation, Parker will also be required to submit to sex-offender therapy and to warrantless searches at his home, in his vehicle or on his person as long as he's on probation. He's also prohibited from driving a vehicle by himself without his probation officer's approval, or from dressing up on Halloween and handing out candy.