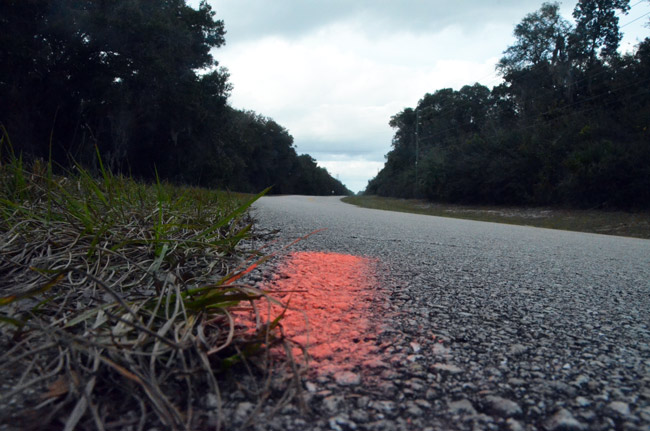 David Ottati is the chief executive officer at Florida Hospital Flagler. He's no stranger to trauma: he sees it in his hospital's emergency room and elsewhere on campus, where he does his rounds just as physicians do, but from a different perspective. What he'd never seen, until Friday night, is the unfolding of a traumatic incident in front of his eyes. What he'd never been, for a few moments anyway, is a first responder.
It was just before 10 p.m. Ottati was driving home on John Anderson Highway, south of State Road 100. His house is about a mile further south from the first, sharp curve on John Anderson.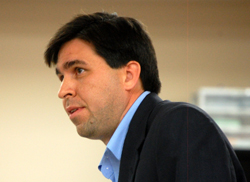 It was a dark, moonless night, made darker by low clouds and a persistent, light drizzle, and darker still by the road's almost menacing nature: it's a narrow, shoulderless two-lane road, hedged on either side by thick rows of pine trees and cypress. There are no streetlights. No while lines on either side of the road, either: there wouldn't be room for them. What faint yellow strips remain in the middle of the road are either worn or, when it's wet at night, difficult to see. It's not a safe road. And it has been negligently maintained by the county.
That Friday night, a motorcyclist was behind Ottati as they drove past the Flagler Beach city limit. And then the motorcyclist passed him. "He passed me pretty fast actually, and the curve came up ahead," Ottati said. Ottati is familiar with the curve. Maybe the motorcyclist wasn't. He rode as if he'd never seen it: he left the road as if the curve had never been there.
The Florida Highway Patrol marked the spot in bright orange where the motorcyclist left the road and tumbled down the dirt shoulder in a straight short over some 100 feet and into the treeline, the Harley Davidson overturning along the way, and the motorcyclist—Brian Davis, 30, of Daytona Beach—ending up tangled in the sharp blades of Cypress and his bike's own debris. Ottati saw it all.
The first thing he did was call 911.
"I pulled my car off, put my brights on the accident so I could see him, ran out there to make sure how he was doing, make sure his mouth was clear from debris, make sure he was breathing," Ottati said. He did not move Davis, but moved the motorcycle a bit, "because he was pretty entwined in the vines and brush."
Davis was unconscious. But he was breathing. Ottati had followed the first rule of civilians happening by a traumatic scene, after calling for authorities: he had not attempted to move the victim, once he'd determined that he was breathing. He stayed with the patient and waited.
Trying to be a hero is a mistake civilians sometimes make at accident scenes when they're the first ones there, says Capt. Ron Bolser of Flagler County Fire Rescue, whose EMS teams are the first responders in charge of wreck scenes around the county: in their zeal to help, civilians will sometimes move a victim, potentially compromising the victim's survival.
"My first suggestion is that they call for help and don't try to remove a helmet if they have a helmet on," Bolser said, "don't try and manipulate them. If they're not breathing you'd start CPR if you know what you're doing or if you're certified. But probably the best thing to do is call for help, and if they're breathing, let them be. A lot of time they want to pull them out of the woods or pull them out of a situation. As long as they're still alive and they're still breathing, they're probably going to be better off if you leave them alone and leave it to the professionals, because we know how to safeguard their spine, their breathing."
Davis was not wearing a helmet.
"I have to say Mr. Ottati was a fine example of what you should and shouldn't do," Bolser said. "He was a good example of how things should be handled." And he did not panic, as civilians sometimes do when they are the first to assist in a traumatic accident scene: they get out to help, unaware, or at least unprepared, for what they're about to see. It can be a severe shock that at times requires an EMS response of its own, Bolser said.
Bolser that very evening had been at another violent wreck, at Palm Coast Parkway and Old Kings Road, where an SUV and a small sedan collided in the middle of the intersection, sending a 14-year-old boy to Halifax hospital in a trauma evacuation. The boy, Matthew Yarborough, survived and was released. That wreck had taken place two and a half hours before the one on John Anderson.
Bolser made it down to John Anderson with his EMS team, which arrived there soon after police units did. That's where Otatti got to see an aspect of first responders' work he'd never seen before, outside of training exercises.
"The EMS did a phenomenal job. Those guys deserve kudos all the way through. I know they'd just come from a different accident," Ottati said. "The teamwork that they displayed, the entire communication as a team, I've seen it before, but this time right in front of me was a trauma case and those guys were just amazing. So we have a phenomenal EMS team here, and they just displayed that right there. Health care is my passion, and to see a strong display of teamwork in a critical situation with all the EMS guys working the way they did was excellent."
Otatti stayed at the scene until Davis was secured in an ambulance and driven south (to Halifax, because Florida Hospital Flagler doesn't have a trauma unit. Not yet, anyway.) Repeated calls and an email to Halifax for an update on Davis's condition have not been returned.
Speaking about the incident Sunday morning, Otatti said he wanted the focus to remain on the paramedics, not on whatever he'd done that evening. "I see them in the hospital all the time bringing patients in, but to see them first hand in the field was impressive," he said.
Flagler County Fire Rescue is made up of about 75 firefighter-paramedics. They usually work in conjunction with the Palm Coast and Flagler Beach fire departments, along with Bunnell's volunteer firefighters, depending on the location of crashes. But Flagler's paramedics are the constant in every case, as they are responsible for the first medical response and the transportation of patients to local hospitals, by ambulance or by air, with Flagler County Fire Flight.
"He being a medical professional he sees what happens in the hospital, where the lights are, where you can see what you're doing," Bolser said of Ottati. "It's in the dark, the patient is out in the woods tangled up in the vehicle, he got to see how all that unfolds the correct way, therefore it gives you a new value of what people can do in less than perfect conditions."
But that's what Fire Rescue's teams do routinely, Bolser said, out of view of most people, except those who are being rescued, if they're aware. "They do this often, and they train for it and get a lot of practice doing it."