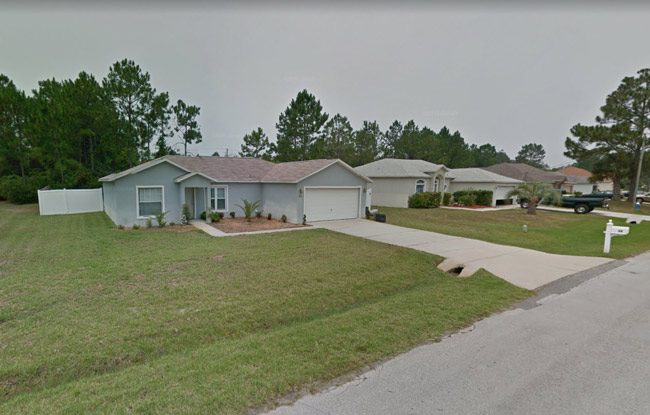 An 88-year-old man shot and killed himself Wednesday morning in Palm Coast's P-Section, the third elderly in seven weeks in the county, the second by gunshot.
Joseph O'Sullivan, of 54 Pennsylvania Lane, had woken up with a acute headache that morning and had been complaining of some medical issues, according to his girlfriend's account of the that day to a Flagler County Sheriff's deputy, though she was not aware of any serious medical issues or mental illness.
O'Sullivan made her breakfast as usual. He went into a bedroom and closed the door. His girlfriend then heard a gunshot. Authorities recovered a 9 mm handgun his girlfriend had placed in a cardboard box. No note was recovered, according to the sheriff's report, and O'Sullivan had not made any suicidal statements beforehand.
As is the norm in such cases, numerous sheriff's units, detectives, the crime-scene investigator and the medical examiner converged on the scene, establishing a crime scene and going through the investigative steps that ruled out foul play.
On Feb. 25, Bunnell police, responding to an out-of-county family member's request for a "welfare check" on her father at 1008 Wadsworth Way, found Robert Piva, 79, on his living room couch, dead of a gunshot wound. (A Bunnell police report notes that a neighbor who was there at the same time as police officers was first to walk into the house through an unlocked door, and to see Piva on the couch.) It had been five days since a relative had heard from him and neighbors had seen him.
A friend who had been helping Piva told Bunnell police he suffered from leukemia, diabetes and other ailments–and that Piva seldom locked his front door, which is likely why it had been unlocked on Feb. 25. Medical examiner staff removed the body later that day. Piva had owned the house on Wadsworth Way since 2006.
The day before Piva was found at his home, Robert Barshied, 70, who lived at Matanzas Shores on A1A, was found after drowning in a Marsh off A1A, and leaving a suicide note at his home. There have been at least eight suicides in the county since the new year.

The following resources are available for individuals in crisis:
In Daytona Beach: Stewart-Marchman Act Corporation Crisis Center
1220 Willis Avenue
Daytona Beach, FL 32114
Administrative Phone: (904) 947 – 4270
Crisis Line: (800) 539 – 4228
Available 24 hours.
National Suicide Prevention Lifeline, 800/273-8255.
If you are concerned for someone else, read about warning signs here.