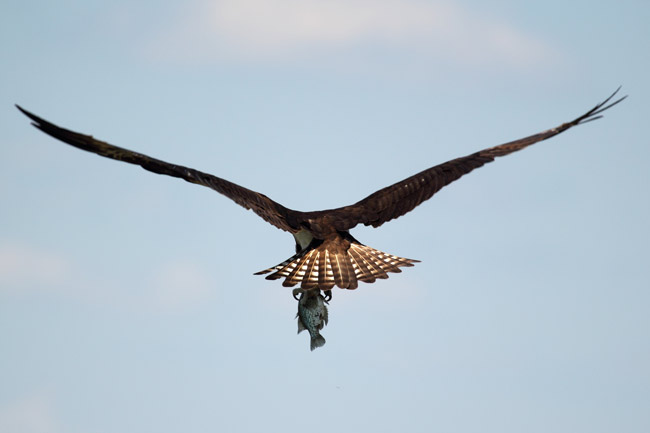 Watching wild birds, especially pelicans, ospreys, eagles, kites, and hawks, is one of my favorite things to do while outdoors. Smaller birds, such as terns, plovers, ibis, and sandpipers, are fun to watch, but my focus always shifts to the skies, seeking raptors and other large birds. At times, I feel I'm sunward with them.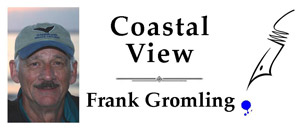 One of my most favorite birds is the osprey, a raptor (from the Latin rapere, to seize), found on all continents except Antarctica. Where I live is a virtual osprey viewing area. I cannot remember looking out our east-facing glass doors without seeing an osprey. When I'm outside on the dune walkover or on the beach, ospreys are always in sight.
Their ability to soar and dive amazes me. Soaring often involves the use of updrafts, such as those found along the sides of mountains and tall buildings, which birds use to stay aloft for long periods of time while they search for prey. I've seen pelicans use this same dynamic while flying along our dune system where a mini-updraft exists as the wind comes from the ocean and passes over the dunes. Because the dunes are higher than the beaches, the wind is driven up and over the dunes, thereby creating a natural updraft. It is this effect that pelicans, and some other birds, use to maintain themselves effortlessly as they move from place to place along the shore. Over the ocean, pelicans can be seen gliding along a few feet above long, rolling waves. They are using the uplift generated by the waves as they move through the water.
Osprey use wind currents that exist over the ocean to soar in their constant search for food. With only occasional flapping of their wings, ospreys stay aloft while riding one air current to another. Sometimes they rise higher, perhaps for a better view of what's below the ocean surface. With keen eyesight, they can see prey from as high as 200 feet above the ocean. When a fish is sighted, the osprey rockets down and dives talons-first into the ocean. With its prey firmly grasped in its talons, the osprey turns the fish so its head is forward, thereby providing a more aerodynamic flying posture for the bird.
As I watch these incredible aviators, I think about how I have always wanted to fly like a bird. Aside from being in or on the ocean, it is my next favorite thing to do in the wild. My love of flying started back in college when I took my first airplane ride in a venerable Cessna 172 over Newport, R.I. I hired a pilot and his plane to take a lovely young lady and me for a sightseeing tour over her home town. While the romance only lasted the summer, the thrill of flying remains to this day.
After college I joined the Air Force, but to my dismay, I couldn't enter pilot training because my eyesight suffered from astigmatism, a disqualifying condition. So, I volunteered for Special Operations, which gave me all the hours off the ground I could imagine, usually in distant places around the world.
What I like most about flying, other than going places fast, is the sense of freedom from the terrestrial world and all its challenges. In the air, especially in jets, the feeling of flight is a sensation that thrills me. Even on commercial airliners I revel in being able to look down on the land below as cities, towns, forests, prairies, lakes and rivers pass under wing. Traveling often between Florida and California I look for distinguishing landmarks, such as the Mississippi River or Grand Canyon, both easy to spot. I marvel at the variety of patterns etched into the earth by farmers, ranchers, miners and others who work the land. From my five-mile high vantage point, everything is revealed.
I try to imagine what birds experience as they soar and dive. I wonder if they recognize a difference between the natural world of trees and lakes and the man-made world of buildings and vehicles. Does it matter to them, or is it the same? I know it is different for them. It's what they are born to do. Yet in a way so was I. Every time I fly, whether in the Right Whale Project's open-cockpit AirCam or in a modern jumbo jet, I settle into a personal world of quiet reverie. Inevitably, I am reminded of pilot John Magee's poem "High Flight" ("I have slipped the surly bonds of earth/And danced the skies on laughter-silvered wings") and I am at peace with the world.
Until next week, be well and do something good for nature.

Frank Gromling is the owner of Ocean Publishing in Flagler Beach. Reach him by email here.