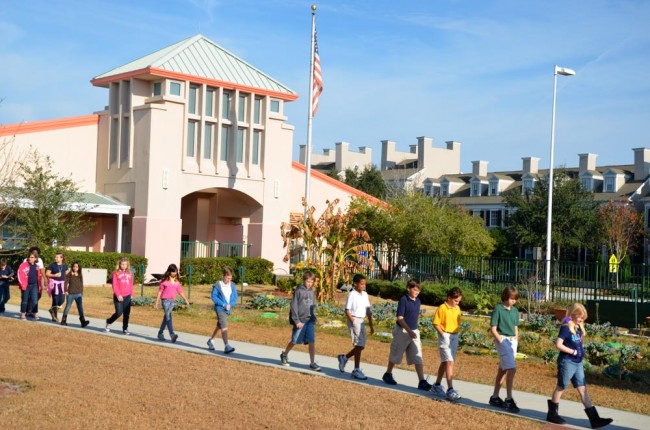 [See the image gallery on the delegation's visit here.]
KISSIMMEE–Calling it a uniform is a misnomer.
What's in effect in Osceola County schools is a stringent dress code, with numerous allowances for self-expressions—from jeans to hoodies to any-color and any-funk socks, "outerwear," belts and shoes, including flip-flops in high school. Students are allowed to wear four different colors shirt-wise, as long as the shirt has a collar. They can wear shorts, pants, skirts, skorts or combinations with leggings that make it difficult to judge whether they're in school or rehearsing for a musical. On a cool day, like today, elementary and middle school students at the K-8 Celebration School looked like postcards from a rainbow, not regimented subjects of a buttoned-up regime.
And enforcement is a whole other story. During two class changes at Celebration High School today, you'd have been hard-pressed to find a student with his or her shirt tucked in, though it's one of the "uniform" policy's requirements. And torn jeans looked still in fashion. Still, they call it all a uniform policy in action.
That's what a delegation of a dozen Flagler County school officials discovered today in a morning-long visit at four Osceola schools: "A uniform with a lot of options," as School Board member Trevor Tucker described it, "or you can call it a more intense dress code policy than we have now."
I think the variety of what I'm seeing is a little surprising," said Bob Sawyer, the dean at Matanzas High School who, throughout the morning, could be seen keenly taking mental notes of the Osceola school grounds he was visiting, the class changes, the students' dress and posture. "I think in our mind when you think uniforms, you think same-color shirt, same-color pants. That's not what we're seeing here."
The Flagler delegation's visit to Osceola was organized ahead of the Jan. 17 school board meeting—a week from today—when the board will take an up or down vote on whether to adopt a uniform policy for next year. The board is divided on the matter, with board members Sue Dickinson and John Fischer all for uniforms, Andy Dance and Tucker opposed (because of the issue's timing and the hardship uniforms might impose on families) and Colleen Conklin saying she's keeping an open mind, though she's mostly in favor. She's been looking for reasons not to go with uniforms. What she heard today, listening to teachers, administrators and students, were lessons on how to implement the policy: with a lot of advance PR, patience and the knowledge that, in time (and relatively fast), opposition to uniforms fades and parents and students go along, particularly when so much flexibility is built into the new requirement.
Lauren Grulich, a 7th grader at Celebration School, had been at a private school before, where the uniform policy was strictly uniforms: no variations on colors. "I actually like it a lot better here," she says. "You can still, like, accessorize and stuff, and a lot of girls do it. It's not too bad."  A high school girl, formerly from England—where the uniform requirement was also stringent—echoed the same thoughts as she and three fellow-students met with half the Flagler delegation later in the morning—with their principal, assistant principal, teachers and an Osceola school board member in the room: a freewheeling discussion, it wasn't. As the student left, she showed another way to accessorize: all over her book-bag, which sported a defiant Che Guevara portrait.
"No matter how you limit the choices, they still find a way to individualize," Celebration High School Principal Laura Rhinehart said. The district has loosened rather than tightened the policy since its implementation four years ago, as when it eliminated the requirement for dark-only denims, to allow any-blue denim. It has also kept clear of addressing the outerwear issue, even though it's clearly a way for students to make an end-run around the policy. And the district has created various outs, such as t-shirt days (when students can wear the school's t-shirt), or rewards that allow a student not to wear uniform-compliant clothes, or dress-down days.
Elementary school students look more prim and uniformed, their colors generally more monochromed than daring, whether it's inner or outerwear. And Conklin suggested that if the visit had been organized on a warmer day, there would have likely been far fewer displays of alternative colors. Then again,
The Flagler delegation gathered at dawn in the parking lot of the county courthouse, then split into two vans. Each group would hit two different schools before reconvening for lunch at B.J.'s Brewhouse in Kissimmee to hear one final pitch from Osceola school officials and be treated to lunch by them. The visit was shadowed—and cheered—by Jay Wheeler, an Osceola County school board member who champions uniforms and who traveled to Flagler to make his own pitch to a skeptical public in early December.
Only Conklin and Tucker were part of the delegation to Osceola, which also included Superintendent Janet Valentine and three school principals—Chris Pryor of Matanzas High School,  Vernon Orndorff of Indian Trails Middle, and Stephen Hinson of Belle Terre Elementary.
They came to Osceola acknowledging that the dress code is not a major issue or a major concern in the schools, as the district's own data proves. The school uniform initiative became one only because one school board member, John Fischer, made it so: it's his pet project. It costs the school board nothing to discuss or implement, but has the potential of making board members look decisive on at least one issue they can fully control, as opposed to innumerable financial and curricular issues to which they've had to submit in financially strapped times. What's clear is that the principals and their staff themselves would not have initiated the drive for uniforms, though a survey of school staffers show them supporting  uniforms by upwards of 70 percent.
The principals and their assistants also came to Osceola knowing they would not be making the final decision—though they would have influence in defining how the policy is written, and how it is enforced. In Osceola, the principals discovered that enforcement is not only individualized according to the personality of each school principal, but according to the personality of each teacher. One Osceola teacher—Betsy Larson, who says she's been "called the dress-code Nazi on occasion"—says she was opposed to the uniform policy originally. She favors student creativity. But, she said, "I don't like looking at thigh-high skirts and butts," and makes it known to her students who break the code.
Others can be so much more lenient that they get phone calls from their colleagues, who deal with the leniency when the student gets to their classroom. And teachers described the innumerable times when students called out on not wearing an appropriate shirt merely rumbled through their backpack and produced the required garment. In other words, they know what they have to wear, and they know that playing the odds will often favor their liberties, as opposed to the dress code, however lenient—or stringent.
But when Pryor, the Matanzas High principal, asked one of the key questions of the day to a group of teachers, he did not get a straight answer: "I'm constantly looking at ways to improve my school, so is this going to help me with student achievement?" Pryor asked.
"It can't hurt," was the best a teacher could respond. "It absolutely can't hurt. Can I guarantee success? No."
Unlike the Osceola school district, Flagler's has been a straight-A district for the past four years, with most of its schools scoring A's and the high schools missing it by whiskers. There is no overt need, as there supposedly was in Osceola four years ago, to impose uniforms, at least not for academic or safety reasons. Osceola did it, Wheeler (the Osceola school board member) said, to address a chronic problem: gangs and gang recruitment, an issue that, according to Flagler County Sheriff Don Fleming, doesn't exist in Flagler County except as a "juvenile," minor irritant involving perhaps 75 people.
"I don't know if there is a need," Tucker said during lunch, after visiting the schools. "That's the question: is there a need?" Most parents he talks to, he said, are indifferent one way or the other. "I'm still up in the air. I've been pondering this question for I don't know—I see both sides of the issue. If it promotes safety, why not do it. But if it promotes hardship, why do it?"
The hardship question was a central concern for the two Flagler board members. What they found on that score was also double-edged. Each school has developed a special sort of clothing shop where the uniform-compliant clothes are free for the taking. The schools Flagler officials visited today have huge minority and low-income populations, and even Celebration School, located in the more affluent part of Osceola, was redistricted so that its 1,330 students include 140 who are considered homeless: they live in a nearby hotel that serves essentially as a subsidized homeless shelter. But the school's "Spirit Closet" has taken care of all needs. Variations on that closet appear at other schools. The clothes are either donated by former students and families or bought by the schools, especially at Celebration High School.
The money is from a combination of sources that include small amounts of school discretionary funds ("a few thousand dollars," says Celebration High principal Laura Rhinehart), a small amount of federal funds designated as supplements for homeless causes, and a very large portion from a local non-profit foundation that pours money into education. Celebration, remember, is originally a Disney product, with Disney's name and reputation still attached to it even as the company has distanced itself from the schools after building them. ("People value education, that's the pixie dust that we have," says Celebration School Principal Rene Clayton).
Need may not be as pronounced as uniform opponents claim. At one of the elementary schools the delegation visited, just 10 students out of 850 had a need for entirely donated uniforms, Tucker said.
"If you promote this as a cost issue for parents in a bad economy, this is how you're going to get acceptance," says Nona Noel, an elementary school guidance counselor at Celebration School. "I get parents coming in my office all the time saying I'm really glad we don't have to buy all the clothes we used to buy. It's not just the clothes, it's the cost. That wasn;t really promoted when it was implemented, here, but that was the result."
In the end, whether or not the visit was choreographed for the Flagler delegation to see only the best of what uniforms can do in a school district, the delegation also saw with its own eyes, and heard with its own ears, that there is a very large gulf between what people will call a "uniform policy" in the abstract and how it is implemented on the ground, not only in a different district, but in each different school.
Osceola has a dress code, not a uniform policy, and a dress code that's not too far from Flagler's. In Osceola, the biggest problem by far, says Rhinehart, is not push back from parents, which was "negligible" even the first year. It's not students who refuse to go along. Most do. It's students who don't tuck their shirts in. That's the problem "by far. A million times. Exponentially," Rhinehart says, and from the looks of it at her school, that part of the policy is not enforced. Many teachers and administrators recognize the self-conscious aspect of tucking in, especially for fatter students: it's a subtle, added humiliation they'd rather not impose.
It was also clear that whatever adaptation was necessary in Osceola took place faster than school officials anticipated. The feared walk-outs and sit-ins and outright refusal to comply didn't take place. Osceola officials were surprised when a Flagler official asked if there were any teachers who urged their students to "stand up for their rights." Apparently, none did.
But the Osceola district also put on a massive PR offensive. The school board passed the policy in April and implemented it in August, but not before fliers, letters, automated calls went home, preparing the way.
Still, the questions Tucker and Pryor posed remain: is there a need, and would uniforms improve achievements? The Osceola visit did not answer the questions conclusively.
If the Flagler school board goes for uniforms, as it is likely to next week, the Osceola model will speak loudly, likely enabling Tucker and Conklin to settle the issue pragmatically while giving Fischer what he wants, at least nominally: the school district would have its new uniform policy, but it would also have the Osceola model's flexibility, along with each school principal's own version of additional flexibilities, especially when it comes to enforcement. T-shirts may be history, and color choices may be narrowed a little, but the majority of students may find that the changes are less than advertised, as is the case in Osceola.
Students can rest assured that even the word "uniform" is not what it used to be. It has been accessorized.