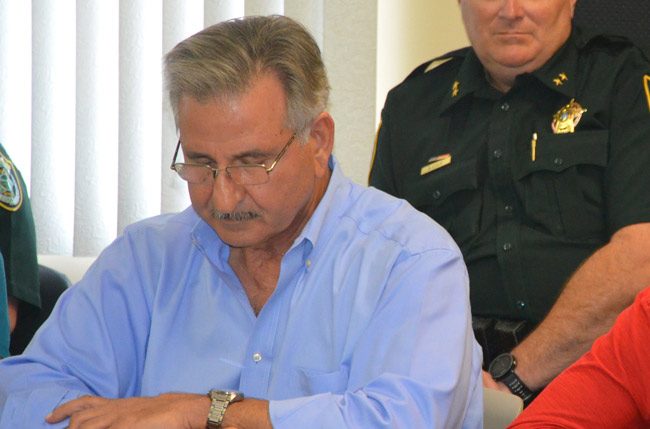 On several occasions during the course of three interviews Tuesday and today, Pastor Charles Silano spoke of wanting to do something sincere and effective about the opiod crisis locally–and not be manipulated along the way.
"I don't want to be portrayed politically with any games," Silano said Monday. "I need to be able to rely on people that are sincere and serious, that's just the nature of it," he said Tuesday. "I don't see him trying to buy any kind of an election, I think he has a passion to see this place go to the next level, you know, and may the best best man win."
By "him," Silano was referring to Joe Mullins, newly arrived from Georgia with a wagon-trail of political ambitions–he's running for the Flagler County Commission seat held by Nate McLaughlin–and a seemingly equally long, troublesome history of questionable judgments, conflicts and cageyness (he's now refusing to answer any but written questions): just this month federal and local officials' concerns with the campaign-like appearance of a what he'd dubbed a "town hall" meeting in Bunnell led to the event's cancellation (or postponement) as the officials did not want to be seen associating with a campaign event.
The same guardedness led Sheriff Rick Staly and all but one elected official, as none showed, to distance themselves from Mullins's next and similarly presented event–an out-of-nowhere "opioid task force" he was summoning for a kick-off meeting at the Hilton Garden Inn Monday afternoon. (In contrast, a dozen elected officials, past officials and current candidates, including Mullins's rival, were at a mere ribbon-cutting two hours later). Three of Flagler's four news organizations did not cover the opioid meeting. WNZF's news director said it was mostly a manpower issue, and to a smaller degree the fact that it was a candidate running for office, the Observer's editor said it was a manpower issue. And Charlie Ericksen, the county commissioner and only elected official who did attend, arriving a bit late but as Mullins was addressing those in attendance, asked a reporter, "Is this his show? The candidate?" (Ericksen is the commission's liaison to Drug Court, among other assignments.)
In fairness to Mullins, it was less "show" and, if not more substance, proved at least more potentially substantial than a mere play for attention could have been.
Mullins had two factors to thank: Silano, who benefits from deep credibility in communities devoted to addiction recovery and the addiction-recovery and is taking a de-facto lead of whatever task force actually emerges from the effort; and a turn-out of some 45 people, many from health care, addiction-recovery, public safety and related sectors. Mullins himself prefaced the meeting then mostly stayed out of the way verbally, if still physically front and center in the overcrowded room. (The meeting was not held in the Hilton's usual conference room but in a much smaller side room with a posted capacity of 20.)
Silano was asked directly if he was, in fact, in charge. "I guess so, I am," he said.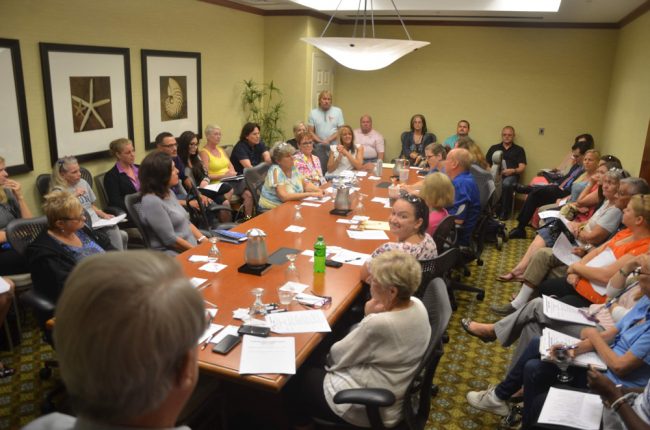 "From here it'll grow bigger," Mullins said. "We'd like to become the model for the state." It never became entirely clear what the task force would do specifically, though Mullins mentioned the need to offer a unified front to pull down grants and other funding (to what end is also unclear). And as Silano and others picked up the thread, there was a clear sense of a gap in services and even awareness about the opioid crisis, whether from users' ability to seek help or non-users' understanding of the extent of the problem beyond the usual headlines.
The Sheriff's Office's Cmdr. Jason Neat, for example, noted that anyone who wishes to turn in their drugs and can point to some indication of commitment to recovery can do so at the Sheriff's Office without facing arrest. (Chief Mark Strobridge confirmed that the approach is in effect, but that beyond that the Sheriff's Office cannot direct individuals to specific recovery routes. "We don't have the legal authority to do that nor do we have the capacity or funding to do that," Strobridge said.)
Which pointed to another issue Silano–himself a recovering addict–noted: "Right now people don't know where to go and what to do," he said–or even whether to come out.
John Symeonides, a physician associated with the Journey to Independence Recovery Center, spoke of the addict's physiological enslavement to substances, comparing it to uncontrollable seizures, and others around the room during an open-floor session offered their own perspectives: a recovering addict spoke of how she wished there was a more inviting way in the school district for addicts to speak of their experiences frankly, without their words being too strictly policed, so as to give students a more realistic understanding of what they risk by picking up a habit. "You don't have to go into the gruesome details," she said, "but they need to know how addiction was. How to we make that happen? Where do we go?" She said her attempts to contact principals drew no responses.
One of the slated speakers was Michael Feldbauer, president of the Flagler County Drug Court Foundation, but he was taken ill not long after the meeting started. The Flagler Beach Fire Department's Lt. Steve Cox happened to be in attendance and provided immediate attention before a county rescue unit took Feldbauer to the hospital. On Tuesday, he said he was recovering at home after a pneumonia diagnosis. "I hope that the meeting served all well," he texted, saying the turnout inspired him "as we go forward with the task force."
And so the meeting went, a sort of brainstorming session with no sharpened objective–not yet, anyway, though Silano says that will take shape in the next six months: he projects meetings every other month, and at least three more organizational meetings that will create subcommittees, each devoted to one objective–media and awareness, for example, fund-raising, and so on, as different participants' capacities are explored. (The next meeting will be either on July 11 or 13.) "We're in the organizing stage, so I don't see it being a boots on the ground task force for at least three more meetings, six more months," Silano said.
"People are very excited about it, very enthused," he noted today. "We're going to find out where the gaps are and form groups to fill that gap."
As for Mullins, Silano said he'll likely come to one more meeting then retreat and be on call "as we need him," as Silano wants the task force to "take an identity of its own." And in yet another cautionary allusion to how the group could be misused or misperceived, he said: "We're all afraid of the same things, we don't want it to be self-centered for any agency there, so it has to be very transparent every step of the way."
The question remains to what extent Mullins–who boasts of his own dollar contributions to other organizations on his Facebook page–will use the task force as one of his bullet-pointed "initiatives" in the season's campaign literature.