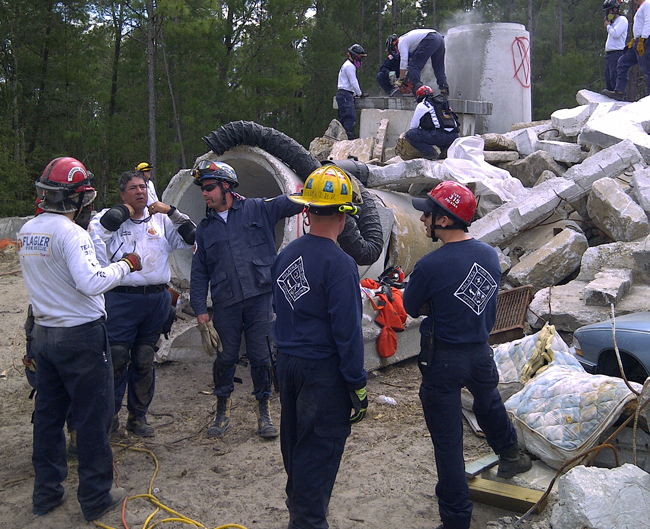 Last March at Camp Blanding, the Florida National Guard's 73,000-acre training ground near Starke, some 500 participants from 15 military, police and fire and rescue agencies from around the state gathered for the largest disaster training exercise to date. A simulated terrorist attack had collapsed a hospital building and released hazardous materials, triggering a search-and-extraction operation, mass decontamination and medical triage of civilians.
Last week in the same place, the National Guard hosted the third edition of Operation Integration. For the first time, it included six Flagler County firefighters—Brian Gilbert, who led the team, Jason Powell, John Keppler, Brad Cortez, John Moscowitz and Justin McDonald. Their light TRT (for "technical rescue team"), the only one in the county, is trained in responding to such incidents as building and trench collapses, high-angle rescues, heavy machinery and vehicle rescues and confined-space rescues.
Flagler's team trained alongside four Federal Emergency Management Agency task forces, each assembling numerous public safety agencies from particular areas of the state. Flagler's team was assigned to one of those task forces.
"Practicing those special skills that we don't practice every day can help in the event that we have a major catastrophe here," Flagler Fire Chief Don Petito said. "Every skill that they've learned over the years was practiced at that one event."
The day-long scenario entailed a tornado striking a facility, destroying two buildings, damaging a third, and creating a hazardous waste leak at an industrial complex. (The scenario, coincidentally, happened two and a half days before the earthquake and tsunami in Japan.)  The Flagler County team was assigned to Task Force 6 from Jacksonville to burrow through the rubble pile, what was left of one of the buildings, and rescued six victims, two of them role-playing national guardsmen. The rest were 175-pound rescue mannequin that had to be dragged through the rubble.
The Florida Fish and Wildlife Conservation provided aerial reconnaissance with a UH-1H Huey helicopter. The commission also conducted a large-area search with another task force while a medical response team from Orlando provided triage—the process by which victims are ranked by priority for medical attention.
Flagler County firefighters train with St. Johns County firefighters once a month, but had never had a chance to be part of a larger training operation. "It hones our skills for any incidents in the county, but we now have working relationships to the larger teams that will be responding to our area in the case of a large catastrophe," Gilbert said. "We can work up to a certain level then we call a team like that to come in and help us. So in an event like what happened in Japan or Haiti or with earthquakes or tornadoes or hurricanes, we can supply the county with the expertise to begin rescue and stabilization efforts." Flagler's TRT team was set up in 2007.
Mike Bazanos, the second in command at the county's fire department, is on the state's incident management team. He is called up from time to time to help manage statewide responses to disasters, as he was during the Deepwater Horizon oil spill in the Gulf last summer.