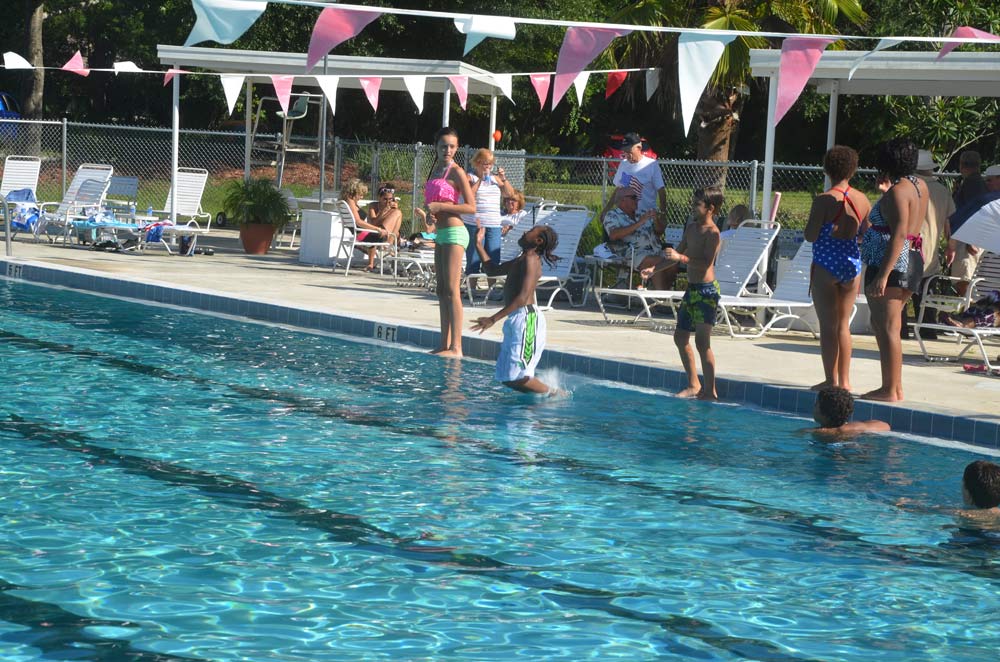 To enroll at the Belle Terre Swim and Racquet Club, go here.
The Belle Terre Swim and Racquet Club is hosting its summer open house weekend Saturday and Sunday, June 24-25, waiving its daily admission fees to all pool users and offering free food–hot dogs and watermelon, mostly–as the school district-run organization renews efforts to register new members.
But some members of the Flagler County School Board are finding it irresistible arbitrarily to micromanage the club, undermining the district administration's studied balancing acts.




The fate of the club has been in flux since the pandemic. It's been operating in deficit. The Flagler County School Board has been split over its future. Between the pandemic and the board's undermining doom-and-gloom discussions about the club–the board has discussed the club at length at no fewer than 11 meetings since last summer–Belle Terre Swim Club has had a hard time convincing new members to join.
The board agreed earlier this year to give it at least until next August to prove itself as a more viable operation, even if it could not entirely close its deficit. So the district is restructuring the club's fees and making an earnest marketing push to attract residents to what amounts to the most unique fitness center in the entire county, and the closest thing to a YMCA: year-round heated pool, fitness room, sauna, tennis courts, at very competitive–if not discounted–prices.
It is also helping the district and club advocates that Palm Coast got much closer to having its own YMCA in a few years, now that the Legislature approved $5 million for the Volusia Flagler YMCA, a large portion of which to be devoted to building a stand-alone Y in Palm Coast, with the city's partnership. Once a Y is open, the district would have an easier time justifying closing the Belle Terre club.
But the club's two strongest advocates on the school board, Colleen Conklin and Cheryl Massaro, had to battle a great deal just to get a year's extension for the club, as board members Will Furry and Sally Hunt looked to end its membership model and keep it open–despite a continued deficit–only for students. Board member Christy Chong sided with Conklin and Massaro. (An earlier version of this article incorrectly substituted Hunt for Chong).




The district administration has had to navigate not only the club's challenges, but also the challenges posed by an ever-shifting board. When Operations Director Dave Freeman and Community Services Coordinator Joshua Walker (who has been the point man on club issues) presented their latest proposals for fees, timelines and benchmarks, they again were faced with contradictory push-back from some of the board members, particularly Furry, who is looking to capitalize on some of the club's users so graspingly that it could backfire.
There are three kinds of users at the club. There are daily users, who pay a $5 fee for the day, and nothing else. There are 168 members who pay either an annual, seasonal or monthly membership fee. Then there are the "Silver Sneaker" users who get to use the club on a daily basis thanks to their health insurance. They don't pay anything out of pocket. But their insurance is charged. They generate a considerable sum. The projection this year is for $63,000.
Furry thinks Silver Sneaker users are not paying their fair share. He wants them charged an additional $25 a month if they are to have access to the pool. That would be in addition to a new proposed "administrative fee" of $50 that all users (except the day users) would have to pay. The proposal is not likely to go over well with the club's 800-some Silver Sneakers. Nor would a tiered approach that would do to th belle Terre club what streaming services do to their programming: if you want the pool in addition to the fitness center, you'd have to pay extra.
The district is trying to offer users a welcoming, uncomplicated, family-friendly option. Furry is  looking no further than to "run it like a business," though the several increases in fees that the district was proposing was already applying that model.




The district's initial proposal for a single adult would have set the annual membership at $300, plus an additional "administrative fee" of $50. Even at $350, the single-adult membership is more than $100 cheaper than it was in 2010 (in inflation adjusted dollars, the 2010 fee of $358 would have cost $488 today).
The annual fee for a family membership would be $650 ($700 with the administrative fee). Not to make the heads of traditional-family zealots explode, but that would be valid for any two adults in the same household and any legal dependents 22 years old or younger. Single parents would also have their own family membership, for $450 ($500 with the administrative fee), with any legal dependents age 22 or younger as part of that fee. Furry did, in fact, attempt to eliminate the family packages, ostensibly because the family packages offer too much of a discount compared to the single rates.
The administrative fee will add revenue. So will the policy regarding children. Previously, all children 12 and under got in free on all memberships. That would be significantly reduced: only children 2 and under would be exempt. Children 3 and up would either have to be part of a family membership, or have their own student membership ($200 for the year, $250 with the administrative fee).
The $50 administrative fee, proposed by the Belle Terre Swim and Racquet Club's advisory council,  was a way to capture more revenue from the numerous users of the club whose insurance pays for their usage. It is standard practice among fitness companies: Planet Fitness, for example, charges a $49 fee (actually, $52.43 with tax). The club could not selectively increase those insurance-paid fees. So it got around the constraint by charging that administrative fee. It is not yet clear whether, say, Medicare, which rigorously polices its benefits, will not raise objections.




In addition to the administrative fee, the club would charge a 4.19 percent fee to cover the cost that credit cards and debit card companies have been charging the club for all transactions, and that the club had until now been absorbing.
The new fees would go in effect on Sept. 1, 2023. Members of the military and district employees get a 25 percent discount.
"Please be mindful," Walker cautioned the school board, "this proposed fee schedule does not get us to a break even point. However, it does offer additional membership opportunities for families and community members out there as we look to sell more memberships and try and attempt to generate as much revenue from the site as possible."
---
Belle Terre Swim and Racquet Club Rates
| | | | |
| --- | --- | --- | --- |
| Membership type | Length | Old Rate | New Rate |
| Single Adult | Annual | $300 | $420 ($35 a month) |
| Single Adult | Monthly | $47 | $55 |
| Student | Annual | $200 | $200 |
| Student | Monthly | $20 | $20 |
| Family Pass | Annual | | $650 |
| Single-Parent Family Pass | Annual | | $450 |
| Family Seasonal Pass | 3 Months | $120 | $165 |
| Daily fee | Daily | $5 | $5 |
| | | | |
The new fees would go in effect on Sept. 1, 2023. Members of the military and district employees get a 25 percent discount. All children 3 and older require a membership. Previously, children 12 and under got in free. A new, $50 annual administrative fee is added on all adult members, including insurance users.
---
Furry did not think that was enough. He objected to the disparity between the $300 annual membership and the $55 monthly fee, which would equate to $660 for the year. He considers the annualized fee to offer too much of a discount. (Furry has no business degree or college degree: he's in real estate, but claims he "founded/co-founded several ventures over the years.")
"We don't want to price ourselves out," Walker explained. "We do understand the need to raise our prices and the fact that we need to be able to try and get to a point where we're breaking even, we just raise our prices just back back at the end of 2022. And what we're worried about is if we keep increasing it, we're just going to price ourselves out to where our existing membership will die out. So what we're trying to do is at least propose a fee schedule that's going to allow for families and other different types to come in, give different options and try and grow it through their while we're also incorporating advertising and things of that nature."
"If the goal is truly to wait for a YMCA to come, then we need to start charging them for what this place is worth, right?" Furry said. "At $55 a month, there's nowhere in town that offers a pool, a gym, a sauna, tennis courts, you know, and so, I mean, it shouldn't be hard to sell this."
Planet Fitness's monthly fees start at $10, with a $25 option that gives users access to any Planet Fitness anywhere in the country. MPower Fitness's basic monthly membership is $33 before taxes and enrollment fees, rising to $65 for access to fitness classes. Classes aside, neither company offers the range of amenities that Belle Terre Swim and Racquet Club offers. Palm Coast's municipal pool charges $25 a month.
With Massaro's agreement, Furry got the $300 rate charged single adults raised to $450. Then he pushed for the $25-a-month surtax on Silver Sneaker users. Walker again tried to push back some, without success.




"In order for it to work as far as being a supplement or an add on for insurance it would have to be an add on for everyone," Walker said. He was clearly reluctant to go that route. But he was left with no choice.
Belle Terre has considered creating tiers for its different amenities, but that proved confusing for users. Nevertheless, that's the direction the board took. Walker and Freeman will be bringing back a new fee schedule in July.
The board would approve the new fee schedule on July 25. The fees would go into effect on Sept. 1. Meanwhile in mid-August, the board will get the actual revenue and expense data for the fiscal year just ended: that should remove some doubt over the numbers, which have largely been estimates for most of the year every time the board has discussed them, and therefore have been contested either by advocates of the club or by board members.
Walker also outlined three potential benchmarks the club would have to meet a year from now, and whether the board would accept a certain level of loss. The board was inclined to accept a loss no greater than it would be if the facility was only for students. That loss was estimated at around $80,000.




In August 2024, the district will show the year's results under the new structure. " That would then lead into the August 6 agenda workshop of 2024 in regard to a vote on continuing the membership model or moving to a student focused model," Walker said.
The board has not resolved a potentially damning contradiction at the heart of the current approach: if users are aware that the board may eliminate public memberships next summer, why would anyone be willing to take the risk on an annual membership that could end up being annulled before it's used up? The uncertainty will almost certainly dampen enthusiasm to register.

belle terre swim and racquet club presentation June 2023