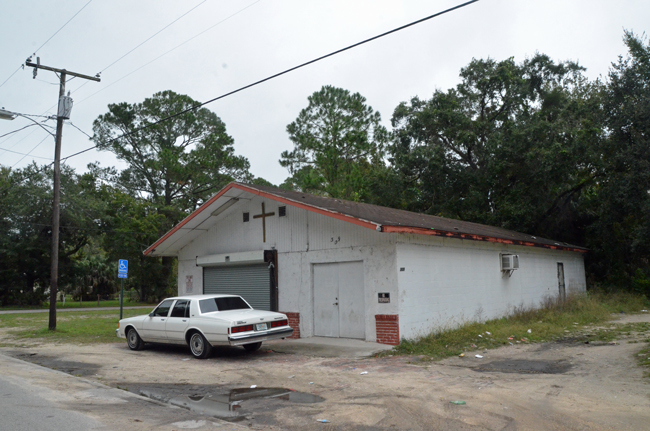 The Public Safety Coordinating Council—a collection of local police, court and other government agencies—voted with near unanimity on Wednesday to "support in any way we can" an evangelical Christian jail-diversion and recovery program for non-violent offenders that has yet to start operating within a former church on Bunnell's Booe Street. The program would be privately funded, but its clients would be court-ordered into the program.
The council provided the endorsement sight unseen and legalities untested, and based exclusively on a brief presentation by Charles Silano, the local pastor and head of Grace Tabernacle Ministries and Grace Community Food Pantry who'll also be the proposed recovery home's unpaid CEO. Silano had conversations with Flagler County Sheriff Jim Manfre about the program. It was Manfre who made a motion for the council to officially endorse Silano's program.
"I can't think of an individual that I have more confidence in than Pastor Silano," Nate McLaughlin, who chairs the county commission and the public safety council, said. "He has the strongest delicate hands I've ever seen. He has a way and he has follow through."
The Organization Silano is heading is called Open Door Re-Entry and Recovery Ministry. It would be a non-profit (it's applied for the designation). It would operate a residential 12-step recovery program for eight ex-convicts who would be court-ordered into the program, would be barred from leaving the home for the first three months but would get to take walks for a couple of hours in subsequent weeks, would have to complete the nine to 12-month program, and would have to hold jobs and pay their way at the house to the tune of $82 a week. How residents would pay in the early phases of the program, when they're not allowed to leave the premise or hold a job, is unclear, as were a number of issues, among them the legality of a court ordering an individual into a sectarian program.
"This is probably an issue that would have to be better researched," Flagler County Circuit Judge J. David Walsh, a member of the council, said. "Generally speaking the court relies upon the recommendations of the Department of Corrections. So I would be looking for them to make a recommendation as to alternative sentencing options. This may well be one of them. But I think before I as a judge would order this, I would want to have the Department of Corrections let me know if that's an appropriate thing to do."
If the inmate hasn't tripped the 365-day incarceration period, below which the inmate would serve out a sentence at the local jail, Walsh said he would still want to hear recommendations "from others, be it the State Attorney's Office, the counsel for the defense. I think that it would probably be not an appropriate thing for the court to order one to a particular program, be that this one or any other program."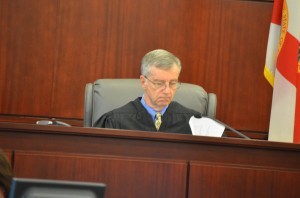 The judge cited providers that offer counseling and training services. "Ordinarily the judge does not order a particular counselor, a particular counseling service," Walsh said. "We rely upon the parties. I might order counseling to be agreed by the parties or by recommendation of the Department of Corrections or Flagler County Probation, whoever it may be, so that we have that input. I don't normally order a direct provider." If parties can't agree, the judge may be open to suggestion. But, he added, "on this particular one, I'm not familiar with, so I really don't know much about it other than what I heard this morning."
Silano said the recovery ministry would be faith-based, but it would certainly not preclude similar, secular programs—with which Silano said he'd be happy to work—nor would it force inmates into its evangelical framework: candidates would have to themselves be willing to go there. But the program would be offered as an alternative to jail—as an option between jail and the recovery house—as well as a recovery option, in a county where diversion and supervised recovery programs are few, making the choice a narrow one.
There is little question that recovery and diversion programs can be very effective to reduce the recidivism rate for ex-offenders, particularly sustained programs that monitor an individual's follow-through and provide solid support on the way to reintegration in society. But courts have generally frowned on direct government involvement in such initiatives. A few years ago in Iowa a federal judge struck down a state-financed evangelical program designed to help ex-felons reintegrate society, calling it "pervasively sectarian." The state court-ordered felons into that program. (The decision was upheld on appeal.)
Open Door is different in a crucial regard: it would have virtually no government funding. But it would still intersect with government through what Silano hopes to see as court orders, and through allowances by the local county jail for the ministry to go to the local jail at least twice a year and, essentially, minister and recruit.
How the program will run—with what funding, what operational support, what security measures and staffing—is not clear even after Silano's outline.
The program is modeled after Friends of Sinners, a non-profit founded by Roger Chilton in 2009 in Owensboro, Ky., and whose president, Jim McBrayer, will be moving to Flagler to be the director of the Bunnell operation. The Kentucky operation currently has about 38 residents. According to its last-available filing in 2011, it had revenue totaling $224,000, including $62,000 from its clients and $162,000 in contributions and grants (of which $23,000 was contributed by churches and $21,000 by businesses). It had $160,000 in expenses, with a payroll of $70,000.
In contrast, Silano says the on-site supervisor at the house on Booe Street, an ex-convict himself, will be paid only $200 a month, and will be teamed with an "overseer" who will run the actual 12-step program. "Then everything else after that is pretty much discipleship groups, mature, elder capacity discipleship groups coming from various denominations in the county," Silano said. The on-sire supervisor will be living at the site. How the supervisor and the overseer will on their own run the place seven days a week is unclear. Silano said volunteers will provide a lot of help, down to escorting clients to city hall or to the doctor's.
The program's completion rate in Kentucky was a little less than 40 percent. In 2011, after the program had been running two years, the organization noted in its tax filing that "thirty-one court-related residents have enrolled into our 18-month residential recovery program. To date, 12 residents have successfully completed a four-phase, 12-step program."
There is no fence around the building, and whether there will be or not has yet to be determined with Bunnell's city government. But Silano said there will be surveillance at the house, and unannounced K-9 visits to sniff out drugs. "It will be a totally secure area," Silano said. "It will be a very hands-on, professional approach." And it will be funded through a similar base of donors as in Kentucky: churches, businesses, civic groups and clubs, people who've had similar experiences, and above all, the evangelical community, Silano said.
The property, a 1900-square-foot, one-level, windowless concrete block building built in 1966, was at one point owned by the Islamic Center of Palm Coast, and sold in 2005 to Union City, N.J.-based Raloco Properties Corp. in 2005 for $94,000. The building was valued at $19,600 this year, according to the Flagler County property Appraiser. Silano said a donor to his program bought the building on behalf of his recovery ministry for about $21,600. That transaction has not yet made it through the property appraiser's records. Silano would not say who the donor is.
The building is located in one of Flagler County's poorest, most run-down and crime-ridden sections: South Bunnell, on a street that appears all too frequently as the location of arrests in police records. The building has been in disrepair for years. Upgrades are being donated. Silano says the ministry will help raise property values by occupying it with people the community will have no reason to worry about.
"They're not walking around the neighborhood, it's not a homeless shelter, it's not something the community has to fear," Silano said. "It will raise property prices because basically we're not going into a posh neighborhood to have a rehab home, we're going where the problem is."
Those court-ordered into the program who violate the curriculum would be sent back to jail, Silano said. He described Open Door as just "one slice of the pie" in a recovery landscape that should eventually include other options. "There's going to be a big pie here in the recovery landscape. We're only one slice of it." He added: "We unders5tand. We're not trying to force religion on anybody. This is what we do. And the secular programs is what they do. We highly encourage the secular programs, because we all want the same thing. We want recovery."
"You can't force people to do anything," Patricia Bryant, the administrator for the 7th Judicial Circuit, which includes Flagler, Volusia, Putnam and St. Johns counties, said. "We can recommend. Sometimes if they're not amenable to it, it creates additional problems with supervision."