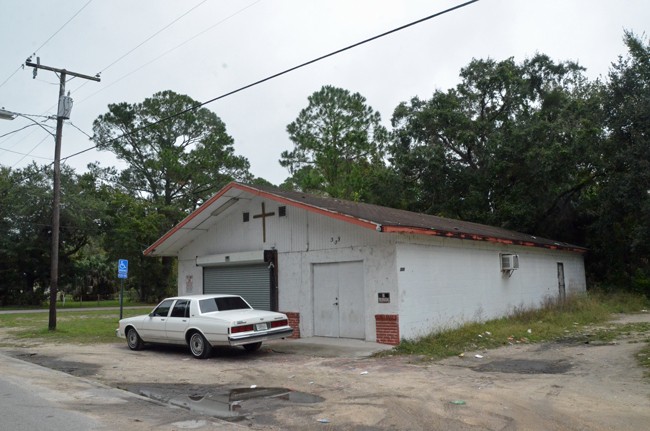 A year-and-a-half-long legal battle between Bunnell government and a Christian non-profit that wants to run a recovery house for drug and alcohol addicts in South Bunnell ended in victory for the recovery house and steep costs for Bunnell: the settlement agreement between the two sides will allow the house to open on East Booe Street.
The city, through its insurer, will have to pay $312,000 to cover the legal fees of the recovery house organization's attorneys. That's not all Bunnell has had to pay in its defense of the case, filed in federal court in April 2014.
"The city of Bunnell spent, with the insurance company, over half a million dollars defending this in regards to what we had to pay our counsel, what we had to pay their counsel," City Commissioner John Rogers said. "So we didn't just lay down and take it. This was the best possible deal that we could negotiate with them. As stated, we have some teeth, where we didn't have no teeth before."
But the settlement agreement requires Bunnell to pay the legal fees, not the other way around.
"Unfortunately it's a lot of money that the insurance has to put out on our behalf," Commissioner Elbert Tucker said, "but if we went to court it would be much more than this that we would have to pay out, or somebody would have to pay out."
And numerous questions remain unanswered about Open Door Ministries' funding mechanism–its source of donations, its budget and its ability to run the house, though it's modeled after a similar operation in Kentucky.
Open Door Re-Entry and Recovery Ministry is a Christian non-profit run by Jim McBrayer, who runs a recovery home for addicts called Friends of Sinners in Kentucky, and Pastor Charles Silano, the local minister. The recovery house is intended to house a dozen recovering addicts who'd be referred to the organization through the court system. The organization bought a building on East Booe that had been a mosque and a church previously, and has been empty for years.
When Open Door applied for a variance from city rules—the residential zone allowed up to six residents in the house, not 12—the city moved to restrict the activities at the house by passing an ordinance that made it difficult for the organization to proceed. The city was responding to intense opposition from residents and local pastors, who objected to the house opening its doors in their midst.
Open Door Ministries charged in the federal suit that Bunnell discriminated against it in violation of the Fair Housing Act and the Americans with Disabilities Act by illegally preventing Open Door Ministry from opening its doors. The case led to a year's worth of legal maneuvers, leading up to court-ordered mediation on Aug. 4. That led to the settlement agreement.
"There is a very stringent list of conditions that's attached to the agreement which sets forth the type of use that can be made of this facility," Sherry Sutphen, the lawyer who represented Bunnell, told commissioners Monday evening, putting a bright interpretation on the settlement.
Open Door will be required to maintain records on residents, available for inspection, that show none have been involved in sex offenses. All residents are to be drug-tested once a week, with a year's worth of those records available for city inspection—but at the city's expense and in compliance with state and federal laws that prohibit such disclosures, which may make actual inspections difficult. The home itself will have to maintain the characteristics of a residential home and "maintain properly functioning surveillance cameras on the inside of the structure which record and save footage of, for a period of no less than thirty (30) days, the activities occurring on the inside of the structure," the agreement states. The footage must be made available to city police, but only in case of criminal investigations. Aside from children of staffers, no one under 18 will be allowed in the house. Bunnell police will have the right to inspect the house with a K-9 (and no more than two officers) once a month.
The terms and conditions, Sutphen claimed to commissioners, "far more stringent than probably anything you could have negotiated, or if you were successful in a lawsuit, that a court could have given you. The terms are very favorable, and I think that they capture everything that you could possibly imagine that would help not only the city regulate what's going on at this property, but also help the property itself be more manageable and operate properly."
Sutphen added that the recovery house also "does bring something to the city of Bunnell that you did not have before." Individuals can also voluntarily admit themselves to the facility.
To help settle the issue, the city met with local pastors who had opposed the proposal previously. "Their input as you can tell from the result of this was seriously taken," City Manager Larry Williams said.
One of the pastors, Daisy Henry, who is a former city commissioner, was the only person to address the commission Monday evening She was thankful for having been included in the meeting of pastors, but still skeptical about the outcome. She said she'll keep a close eye on the facility "because I see a lot of things going on now that aren't supposed to be."
"We have a clear understanding about what's going on," Henry said, "and I appreciate you all inviting us in but you still have a lot of citizens concerned about that, even though it's needful, but not in that area."
The city commission approved the settlement agreement, 4-0.