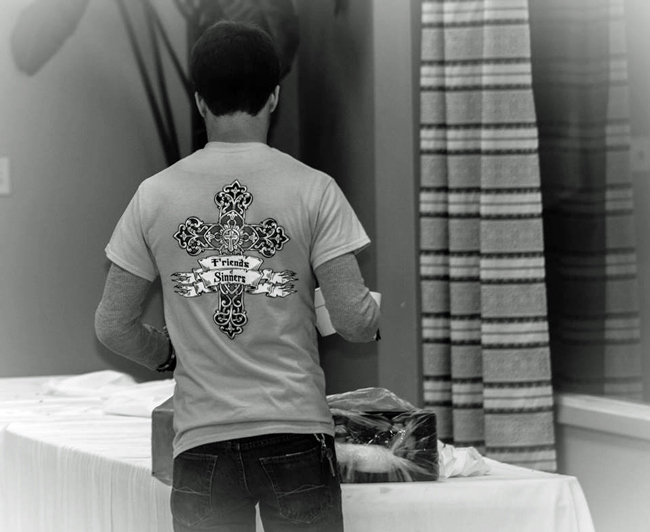 Bunnell's planning board Wednesday evening unanimously approved a controversial ordinance designed to keep a Bible-based prison rehabilitation program from operating in South Bunnell, where the community has risen up against it. The measure next moves to the Bunnell City Commission for final approval.
Bunnell and  Open Door Re-Entry and Recovery Ministry are locked in a federal court battle over the location of Open Door's rehabilitation center at 309 East Booe Street, a former mosque and church that never had an issue there, until Open Door bought it for $21,600 last fall.
The local face of the ministry is Charles Silano, a pastor, an ex-convict and the head of Grace Tabernacle Ministries and Grace Community Food Pantry, who for years has won only plaudits from communities and local government agencies for his various social works. Silano is working in association with a Kentucky-based ministry that operates a similar evangelical rehab center there. Silano presented his plan to the Flagler County Public Safety Coordinating Council in October. The council, including the sheriff and the senior circuit judge in Flagler, endorsed the plan.
But Silano's group almost immediately triggered resistance among Bunnell residents and non-residents—such as Pastor Sims Jones—who objected to the center on safety grounds. In fairness to the objectors, Silano's plan as presented to the coordinating council lacked clarity regarding safety measures, and Silano never laid the groundwork with the neighborhood affected in South Bunnell to lessen fears and emphasize the rehabilitation center's aims. So the issue quickly degraded into a conflict, first at planning board and city commission meetings, then in federal district court.
The city commission first passed a moratorium on any such rehabilitation centers, which led to the lawsuit. Then it put in motion the workings of a new ordinance that would address such rehabilitation centers. The ordinance was first proposed last spring but had to be tabled, because it appeared to be too broadly targeting all sorts of rehabilitation centers. The ordinance submitted to the Bunnell Planning, Zoning and Appeals board Wednesday was more carefully crafted.
"It was decided from a legal standpoint it was better to focus on residential prison diversion programs" as opposed to residential programs in general, Wade Voss, Bunnell's city attorney, said. The original moratorium on such programs was focused on both, casting too wide a net.
"The immediate effect of this ordinance would be to supersede and wipe out the moratorium as a whole, the result being that residential prison diversion programs would be regulated under this ordinance," Voss said.
In its briefing to the planning board, the city administration states that "all references to residential treatment programs have been removed" from the proposed ordinances. That's not quite the case, except as a matter of semantics that most lay readers would not detect: the ordinance's title refers directly to "providing regulations for the location and operation of residential prison diversion programs." In essence, the city reworked the definition of the ordinance—and of residential programs—to more narrowly target Silano's program, the key words in the ordinance being prison diversion program.
Legally, that risks accentuating Silano's case in federal court—that Bunnell is discriminating against his program in contravention of federal rules. Mark Langello, a former member of the Bunnell planning board, asked the board at the end of its discussion: "Is the action that you're proposing tonight hurting or helping any lawsuit?"
The city attorney said he could not  "directly address" the question," since the matter is in litigation and the city doesn't want to make statements that could be used against it, or reveal strategic thinking. But, Voss added, "anything that I'm involved in or anything Mick and his department are involved in, are never intended in any way to put us in a disadvantageous position with regard to pending litigation or other concerns." Mick Cuthbertson is the city's community development director and the point man on this issue.
Voss could not however  control Don McCalligan, who chairs the zoning board, and who asked a question that, inadvertently, revealed precisely the sort of thinking Silano says is behind the ordinance.
"So what you're saying in this instance, in English, let's get down to brass tacks, is he allowed to do that now, or not?"
"Who's he?" Cuthbertson asked.
"The one that's going to do this," McCalligan said, referring to Silano.
The city attorney quickly jumped in to tell McCalligan that that question was not at issue, and that no individual plan could be addressed. But it was too late. McCalligan had put the city's thinking on the record in a way no legal advice would have countenanced.
The ordinance also increased the distance the diversion program's building must be from any single-family residence, from 200 feet to 600 feet, making the Booe Street location automatically ineligible. There's also a prohibition of any such center operating within 1,000 feet of a church, school or child care facility, which also would appear to make the Booe Street location ineligible.
"As a former member of the board I read what you guys have done with it, I was very pleased because you did address the issues we had at the previous meeting," Mark Langello, a former member of the planning board, told the panel, asking as well about security cameras or making fencing a requirement of such diversion programs.
The ordinance is written broadly enough to enable such things, but not necessarily make them mandatory, as Langello would prefer.
Langello again brought up the matter of targeting a specific organization, raising concerns about the potential legal fallout.
"There are legal concerns with regard to attempting to attempting to regulate facilities that focus solely on folks living together and that are seeking to overcome alcoholism or overcome drug addiction and so on, and ultimately because of these legal concerns it seemed advisable at the time to focus the object of the ordinance on that area that seemed to present the most concerns with the least legal effect."
But it was difficult to see how the resulting ordinance addressed rather than underscored those concerns.
The proposed ordinance appears below.