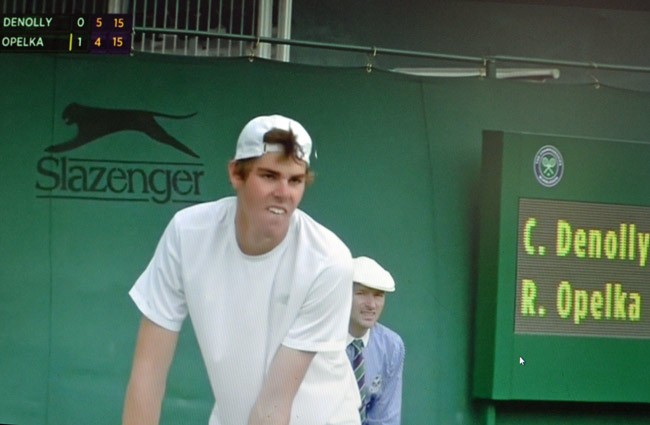 With a blistering ace down the middle followed by an emphatic shake of his racket, Palm Coast's Reilly Opelka soared into the third round of the Wimbledon Boys tournament Tuesday.
And he did it in front of his immediate family there at the hallowed All England Club, a rare treat for them all.
Once again wringing almost every ounce of drama he could out of a match, the 17-year-old played his best in the big points and narrowly upset No. 3 seed Corentin Denolly of France, 6-4, 4-6, 6-4 to advance to the third round in his first trip to Wimbledon.
Opelka grabbed an early lead, suffered a setback at the end of the second set, but then played a terrific game to break serve early in the third to score another three-set win.
He'll now play Yosuke Watanuki of Japan on Wednesday, with a trip to the quarterfinals on the line.
"I wasn't happy at all with how I played yesterday, but today was much, much better," Opelka said. "I played one bad game at the end of the second set, but other than that I thought I played really well and was really competing pretty hard."
Cheering him on from just a few feet away on the Court 8 sidelines were his parents, George and Lynne Opelka of Palm Coast, and Reilly's aunt and uncle, Donna and Mike Opelka.
"It was awesome having them there because I don't get to see them that much, and I'm sure Uncle Mike is tired of always watching me on tournament website scoreboards," Opelka said. "Their support was great."
The match was also webcast live, worldwide, on ESPN's website, broadening Opelka's exposure, though his recent string of successes, including making it to the quarterfinals of the French Open Juniors, has been catching people's attention.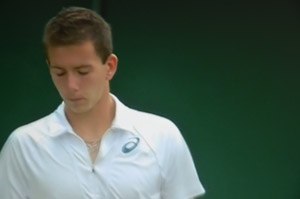 "I think all of his work the last few months is showing up; he's committed himself to getting better and his results have been there,"  said Jay Berger, director of men's tennis for the USTA. "He played really well today. Reilly had a clear vision for how he wanted to play and what we wanted to attack on his opponent, and he executed it really well."
Just like Monday's 13-11 third-set win, this one wasn't easy for the former Indian Trails Middle School student. After dropping serve for the only time of the match at 4-5 in the second set, Opelka looked disgusted with himself and dejectedly muttered softly during the changeover between sets.
"I just tried to get all my (negative thoughts) out during the break, and not let it bother me anymore," Opelka said. "I was mad at how I went about that game I lost, the tactics I used. But once we started the third set, I felt better."
Opelka's body language–his natural lankiness at times giving in to more lumbering than lightning steps–quickly improved once play resumed, and the 6-foot-10 teenager pulled himself together to play a commanding third set against Denolly, an 18-year-old Frenchman ranked No. 3 in the world Junior rankings. Denolly is a lefty who reached the French Open semifinals in June before losing to Opelka's friend and fellow American Michael Mmoh, and he hoped Tuesday to avenge a loss to Opelka last week in a warm-up tournament in Roehampton, England.
At 2-all in the third set Opelka, playing with his baseball cap customarily turned backward, hit a terrific flick running crosscourt backhand to get to 0-30 against Denolly's serve. After Denolly saved a break point, Opelka moments later sent a beautiful cross-court backhand return of serve deep into the corner, forcing a Denolly error and giving Opelka a huge break of serve, 3-2.
"With the way we were both serving, I felt pretty comfortable being up one break," Opelka said. "On that break point, I knew that as a lefty he'd probably try to go wide with the serve, so I leaned over that way and hit it just at the right time." (Opelka dropped his serve just once the entire match, Denolly twice.)
Palm Coast's star then escaped a love-30 jam in his next service game to go up 4-2, and calmly held serve two more times to grab another victory.
Opelka served 17 aces in the match, to go along with 34 winners and just 18 unforced errors. He took advantage of 9 Denolly double faults, with Opelka's huge first serve a major weapon again; he won 88 percent of 1st serve points, and won 13 of 19 net points.
"He wasn't as good a returner as the guy  I played yesterday, and I could tell today he was guessing on my serves," Opelka said. "It gives you a lot of confidence when your opponent has to do that to get a return." He defeated  Alex De Minaur on Monday.
Opelka, who turned pro in April, is trying to equal or better his performance in Paris last month, when he won three matches en route to the quarterfinals.
Denolly and Opelka aren't done with each other at Wimbledon. Besides taking on Watanuki in singles, Opelka will begin play in the Junior Boys Doubles on Wednesday. He and partner Akira Santillan will be taking on Denolly and his partner, Johan Nikles of Switzerland.
–Michael Lewis for FlaglerLive