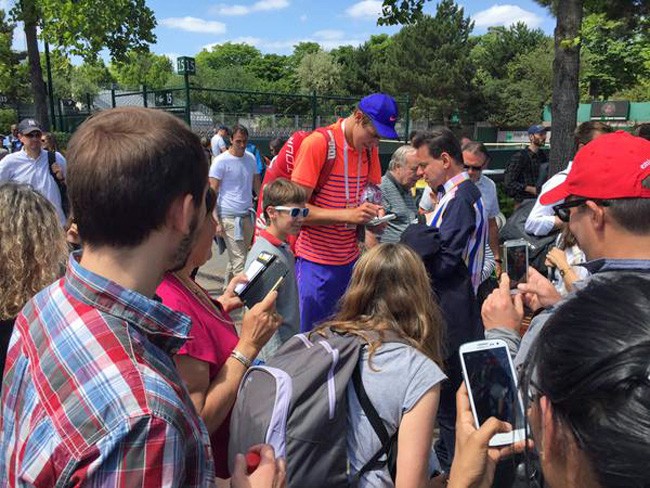 Palm Coast native Reilly Opelka entered the French Open Boys tournament hoping to get a few matches in after taking most of the year off to recover from some nagging injuries.
So much for that: Now he's got a Grand Slam title in sight.
Continuing his dramatic and somewhat improbable run, the 17-year-old erased a 5-3 third-set deficit to win the final four games of the match Wednesday against No.1-ranked junior Orlando Luz of Brazil. Opelka stunned Luz with a 7-5, 4-6, 7-5 win to advance to the quarterfinals of a Slam for the first time ever. Luz was a gold medalist in doubles at the 2014 Youth Olympics in China, and a silver medalist in singles. He was the boys' doubles champion at Wimbledon last year, with fellow-Brazilian Marcello Zormann.
Opelka will play his friend and fellow top American Michael Mmoh in the quarterfinals on Thursday at 5 a.m. on the East Coast. Four of the eight remaining players in the boys draw are from the U.S.
Opelka is normally more than willing to talk to reporters during tournaments, but his agent, Sam Duvall, told FlaglerLive Wednesday afternoon that Opelka wouldn't be available to talk after his big win. Duvall said Opelka is highly superstitious and didn't want to do any interviews until after his run in Paris is over.
While he may not be talking, his play certainly is. After two straight wins to open the tournament, Opelka, who turned pro in April but is still eligible to play the Grand Slam Juniors events, figured to get a very tough challenge from the 17-year-old Luz, the No. 1 seed.
But one break of serve in the first set is all Opelka needed to grab the lead; the 6-foot-10 Opelka again cracked his big serve on Wednesday, smacking 12 aces in the match and winning 79 percent of his first-serve points.
Luz broke Opelka early in the second set and went on to level the match, and when the Brazilian snatched a break at 2-all in the third, it looked like Opelka's run in Paris could be over.
But trailing 5-3 and just a few minutes from defeat, Opelka held serve, then broke Luz to square the set at 5.
"Reilly came up with some big serves and he's playing really well this week," said Jay Berger, the USTA director of men's tennis who helps coach the top American juniors like Opelka. "The people who see him on a daily basis, we expected him to do well here. He's handling himself well out on the court and really fighting."
After holding at love for a 6-5 lead, Opelka jumped out to a love-40 advantage on Luz's serve, before closing the match out on a backhand winner down the line, his third winner of the game.
Opelka was born and raised in Palm Coast, but moved to the USTA Training Center in Boca Raton with his mom and sister when he was 12, and is now up to No. 31 in the world junior rankings. He signed with the LaGardere Unlimited sports agency in April upon turning pro.
–Michael Lewis for FlaglerLive