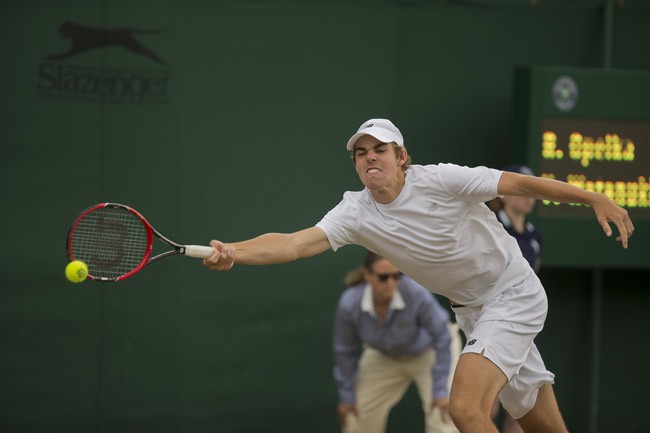 Note: You can watch Reilly Opelka's quarterfinal match Thursday morning here.
Finally, a relatively easy win for Reilly Opelka.
The 17-year-old former Palm Coast resident advanced to his first-ever quarterfinals at the Wimbledon Junior Boys tournament on Wednesday, playing a terrific, consistent match in ousting Japan's Yosuke Watanuki, 7-6, 6-3.
After dramatic three-set wins the past two days, Opelka needed only 72 minutes to advance to his second consecutive Grand Slam quarterfinal, after reaching the French Open quarterfinals in June. He also won a first-round doubles match today as well.
Opelka now faces a huge test as he tries to make a Grand Slam semifinal for the first time: He takes on his good friend and fellow American junior William Blumberg, the No. 10 seed. Opelka said he's never beaten Blumberg in any competitive match, with Blumberg beating Opelka twice in tournaments last year.
Their match that will be streamed live on ESPN3.com and the Watch ESPN app. The two are part of four American players in the quarters.
"His game just matches up with mine really well, I don't know what it is," Opelka said of Blumberg in a phone interview from London. "He's solid with everything he hits, he moves well, and he's playing really solid right now.
Asked if he's "due" to finally beat his pal, Opelka laughed and said "I hope so."
To get to the quarters, the 6-foot-10 Opelka played maybe his best match of the tournament so far against the 17-year-old Watanuki, ranked 45th in the ITF junior rankings.
Opelka used penetrating groundstrokes to excel,  though his powerful serve wasn't at its usual effectiveness Wednesday. It was nevertheless effective when needed.  Opelka jumped out to a 4-1 lead in the first set tiebreak, then broke Watanuki's serve twice in the second set, including in the final game, to reach the quarters.
It was a slightly different kind of win for Opelka, as he only served four aces (he served 17 in Tuesday's three-set win), but his second serve efficiency was huge, as Opelka won 65 percent of his second-serve points, a larger-than-normal number.
"I didn't serve well at all, but today was the best I played, all-around, the whole tournament," Opelka said. "I'm not worried about my serve, I know it's going to be there when I need it. I'm just happy with the rest of my game, that I was able to win without serving my best."
Playing in front of his parents and his sister Brenna on Court 17, Opelka's only hiccup in the match came at the beginning, when a slow start saw him down 3-1 early in the first set. But he quickly broke Watanuki's serve to get back to 3-2, and then both players held serve until the tiebreak.
In the second set, Opelka broke serve in the fourth game, again using strong cross-court backhands to score winners or force errors from Watanuki.
Leading 3-1, Opelka held serve twice more, then broke Watanuki at 15 at 5-3 to clinch a spot in the final eight in his first-ever Wimbledon.
Now that he's back in the quarters, he's aiming to go farther than he did at Roland Garros.
Blumberg won the International Spring Championships in California in March, and last December he reached the quarterfinals of the prestigious Orange Bowl tournament in Florida.
Opelka also competed in the Junior Boys Doubles on Wednesday. He and partner Akira Santillan advanced to the second round with a 6-3, 6-2 win over Corentin Denolly and his partner, Johan Nikles of Switzerland. He'll play another doubles match on Thursday, more tennis for a kid who eats and breathes the sport.
So much so that he hasn't had time to see any of the sights in London.
"I know my parents are doing a lot of tourism stuff, so I'm glad about that, but I haven't seen much of anything," Opelka said with a laugh.
Three more wins, and he'll be seeing a championship trophy, which is a lot cooler than Big Ben, anyway.
–Michael Lewis for FlaglerLive