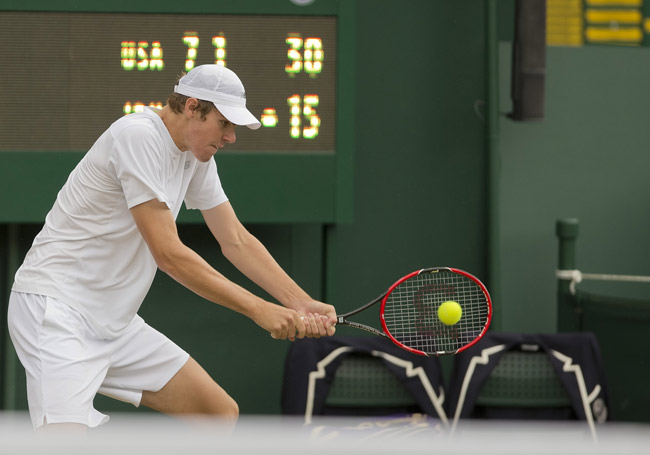 [Note: Updated with an interview with Opelka.]
Reilly Opelka saw the ball go wide, pumped his right fist three times, then broke into a Thames-wide smile while staring at his family on the sidelines. No need to suspend disbelief. It was real.
A Palm Coast kid who first started hitting balls at Trails Racquet Club a decade ago had just made the Wimbledon Boys final.
The shock wore off quickly, but the positive vibes likely won't. Using a powerful and precise serve and fierce groundstrokes, the 17-year-old continued his dream run at Wimbledon Friday, defeating No.1 seed world's top junior Taylor Fritz in dramatic fashion, 6-3, 7-6 (13), finally finishing the match off on his sixth match point.
"It's pretty exciting, definitely, but I'm still not thinking about (winning the title)," an understandably fatigued-sounding Opelka said by phone from London, a few hours after also clinching a spot in the boys doubles semifinal. "It feels great to play this well at Wimbledon, definitely. But I have another big match Sunday."
Opelka, who coming into 2015 had won exactly one match at a Grand Slam, will try to make Flagler County history Sunday morning at 8 a.m. Palm Coast time, when he faces No. 12 seed Mikael Ymer of Sweden for the championship. The match will be streamed live on ESPN3.com and on the Watch ESPN app. (The weather forecast for London on Sunday calls for rain, so check FlaglerLive for updates, as a Wimbledon official said Sunday the match time could change.)
Opelka defeated Ymer, a 16-year-old, in straight sets in the second round of the French Open in June.
Although he won the match in straight sets, finishing it off was anything but easy for the 6-foot-10 Opelka, who reached the French Open quarterfinals in June. He broke Fritz's serve twice in the second set and had a chance to serve for the match at 6-5, but the 17-year-old Californian broke back to force a tiebreak.
"I got a little tight that game, a little nervous, and he played really well," Opelka said.
The tiebreak looked to be a breeze for Opelka, who turned pro in April but is still eligible for junior events. He scampered out to a 5-0 lead, only to see Fritz, last year's Wimbledon finalist, rally to win the next six points.
The two friends then went back-and-forth for the next few minutes, enthralling the big crowd on Court 18. Opelka had four match points but couldn't convert. Fritz had three opportunities to win the set, but Opelka came up with the better shot each time, including a sensational backhand winner down the line at 10-11 in the breaker.
"When it got to 6-5 him, I was mad that I let this happen," Opelka said. "I started playing better again once he got to set point."
Finally at 13-all, a 130-miles per hour serve by Opelka led to an easy forehand winner, and then after a long rally, Fritz's forehand sailed wide and the match was over in 78 minutes.
Given the situation and the quality of the opponent, it may have been the best match of Opelka's life. He smacked 18 aces and didn't double fault once, and he drilled 31 winners while committing only 16 unforced errors.
"It was a pretty high-quality match overall; I definitely could've closed it out better but my serve was really on today," Opelka said. "I'm really happy with my backhand today, I was able to hit it where I wanted to."
Wearing the same "uniform" he has all week, a white New Balance cap, white New Balance T-T-shirt and white NB sneakers, Opelka came out firing on Friday.
He and Fritz both easily held serve for the first five games of the match, with each players' first serves reaching the 130 miles per hour mark.
Opelka snatched the first advantage in the sixth game, when at 30-all Fritz, a native Californian, double-faulted. On his first break point, Opelka crushed a forehand down the line for a clean winner, past Fritz's outstretched racket, and suddenly the Floridian had a 4-2 lead.
Serving for the set at 5-3, Opelka smashed a 131-miles per hour ace down the middle to win the opening set, 6-3, in 25 minutes.
The second set began with an almost-identical script as the first. Both players held serve until 2-all, when Opelka again, dictating points with his cannonball-heavy groundstrokes, put too much pressure on Fritz, the world's No.1 junior.
Opelka smashed a big forehand winner to get double break point, and two points later tattooed a backhand service return down the line that Fritz could only stare at, and suddenly Opelka had a 3-2 lead and was up a break.
But facing imminent ejection from the tournament, Fritz rallied. The 2014 Wimbledon Boys finalist broke Opelka right back for 3-all, then held serve strongly to go up 5-4.
Still, Opelka found a way to regain the advantage, with a little help. At 5-all Fritz double-faulted twice to open the game, and then at 15-40 Opelka's pounding backhand set up an easy putaway volley, and suddenly Opelka was serving for the match. But perhaps feeling the pressure a bit, Opelka played a loose game and Fritz broke back to send the match to a tiebreaker.
Opelka and Fritz had played just once before meeting Friday, at a minor league pro tournament in Spain in May. Fritz came away with a 7-6, 6-4 win.
If he wasn't also still alive in the doubles draw, Saturday would be a day of rest for the ex-Indian Trails Middle School student.
But Opelka and partner Akira Santillan just keep winning; they defeated Viktor Durasovic of Norway and Patrik Niklas-Salminen of Finland Friday afternoon in three sets; Opelka will now face Fritz again, with his partner Michael Mmoh, on Saturday.
Ten Americans have won the boys championship at Wimbledon since it started in 1947: Noah Rubin last year, Donald Young in 2007, Scott Humphries in 1994, Matt Anger in 1981, Van Witinsky in 1977, Billy Martin in 1974 and 1973, Robert Kreiss in 1971, Clark Graebner in 1961, Butch Buchholz in 1958 and Ronald Holmberg in 1956.
–Michael J. Lewis for FlaglerLive