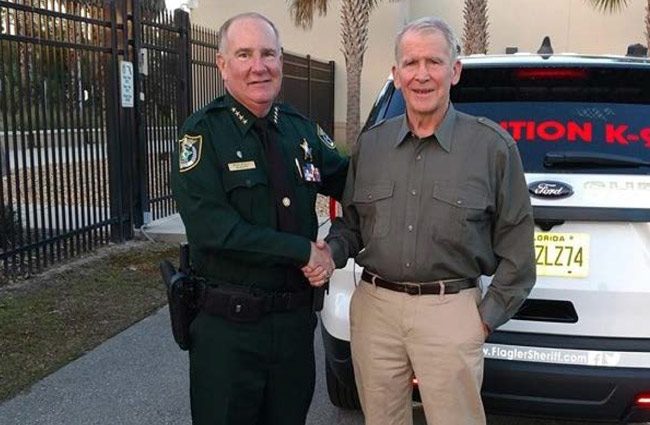 Flagler County Sheriff Rick Staly can name many local personalities, some of them mildly famous by Intracoastal Waterway standards, who've ridden alongside him as part of his continuing Friday patrols. But none have been as famous (or infamous, depending on your perspective) as Oliver North, the crusading ex-felon of the Reagan years and current president of the National Rifle Association. Nor, it could be said, has any felon charged 18 times over ever ridden in the front seat alongside Staly.
But Staly could make an exception Monday, because North was in town not for his own sake, but to honor Staly: Flagler County's sheriff is one of five finalists for the NRA's Officer of the Year, a nomination he earned over his role saving the life of a fellow-Orange County Sheriff's deputy in the early 1970s, when Staly was shot several times and severely wounded.
So for a little over an hour Monday, North rode with Staly, patrolling the streets of Flagler County with a camera crew in the back seat, driving through Palm Coast to Flagler Beach, up A1A toward Marineland, back across town, and off to dinner at Carraba's, where keen eyes spotted the aging North with the sheriff and started selfie requests with the old lieutenant colonel.
"He enjoyed seeing Flagler County, we had dinner at Carraba's, where certainly a number of people recognized him," Staly said. "They came up to him and asked if they could have their picture taken with him and he accommodated everybody that came up." On patrol, there were no incidents warranting a traffic stop or anything more serious, though it wasn't long after the patrol ended that Staly reported to a death investigation in the C-Section. Without North. 
Staly had initially intended to keep his 15 miles of fame with North under wraps, not knowing if it was kosher to let out the NRA-TV's secret, but he got a call from WNZF's David Ayres, who'd been tipped off that the sheriff was seen with North at Carrabas–not exactly the most out of the way place to take a famous person in Palm Coast, though North has never been very good at keeping secrets: it was a small Beirut weekly with a circulation smaller than the Observer's, called "The Sail," that broke the Iran-Contra story. 
The NRA created the Officer of the Year award in 1993 to recognize "an exceptional act or service by a law enforcement officer," taking nominations from "anyone having knowledge of the nominee's actions. This includes, but is not limited to, the nominee's agency head, other law enforcement officials, elected officials, fellow officers, community leaders, interested citizens, and NRA members." Staly says he has no idea who nominated him–only that the Flagler County Sheriff's Office got a phone call and an email announcing the nomination, and that an NRA-TV crew would be in town to do some filming, as it did on Sunday for much of the day.
In 24 years, the award has gone to a Floridian law enforcement officer of the year. It was Orange County Sheriff Kevin Beary in 1996, when Staly was in that same agency–the same Beary Staly ran against eight years later and brought a successful ethics suit against.
Staly couldn't tell if North was armed when they patrolled, but the sheriff did show him where his own weapons were, including his AR-15 assault rifle, in case they got in a shootout: he told North he knew he was a good shot, and could use his help if they were under fire. It wasn't an outlandish suggestion, considering the shootout that earned Staly his NRA nomination.
"He's very down to earth, he's a very social, very interesting guy," Staly said of North. "He's 75 years old, doesn't look it at all, still runs three miles a day. But he's very interesting, certainly has some very interesting life stories and stories, I'm sure I just heard a tip of an iceberg about."
An iceberg that nearly brought down the until-then titanic Reagan presidency.
North was a lowly lieutenant colonel, a mid-level National Security Council staffer in the Reagan administration who early in the second Reagan term vaulted to fame through the sort of treachery that never lacks for starry-eyed admirers who see means and ends as the red and white stripes of the same flag: he was instrumental in illegally trading missiles for American hostages held in Beirut as the president lied on national TV ("We did not — repeat — did not trade weapons or anything else for hostages, nor will we," Reagan said after 500 TOW missiles were delivered to Tehran and a hostage was released). And North led the secret, illegal  funding of Nicaraguan Contra rebels in violation of a congressional ban. All with Fawn Hall as his faithful shredder.
The Iran-Contra affair showed the Ragan administration at its roguest, led the nation to the brink of a constitutional crisis and the Reagan presidency to the brink of collapse–until North collapsed for it, taking the fall, playing the crocodile-teared patriot in a Laurence Olivier-like performance at the Iran-Contra hearings, and riding his newfound fame to a $13 million haul for his North Legal Defense and Family safety Trust. He was tried on 16 felony counts, convicted on three, but his conviction was vacated on a technicality and the charges eventually dismissed, freeing him to the logical next step: a run for the U.S. Senate (he lost to a Democrat), a regular gig on Fox News, and becoming president of the National Rifle Association in 2018.
North actually brought up the Iran-Contra matter in his conversation with Staly, though he did not call it that, and what he did say about it remains, unsurprisingly, classified. 
Staly, a lifelong NRA member and staunch conservative, was clearly taken by North. "It was quite an honor to meet him," Staly said, without being unaware of his past. "In my opinion," he said of north, he's "an american hero, he loves this country, and that was very clear."
It's not yet been announced when the NRA's Officer of the Year will be named, though previous awards were revealed at the NRA's annual meeting. The meeting this year ("15 acres of guns and gear") is scheduled for April 25-28 in Indianapolis. Meanwhile, footage from this week's filming should appear this spring on NRA TV's "American Heroes" program, according to the sheriff's office.