The Flagler County School Board on Tuesday evening accepted unanimously a recommendation from an appeals committee that the play version of To Kill a Mockingbird is appropriate material for high school students to perform—in class or on stage. Colleen Conklin, the school board member who triggered the appeal, said emphatically that "the play will go on." And Janet Valentine, the superintendent whose ultimate decision it was to cancel the play on Oct. 21, was in full reversal mode.
"What I would really like to see happen? I would love for Flagler Palm Coast High School to be able to lay the groundwork and successfully produce that play," Valentine said after the meeting. Who would direct it? "I don't know that answer. That's what that principal and faculty will decide." Could Ed Koczergo, the original director of the play and the school's drama teacher, be in charge? "I'm not saying that it couldn't. There might be other supports put in place, there might be other folks that work on site. It could be a collaborative effort."
During the meeting, Valentine took responsibility for not explaining more clearly and with less finality what the intentions had been when she agreed with an ad hoc committee to cancel a student production of To Kill a Mockingbird last month."I'm going to take this time to take personal responsibility that I may not have conveyed to this board or to the public the correct context," Valentine said, reading from a statement, "which may have led to the misconception that this district did not believe that our students and community were not ready for such a performance."
The decision by Valentine and Flagler Palm Coast High School Principal Jacob Oliva, explained by both by emails to the school board and to the staff at FPC on Oct. 21, left no room for doubt that they had chosen to cancel the play with no intention of reviving it, and over fears that the use of the word nigger on stage might be misinterpreted. (Oliva was not at the school board meeting and did not respond to phone and email messages, earlier in the day, seeking comment.)
That absence of doubt is what led School Board member Colleen Conklin to appeal the decision in hopes of reviving the play. That was no longer the story by Tuesday evening, when even Conklin said that she had not been under the impression that the play had been cancelled for good. She filed her appeal, she said, because she wanted to ensure that it wouldn't be revived too far down the road.
With scripts of the controversy being re-written before them, some people in the audience were not convinced.
Jim Guines, a former school board member who's been critical of the decision to cancel the play, told board members of being invited by the drama teacher to talk about the play before or after it, should be it staged, as part of the "groundwork" the district wants in place once it's performed.  "I'm ready. The kids are ready. The director is ready," Guines told the board members. "I don't think you're all ready. I honestly don't think you're all ready to give educational leadership in these times. You did censor. I don't know what you call censorship. You may have intend to delay or to do whatever. But you censored. And I'm disappointed in you. I'm disappointed in you. That's why you make the $30,000. To make the hard decisions."
John Hardison, another critic of the original decision to censor, said: "When it comes to this book and our history with that author in particular, these kids, the history, all of these things, we have an obligation to put this play on. We have an obligation to look at the realities of our past." He added, "When we blur those lines we tend to blur the lines of our own progress. When we say well maybe it wasn't as bad as it really was or cover up the n-word by saying the n-word, it gets really hard for our kids to see just how far we've come. That's the reality of it. This play needs to go on."
John Sbordone, the artistic director at the Flagler Playhouse, told the board that the Playhouse's stage would welcome the student production of Mockingbird in April should it prove impossible or impractical to stage as it was initially intended (at the Flagler Auditorium). But board members were insistent that the play would go on as a student production on what would amount to its home stage.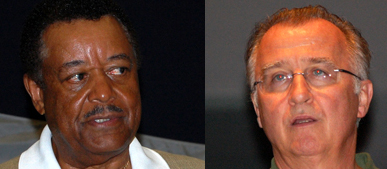 Among the public, only one person took a contrarian view while rewriting history of his own—John Winston, who leads the district's mentoring program for young blacks and was part of the committee that recommended cancellation in late October. In full bluster, Winston put the blame for the Mockingbird controversy the press, on adults in the community "seeking their 15 minutes of fame," and on the drama teacher whom he accused of racism and separatism. During the committee meeting that led to the cancellation of the play, Winston said, Koczergo was asked to describe the potential impact of the play on the community. Koczergo's answer: "White people will always hate black people and black people will always hate white people." That statement, Winston said, "played a major role in the temporary decision to shut the play down until senior administrators had the chance to investigate it further."
There was nothing temporary about the decision, which was to cancel the play after that meeting and not revisit the issue further. In Valentine's email to the school board and Oliva's email to his faculty, nothing was said about Koczergo statement—and Koczergo, in fact, was tasked with explaining the cancellation to his students, and coming up with a replacement play, which he staged last weekend. He continues to teach and rehearse.
And he doesn't deny making the statement. Contacted Tuesday evening, Koczergo said: "That's exactly what I said, but everyone knew in the context of what we were talking about that I did not mean all black people and all white people. Everyone knew that meant some black people and some white people. If someone were to assume that I felt all white people hate all black people and all black people hate white people, why in heaven's name would I even choose to pick this play?"
Valentine, who was in the committee meeting involving Koczergo, was asked after the meeting about his statement. "I'm just not going to publicly comment on that," the superintendent said. "I don't feel comfortable with that. I'm not here to bash a teacher. I'm here to get through this situation and to allow the community to understand it as best they can."
In a phone interview with Valentine and Oliva on Oct. 28, however, both were asked about the same statement. "I don't know exactly if he said it exactly that way," Valentine said, making nothing more of it.
During the public comment portion of the meeting on Tuesday, Conklin termed the accusations against Koczergo  "unfair" and asked that Sue Dickinson–the newly minted chairperson of the board–prevent his name from being attacked again. By then it was too late: Winston's slanders were in the record.

Update: In a letter to the superintendent sent on Wednesday (Nov. 17), Sbordone, the Flagler Playhouse artistic director, reiterated his offer to stage the play at the Playhouse and wrote: "One of the unfortunate omissions of last night's meeting was the lost opportunity to capitalize on lessons from this most important novel. This, as you know, is a story of a wonderful parent-child relationship. Scout idolizes her father and Atticus offers trenchant observations on the world they live in.
"It would have been wonderful for one of the School Board or its staff to neutralize the racial issues with homilies from the text. Education is too often about things other then education. We might have been able to teach an important lesson.
"On this issue of language Atticus says to his son Jem, "There's a lot of ugly words in this world son, I wish I could keep them all away from you. That's never possible."
The novel is full of such gems. Perhaps if the issue remains current this perspective might be offered by the Board to demonstrate that the educational establishment is sensitive to the literature as well as the political issues."