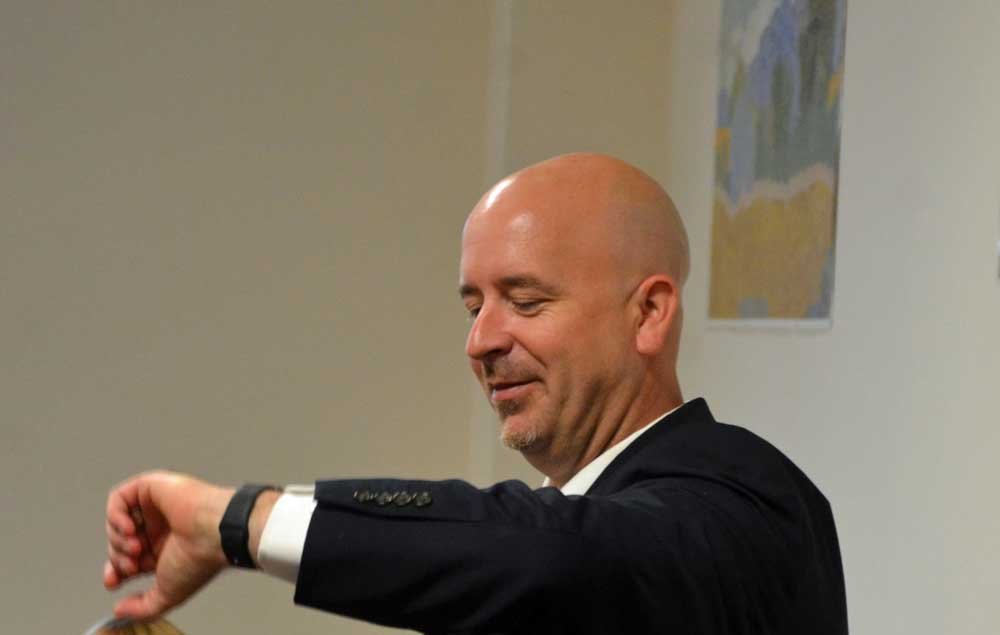 When Jacob Oliva arrived at Florida's Flagler County School District nearly 25 years ago, his first employer remembers him as an enthusiastic teacher out to change the world.
Oliva had a big impact on the district, working his way up from a special education teacher to superintendent during his 17-year tenure. In 2017, he moved to the state's department of education where he now works as a senior chancellor.
The Florida native's next move will be across state lines when he heads to Arkansas as Gov.-elect Sarah Huckabee Sanders' Education Secretary nominee. In a press release, Sanders said she intends to work with the State Board of Education to appoint Oliva to serve in a dual role as the Commissioner of Elementary and Secondary Education.
Stewart Maxcy, a former Flagler Schools principal and art teacher, hired Oliva for his first teaching job. Maxcy described Oliva as an ambitious, goal-driven individual who brings a lot to the table and who will work hard to help Arkansas make great strides in education.
"He will know what needs to be done and work within his means to make sure that Arkansas becomes the top in the nation for educational scores and graduation percentages and that type of stuff," Maxcy said. "I think you guys will really be impressed with him."
Trevor Tucker served on the Flagler County School Board from 2010 to 2022 and said Oliva worked tirelessly for the district and was easy to get along with.
"He's a real, genuine, down-to-earth guy who's always cared about students first," he said.




Oliva's new job is a loss for Florida, but Arkansas is lucky to have the veteran administrator, Tucker said.
"He was a true leader, and people looked up to him because he did a wonderful job. He made people feel like he was their friend first," he said.
Oliva was unavailable for an interview last week, but said in a press release that he's looking forward to his new role.
"Governor-elect Sanders has the right vision to unleash Arkansas education, and I'm excited to get to work on day one to enact it," Oliva said. "Education is the key to the future, creating opportunity for all, which is why I've spent my career implementing successful early learning programs, empowering parents with choices and investing in career readiness."

In a statement to the Arkansas Advocate, the Florida Department of Education congratulated Oliva on the nomination:
"For the last five years, Senior Chancellor Oliva has been a dedicated member of the Florida Department of Education's leadership team, including serving as interim education commissioner, and his work has helped launch Florida as the Education State. While we will miss him greatly, we know he will excel in his new, well-deserved role."
Early education
Born and raised in Miami, Oliva was a finalist for superintendent of Miami-Dade County Public Schools, the fourth-largest district in the country, in 2022. During a public interview last January for the position, which was ultimately awarded to Jose Dotres, Oliva credited his parents with his interest in education as a child.
"I think part of my passion and journey for wanting to become an educator started early with watching my father who was an immigrant from Cuba go to school while we were young children to start living out the American Dream," he said.




Some of Oliva's earliest teaching experiences were in special education, a field he said he was drawn to because his mom worked as a hearing-impaired interpreter for students at Miami-Dade Schools.
Oliva's first role at Flagler Schools was as a student teacher at Wadsworth Elementary where he worked with Jill Woolbright. During his final school board meeting as superintendent in May 2017, Woolbright described the young Oliva "as a surfer dude from Miami" who showed leadership, enthusiasm and passion for his new career.
Maxcy hired Oliva as a full-time teacher after his internship. During the job interview, Maxcy recalled Oliva saying he wanted to be governor one day.
While he hasn't yet made it to the governor's office, Oliva has climbed the ranks within Florida's education system. After five years of teaching at Wadsworth, he held various administrative positions in the district including dean of students, assistant principal, principal, assistant superintendent and superintendent.
Oliva did "a bang up job" working for Maxcy, who described the young teacher as really sharp, well-rounded and well-liked. He knew how to have fun, but when it came to academics and test scores, "he was right on the money," Maxcy said. Oliva also treated his staff well, he said.
"Coming from teaching special ed to regular ed to working his way through the ropes, he was not a top-down supervisor," Maxcy said. "He listened to the other teachers and he understood having been there before."
Oliva was a caring educator and person who put kids first, Maxcy said.
"It wasn't just the best kids, it was the underdogs; it didn't matter, he treated everyone the same and that's what I liked," he said. "He was what you'd call a warm fuzzy, not a prickly."
Innovations
As a school board member, Tucker said he was impressed with Oliva's "innovative" Classroom to Careers program. Through this initiative, the district partnered with local businesses to identify key industries in the region and build career pathways for students.
One component of this effort is a fire academy that was launched at a high school in January 2017 in direct response to meeting the needs of local fire departments who were struggling with high turnover, Tucker said.




"It's been a real help for our community, and it gives people a leg up," he said.
Oliva was also key in an effort to provide every K-12 student with their own iPad or laptop years before the COVID-19 pandemic. While the initiative was already in place before Oliva became superintendent, Tucker said he was instrumental in integrating the technology with students' school work.
Oliva was loved in Flagler County because of his "great personality," Tucker said. The former superintendent cared for staff, something that doesn't always happen with management, he said.
"He made people feel like they were wanted," Tucker said. "He went to the schools all the time because he felt like, hey, as a superintendent if you don't know what's going on in schools, then how are you going to make things work?"
DeSantis influence
Oliva joined Florida's Department of Education as executive vice chancellor for K-12 schools in 2017, before becoming division of public schools chancellor in 2019 and senior chancellor in 2021.
He was appointed interim Commissioner of Education in 2022 before Sen. Manny Diaz Jr. assumed the role full time in June. Diaz is the first Hispanic Commissioner of Education in Florida's history.
A press release from Sanders' office called Oliva "a key education leader" for Gov. Ron DeSantis. The Florida governor has supported controversial education policy in recent years, including the Parental Rights in Education or "Don't Say Gay" bill, which became law in July.
The legislation bans classroom instruction on sexual orientation or gender identity from kindergarten through 3rd grade or in a manner that's not "age-appropriate" in higher grades. It also requires parental notification if there is a "change in the student's services."
Oliva has been part of efforts to enforce the law, sending letters to 10 school districts whose policies were in conflict with the legislation in November.
Policies under evaluation permit transgender students to use the bathrooms and locker rooms that match their gender identity, require teachers and staff to use a student's chosen name, and wait for a student's consent before discussing their sexual orientation or gender identity with a parent, according to the Florida Phoenix.




"Florida parents have a right to be fully informed of the education and educational services being provided to their students," Oliva said in his letters to the districts.
In response to its letter, Palm Beach County's school board voted to strip its equity statement of commitments to dismantling racism and systems of oppression, according to The Palm Beach Post. The district also removed its equity policy and LGBTQ+ support guide from its website.
LGBTQ civil rights organization Equality Florida does a lot of work around "safe, healthy and inclusive schools" and was part of a lawsuit challenging the "Don't Say Gay" legislation, press secretary Brandon Wolf said.
The organization is frustrated with the education department's inaction on explaining the law, which has left districts in the dark, prompting some to interpret the legislation "in the most extreme fashion possible," he said.
Equality Florida has asked several times for clarification on parts of the law that are "intentionally vague," but state officials "have explicitly said they are not going to do that," Wolf said.
"The department of education has been, at best, unhelpful on this issue, and at worst, they've made the problem significantly more dangerous for young people," he said.
The reason Wolf said the department has been so unhelpful is because he thinks its employees see their role as "serving at the pleasure of the governor and not necessarily of the people of Florida."
"I can't speak to [Oliva's] character, but I do think it's indicative of the effect that DeSantis has had on state agencies and state officials in Florida and makes me wonder, would someone like a Chancellor Oliva be an arm of the governor in Arkansas as well or would he be willing to take a firmer stand in support of students and families in that state," Wolf said.
'Just plain mean'
In an April 2022 column for Flagler Live, a nonprofit, digital newsroom, editor Pierre Tristam questioned how Oliva went from "one of the most progressive, innovative and inclusive superintendents" in the county, to a senior chancellor for "the single most regressive, reactionary and, frankly, just plain mean state departments of education in the nation."




Tristam has reported on education for decades and had regular interactions with Oliva working at Flagler Live for the last 13 years. He described Oliva as a "broadminded guy that was easy to talk to and easy to have interesting conversations with." The two would often talk about books, something Tristam said connected them.
Oliva kept his politics "close to the vest" at Flagler Schools and was not ideological, which is why his ideological turn during his work with the DeSantis administration was a shock, Tristam said.
"To me it was very surprising that he would become so much of the spokesperson for an administration that has gone off the deep end with its ideological war against teachers, against the freedom to read, against the freedom to think," he said.
People cheered Oliva on when he went to the state because they thought he'd be the same advocate for issues he was in Flagler County, but that's not what happened, Tristam said.
"He was an advocate for the administration, for the DeSantis administration exclusively when DeSantis came to power and he sort of, to me, just went through a transfiguration," he said.
'Sharing our vision'
If confirmed as Arkansas' Secretary of Education, Oliva's job will be helping enforce Sanders' education initiatives.
As part of her gubernatorial campaign, Sanders released an education plan called Arkansas LEARNS, which sets goals like improving access to quality pre-K and empowering parents with more choices "so no child is ever trapped in a failing school and lifetime in poverty," according to a press release.
During his Miami-Dade superintendent interview, Oliva said it's important to make sure "our schools are the first choice" for families; however, choice is not a bad thing because competition inspires growth.
When he was a student, Oliva said his options were public or private schools. Today there are virtual options, charter schools and scholarship opportunities, but ultimately schools need to meet the community's needs, he said.
"We need to know why parents should choose those schools first, and if we can't answer that question, then we've got to roll up our sleeves and figure out how we're going to answer it because, in my opinion, there's nothing more better for a community, for a neighborhood, and for students and families than to choose their public schools first," Oliva said.
Arkansas legislators on the House and Senate education committees have said in interviews they expect the upcoming regular session to include proposals to expand the state's current school-choice programs, which cater to a limited number of low-income families and individuals with disabilities.




The Arkansas Education Association is a nonprofit, nonpartisan organization that represents public school educators. AEA president Carol Fleming said the organization had a "cordial and collaborative working relationship" with the outgoing education secretary and anticipates developing a relationship with Oliva.
"Like most people that are here in the state, we're all looking at his resume and looking at his past history," Fleming said. "So we just look forward to sitting down and talking with him and sharing our vision."
Oliva's nomination as Arkansas Secretary of Education must be confirmed by lawmakers. The 94th General Assembly will first convene on Monday.
–Antoinette Grajeda, Arkansas Advocate

Arkansas Advocate is part of States Newsroom, a network of news bureaus supported by grants and a coalition of donors as a 501c(3) public charity. Arkansas Advocate maintains editorial independence. Contact Editor Sonny Albarado for questions: [email protected]. Follow Arkansas Advocate on Facebook and Twitter.